'Choosing a less effective method of controlling a workplace risk is not something that an employer should do'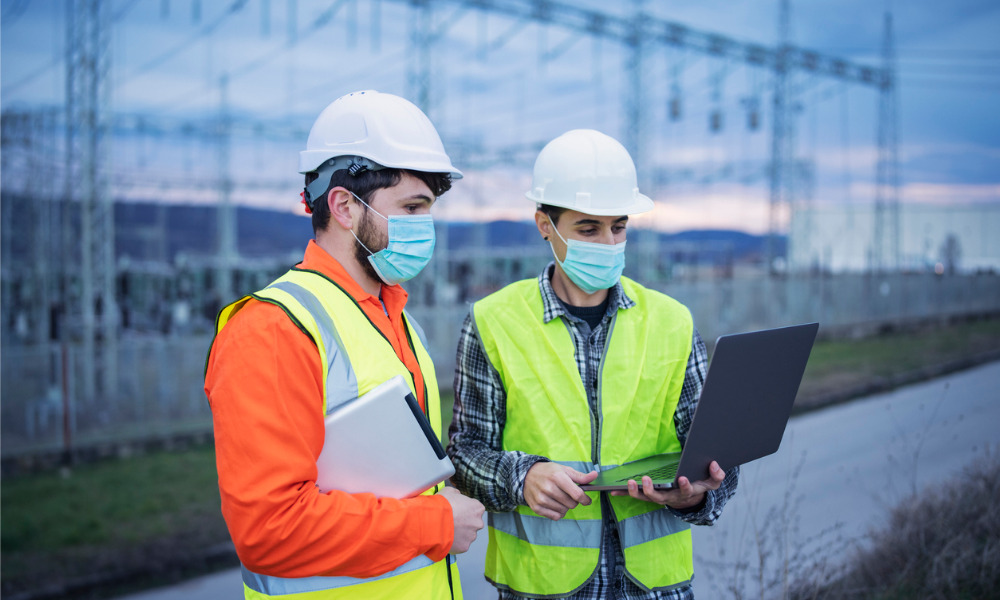 One of the latest battles in the ongoing war over workplace vaccination policies – a British Columbia arbitration decision upholding BC Hydro's policy – highlights the delicate balance between the individual interests of employees who don't want to be vaccinated and the legal and business interests of employers, according to Graeme McFarlane, founding partner of Roper Greyell in Vancouver, who represented BC Hydro in the case.
"This case was quite important in respect of the exercise of balancing the competing interests of the two sides – the legal test for determining reasonableness includes an examination as to the balancing of interests," he says. "You had a bunch of competing interests – the important personal interests of the small number of people who didn't get vaccinated and, on the other hand, you had the essential service nature of BC Hydro, keeping the lights on."
Workplace outbreaks
BC Hydro and Power Authority provides electricity and electrical infrastructure across the province of British Columbia. A large proportion of employees work in indoor, closed environments, while those who work outside sometimes work in close quarters. In remote locations, workers sometimes stay in work camps, sharing accommodation and meals.
At the beginning of the pandemic, BC Hydro implemented several health and safety measures to reduce the risk of COVID-19 transmission. Despite these measures, more than 3,500 employees had suspected or confirmed cases of COVID-19 by January 2022 and 11 percent of union members tested positive. This included three workplace outbreaks in December 2020, April 2021, and August 2021 – with the last two at the same work camp.
When COVID-19 vaccines became available, the B.C. Centre for Disease Control recommended getting vaccinated to reduce transmission. In addition, public health authorities identified residential work camps as areas of concern for outbreaks.
BC Hydro considered a mandatory vaccination policy but initially rejected it. However, some employees began expressing an interest in mandatory vaccination to protect them from workplace infection, while some partners and customers began requesting only vaccinated employees come to their premises.
Read more: The Ontario Labour Relations Board rejected an argument by City of Toronto employees that occupational health and safety legislation protected them from revealing their vaccination status.
On Oct. 5, 2021, the provincial government announced a plan to mandate vaccines for public service employees. On Oct. 7, BC Hydro created its own vaccination policy.
The policy required all employees to have at least one dose of an approved vaccine by Nov. 22 and two doses by Jan. 10, 2022. Employees who were unable to get vaccinated due to a protected human rights ground or a medical reason could request accommodation, but anyone else who failed to comply would be placed on an unpaid leave of absence until they could provide proof of vaccination.
The policy stated that BC Hydro would regularly review the status of all employees on an unpaid leave of absence under the policy and such employees "may be subject to discipline up to and including termination of employment." The same went for employees who were dishonest about their vaccination status.
Grievance filed
The union filed a grievance over the policy. It argued that the policy was unreasonable, as it was unilaterally implemented by BC Hydro but the measures already taken during the pandemic were effective. It acknowledged that containing the spread of COVID-19 was a legitimate objective, but it argued that there were less intrusive measures that could help meet that goal. The union also pointed out that the threat of discipline or termination was more coercive and intrusive, making that portion of the policy also unreasonable.
Forty-four bargaining unit members were placed on unpaid leave on Jan. 10, although none were terminated for non-compliance.
The arbitrator noted that BC Hydro needed to demonstrate that mandatory vaccination was reasonably necessary to counterbalance employee interests of privacy and integrity. He also disagreed with the union's assertion that the health and safety measures already taken were working, as about half of all employees were suspected or confirmed infected and 11 percent of the bargaining unit tested positive.
This, along with the three worksite outbreaks, were enough to show that BC Hydro was experiencing significant problems with COVID-19. Even without those issues, BC Hydro should not have had to wait until it experienced negative consequences from the virus – it was entitled to take a precautionary approach, the arbitrator said.
"It's called the precautionary principle," says McFarlane. "You don't have to wait for a problem to happen before putting in a system to try to reduce the impact of that problem, either from ever happening or, if it does happen, to reduce the severity of the problem."
Read more: An Ontario school board's vaccination policy does not violate the Canadian Charter of Rights and Freedoms, an arbitrator found.
The arbitrator found that the evidence was that the best measure for preventing transmission was vaccination and other alternatives, such as rapid antigen testing, were unreliable. As a result, the policy requiring employees to be vaccinated in order to work was reasonable and in the best interests of employees, the employer, customers, and the public, the arbitrator said.
Evidence that alternative measures such as rapid testing aren't as effective as vaccination helped support the reasonableness of BC Hydro's policy, says McFarlane.
"Employers have a legal obligation under workers' compensation legislation and workers' protection legislation to make a workplace as safe as is reasonably possible," he says. "So choosing a less effective method of controlling a workplace risk is not something that an employer should do."
Discipline unreasonable
However, the arbitrator agreed with the union that the section indicating the possibility of discipline or termination was unreasonable. Unvaccinated employees on unpaid leave posed no safety risk and weren't being paid, so there was no need to go another step and terminate them, said the arbitrator, noting that BC Hydro didn't terminate the 44 unvaccinated employees anyway.
BC Hydro was ordered to strike the reference to discipline from the policy.
McFarlane says the decision highlights two priorities for employers implementing such policies.
"I think you have to keep in mind that the priority is making sure that the objective of the policy is eminently reasonable," he says. "And then you really have to do an examination of the various interests that may be affected by the policy and ensure that you've turned your mind significantly to the balancing exercise."
"We're in uncharted waters here when you're arguing these cases, and they're important for both employment reasons and for social contract reasons – accepting that you have an obligation in Canadian society to try to conduct yourself as a good citizen, and these types of decisions are important."
See BC Hydro and Power Authority and IBEW, Local 258, Re, 2022 CarswellBC 837.