How is time off handled? What about volunteering? Should political talk be banned?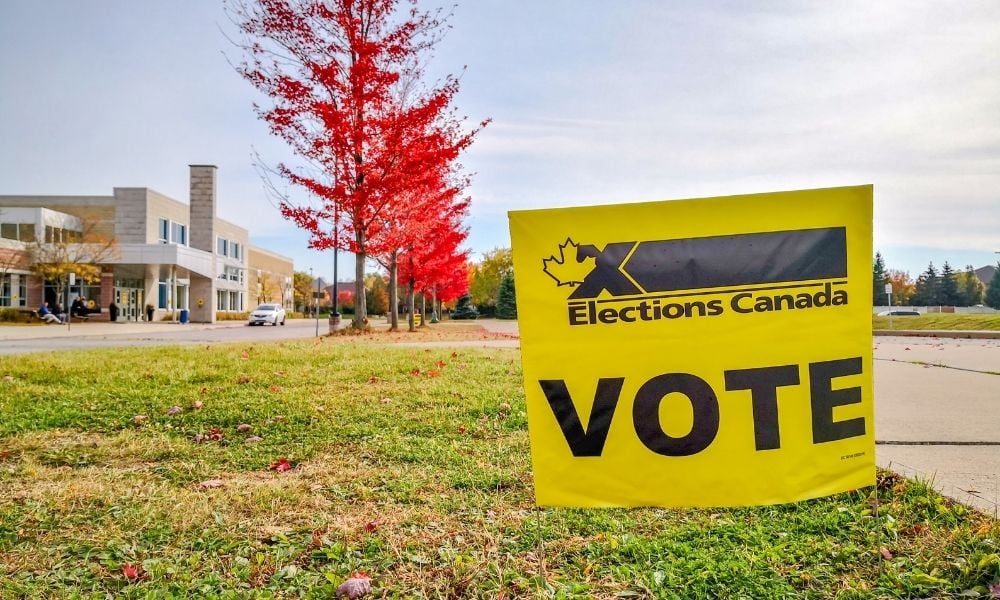 As Ontario heads toward a provincial election on June 2, employers need to be aware that there are certain rules around employees' rights to vote.
Canadian HR Reporter spoke with three lawyers about some of the things that need to be adhered to.
Employees are allowed three consecutive hours on the actual election day in order to vote but this must be during a time that "best suits the convenience of the employer," according to the exact wording in the law.
"If an employee's hours of work don't allow for three consecutive hours to vote, the employee may request time off for voting as necessary, and then the employer must grant this request," says Nora Refai, associate lawyer at Grosman Gale Fletcher Hopkins in Toronto.
"For example, if an employee works from 9 a.m. to 6 p.m. and polls closed at 9 p.m., that employee would already have three consecutive hours after work — seven, eight, nine — so they wouldn't require any time off of work. If, however, an employee works 10 a.m. to 7 p.m., the employer must provide some time off work because the employee would not otherwise have three consecutive hours to vote."
But for those workers who are scheduled to work during the entirety of the polling hours (9 a.m. to 9 p.m.), employers have to "find three consecutive hours during the day for them to leave work and be able to vote," says Timothy Cullen, partner, litigation and dispute resolution at McMillan in Ottawa.
"If an employee's scheduled workday doesn't already allow for them to have three consecutive hours to vote, then their employer needs to make accommodations in their schedule, so that they can have those three consecutive hours," he says.
Fines for employers
When the employee does take that time off, no pay will be lost, says Refai.
"If it is necessary to provide time off work to vote, the employer cannot make any deductions from an employee's pay or impose any penalty on the employee for their absence from work during those three consecutive hours, or however much time they ended up taking off the work in order to have those three consecutive hours to vote. It's a protection there; you can't reduce their pay, and they can't be penalized in any other way."
For those employers who refuse to allow the time off, the penalties are a fine of up to $5,000, says Cullen but they can be much worse if the employer was aware that they were interfering with the right to exercise a vote.
"If you have knowingly done this, then the penalty is far more severe: you can be liable up to $25,000 and two years less a day of imprisonment. Obviously, the integrity of voting and the right to vote is a fundamental importance in Canada and the way the offenses are structured goes to that importance."
These penalties can also be compounded and may end up costing the employer more permanent damage.
"There's also risk associated with the employment relationship if you're not allowing someone the time to vote; it's not necessarily a breach of contract or constructive dismissal if you make that kind of error but where employees are not allowed to exercise their rights in bad faith, so for example, if an employer is knowingly not permitting employees to vote, there is a risk that that would amount to a constructive dismissal," says Kyle Lambert, partner, litigation and dispute resolution at McMillan in Ottawa.
The two top political parties in Ontario have put out some eyebrow-raising proposals lately.
Volunteering on election day
But what about those employees who wish to work in an official capacity on election day?
They are entitled to an unpaid leave of absence, says Refai but "they must make that request at least seven days before they're to begin their leaves and the employer must grant that leave and must not dismiss them or otherwise penalize them for exercising their right to take that leave."
Things get tricky for workers who wish to give time to a specific political party, according to Cullen.
"In granting people time off to volunteer with a political entity, they have to be very careful that the employee is not paid during that time, or else that they make the time up if they're a salaried employee, outside of their normal working hours if they are volunteering during their normal hours of employment because, otherwise, there is a real risk that that would be construed as an illegal corporate contribution in violation of the Election Finances Act."
Under that law, only individuals are allowed to contribute to political entities, he says and "the value of someone's time absolutely could be construed as a contribution."
"That would be something employers need to be mindful of, if they're going to otherwise in their minds think they're doing a great thing by allowing employees the flexibility to participate in the political process by offering their time," says Cullen.
Banning political talk
As the day inches closer, employers will also have to be mindful of how to handle political chatter in the workplace, says Lambert. Employers have the right to ban any political speech in the workplace but they should be cautious when it comes to policing this.
"You can have a rule saying that employees should not be using company communication tools — company email or a company Slack thread or something like that — to promote one political party or one political message or the other; employers have the right to bar that kind of thing. Around election time, political discussions happen and employers should still tread carefully and try to avoid being too heavy-handed but something like barring all political speech in the workplace, while perhaps permissible on the law, is probably not a good idea," says Lambert.
As well, this ban can be extended outside the workday and employers should warn employees that what they say on social media should be moderated, "especially where they are recognized as being a member of that company where their role within the company or the organization is of a relatively high profile, i.e. someone is an executive or communications person so they're often really promoting their employers messages," he says.
Read more: Canadian HR Reporter previously spoke with experts about the perils of sharing personal information and opinions on social media, when it comes to background checks by employers interested in candidates, or existing employees putting their employer in a bad light.
For HR departments, not waiting until the day before an election to do a policy statement around this is always prudent, says Refai.
"Fostering a healthy work environment is important year-round, and even though political discussions tend to increase around election time, they really could happen anytime. So, to have the best chance of compliance with any policy, employers should have consistent rules about the employee about employee discourse and behaviour that apply all the time and not just special rules that kick in around election time."