While public health authorities may lift restrictions, employment lawyers caution employers on doing the same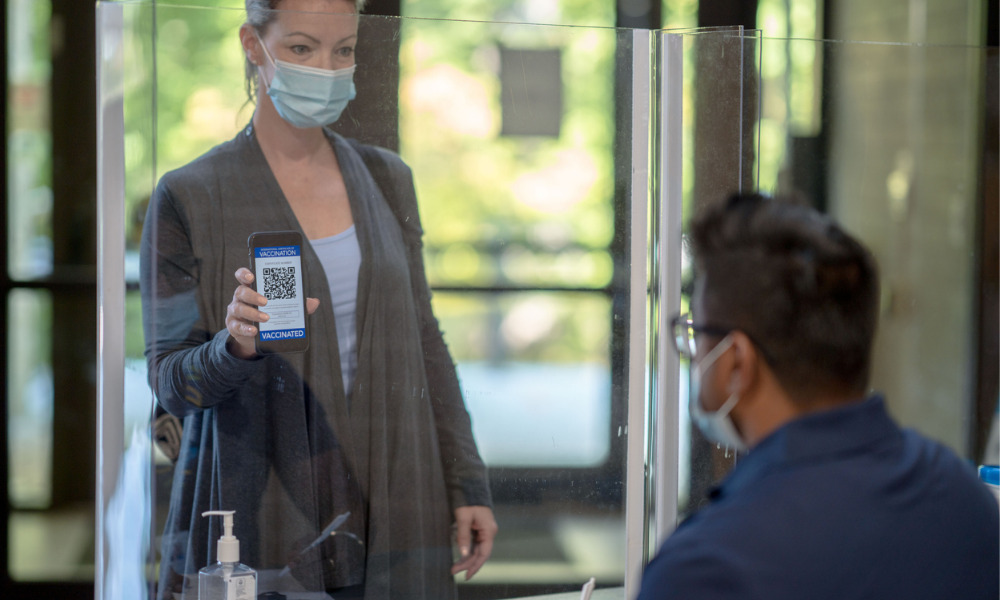 With various public health authorities, along with some government organizations, announcing they are lifting COVID-19-related restrictions, employers may also be wondering if it's time to make changes — particularly when it comes to vaccine mandates
"I see it on the horizon. And I think we'll probably start to see it more in in provinces like Alberta, where restrictions are being lifted more quickly," says Christopher Drinovz, partner in the employment and labour law group at KSW Lawyers in Abbotsford, B.C.
Assuming the pandemic numbers keep going down, employers are going to start asking: "Can I relax this policy? Can we modify it? Can we start calling people back that we terminated?" he says.
"These policies are no longer going to be justifiable from a scientific perspective, because it's going to be negligible in terms of them actually keeping people safer. But I don't think we're quite at that point yet."
And it's important to keep in mind that where employers have implemented a vaccine mandate, roughly 90 to 95 per cent of employees complied, says Drinovz.
"We're dealing with a very small fraction of the population that's still unvaccinated," he says. "But given the labour shortages, given the need for people to come back to work, I think it's going to be an issue for some employers."
Employment law considerations
Right now, there's definite confusion among employers when it comes to vaccine passports and mandates, says Adam Savaglio, partner in business law and employment law at Scarfone Hawkins in Hamilton, Ont.
But they need to remember that basic health and safety obligations remain — and those have to be separated from the actions of government.
"Just because the government says, 'We're not going to hold this obligation as a right for you to get a service or not,' it's mutually exclusive from the idea that an employer still has occupational health and safety obligations," he says.
"If [you're an employer] saying, 'Well, I'm going to bring everyone back,' you're still under the same risks that you had pre-passports, pre-vaccine mandates; you still have that same risk of transmission in the workplace."
While public health rules can be relied upon by employers to help justify their reasoning, these are not a prerequisite, says Drinovz.
"Ultimately, our worker's compensation act says the employer has a duty to keep workers safe and healthy and free from hazards. So if your particular workplace is such that a mandatory policy is still necessary — even though the government's not requiring it or supporting it through the health orders — you can still make that decision."
That's why the vaccine mandates can be upheld, and it's about the duty of care to employees and customers, says Savaglio.
"If you're saying… 'I'm going to allow unvaccinated workers to return to the workplace,' what you're saying is 'I'm not following the highest duty of care as recommended by public health standards,'" he says.
"If I'm not going to follow that higher duty of care, am I negligent now to my patrons? Am I now negligent to my other employees that work in the same vicinity as those unvaccinated individuals?"
Last month, the Toronto Transit Commission (TTC) fired 354 workers who did not meet its COVID-19 vaccination requirement.
Lifting the vaccine mandates
So, when is it safe to lift the mandates?
"If the risks of transmission become less, if there's some mitigating [factors such as] medicine that comes out for vaccinated and unvaccinated individuals that reduces the symptoms, then the… reasonable risks of harm become mitigated as well, and an employer can consider returns to the workplace," says Savaglio.
But the challenge is people returning to confined spaces, working closely with each other, in an office with poor circulation, he says.
"We're going to see more… employee-driven complaints, because I know that that person is not vaccinated and they work six feet from me, and it doesn't matter if I'm wearing a shield or not, we know that we're sharing the same air for… a long duration of time."
On the other hand, if there's no reason why someone couldn't be working from home doing the same work, "that's going to be a factor in determining how aggressive you can be on your mandatory policy," says Drinovz.
How should the non-compliant be treated?
But with public health restrictions lifting, what about employees who still face termination if they don't comply with the mandatory vaccine policy? A group of B.C. public servants, for example, has filed an action in B.C. Supreme Court hoping to stop their terminations.
"It'll be interesting to see what happens in this new B.C. case when they're looking at the B.C. government's policy, and whether the court feels that the scientific data is strong enough to justify such a serious remedy for the employer, like actually terminating them," says Drinovz.
"Because if you can have them work remotely or if you can submit them to testing regularly, arguably, you're still keeping the workplace safe. So, do you actually need to go to those extreme measures?"
In some of the cases, the policy has been upheld but the arbitrator has said the employer needs to give an option for people to be tested regularly if they're not vaccinated, he says.
"There's some sort of a balancing that needs to be done in order to balance safety versus an individual's rights and privacy and bodily integrity."
So far, the arbitration decisions that have come out around mandatory vaccinations in the workplace have generally favoured employers. And those that haven't been upheld were because of the manner with which the employer imposed the new policy, says Savaglio.
"The cases all clearly state, 'If you create a vaccine mandate, and you provide notice to your employees, and it's reasonable with respect to their duties and their obligations, you can park them on a leave of absence or you may not continue their employment, and it's going to be upheld.'"
Read more: How should requests for exemptions be handled?
As to how the employment relationship should end, there's not yet a concrete answer, he says. But if an employer provides significant notice to employees of the policy, the risks in the workplace, the consequences of being unvaccinated, and the worker chooses not to get vaccinated, then they've preferred not to meet the potential terms and conditions of their employment contract.
"If you're obstructing it through a preference, then it may be that you're not entitled to… reasonable notice or common law severance obligations statutorily. It may be that you disentitled yourself."