Saskatoon Health Region uses device to better serve remote communities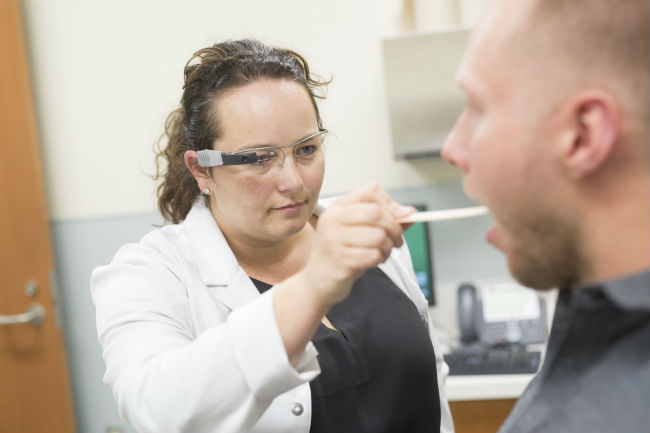 Remember Google Glass? The tech giant made a big splash a few years ago when it introduced a smart-glass wearable computer product. But for consumers, the idea didn't really take hold and it went away in 2015.
Recently, the company re-introduced the product and, this time around, the product is being targeted to business users under the name Google Glass Enterprise Edition (GGEE).
"Workers in many fields, like manufacturing, logistics, field services and health care, find it useful to consult a wearable device for information and other resources while their hands are busy. That's why we've spent the last two years working closely with a network of more than 30 expert partners to build customized software and business solutions for Glass for people in these fields," said Jay Kothari, project lead of Glass, in a July 18, 2017, blog post.
The new product promises a "small, lightweight, wearable computer with a transparent display that brings information into your line of sight," said Kothari, and can give workers access to manuals, schematics and other technical documents at all times while on the job, eliminating the need to put "down tools and climbing up and down ladders to consult paper instructions in between steps."
Saskatchewan reaches remote communities
For the medical profession, doctors are using the tool to take notes and hopefully pay better attention to patients, according to Google. And in Saskatchewan, Google Glass Enterprise is
being employed as a remote-treatment tool.
Four years ago, the government there created a program that placed robotic interfaces in 11 communities as part of its "remote presence medicine" to allow a physician in Saskatoon to take care of a patient in real time thousands of kilometres away, according to Ivar Mendez, unified head of the Department of Surgery at the University of Saskatchewan and the Saskatoon Health Region.
Saskatchewan has 1.2 million people, but 40 per cent live in rural areas and in "truly isolated communities," said Mendez, and for those who want access to doctors, it requires "tremendous effort to come even for things that are elective and not emergency."
So Mendez considered Google Glass as an option.
"(I thought) 'Instead of having a robot in a community up north, can we have wearable technology, where the nurse or the family physician can interact with the expert in the tertiary centre in Saskatoon?'" said Mendez.
"This is where we started exploring with the Google Glass."
When the Enterprise Edition was introduced, Mendez and the province partnered with a U.S.-based company, Hodei Technology, that produced a version of GGEE called Gemini that allows for remote communication through the wearable computing tool.
"The key feature will allow, for example, a nurse in an emergency room in a northern community, together with an expert surgeon who could see that patient through the nurse's eyes, and they can not only see through the nurse's eyes but also they could communicate with the nurse and they could communicate with the patient," said Mendez.
Despite the device's battery limitations, the remote locations all have two GGEE units charging and when they are needed, the nurse "puts the GG on her head, and the GG transmits directly through the tower that is in the room to the expert in Saskatoon, who can see what the nurse is seeing and, in that way, you are able to examine a patient and make a decision in real time while you are a thousand kilometres away," he said.
For wound treatment, the tool has proved invaluable, according to Mendez.
"For example, if you want to send the doctor a picture or a video of the wound of a patient, you know exactly what you are transmitting because you can see it in the glass itself," he said.
"We are very surprised and positive about this because we feel that it works very well."
Future uses envisioned by Mendez could include paramedics wearing GGEE and automatically transmitting patient information to the hospital while en route, or for medical education, said Mendez.
"When we evaluate a student in terms of their ability to see a patient, for example, we have rooms where there are cameras. But now with the Google Glass, students can wear the glasses and we will be able to see really in real time whatever the student is doing — even the movements of the student."
Augmented reality considerations
While GGEE is new, it's not the first of its kind, according to Isabel Pedersen, associate professor and Canada research chair in digital life, media and culture at the University of Ontario Institute of Technology (UOIT) in Oshawa, Ont.
"Augmented-reality headsets had been used in manufacturing already for quite a while before Google Glass or even Enterprise was proposed by Google."
Bell Canada was an early adopter with its Xybernaut program in the early 2000s, she said, when about 300 technicians used a wearable product that provided instant access to technical information.
"It made perfect sense because… they had to check with their documentation and their technical manuals in their vehicles," said Pedersen. "Having heads-up, hands-free information in front of them was a useful and important application."
Using AR (augmented reality) for training might be the best use for the technology, she said.
"If you are training someone using their hands or a manual job or labour, you are able to see from a first-person viewpoint, and training or coaching in that regard is much more functional and you are able to explain what you are doing."
For education and distance learning, "AR would make for an interesting way to teach," according to Pedersen, who has witnessed it as a teaching tool at the Royal Ontario Museum in Toronto.
"I think people are a lot more used to the idea of wearing an eye display than they were in 2013. The idea is becoming much more normalized," she said.
"People's desire to have seamless interaction with information is one of the main reasons people will adopt this."
When putting together machinery with a specific set of instructions, "you have to be very careful about how you connect the machinery; you can use graphical overlay to chart how you are completing a task," said Pedersen.
"When procedures have to be followed in a very linear fashion, it's very useful," she said.
Potential privacy concerns
But what about privacy concerns, with the potential for workers to record every interaction with others?
"With Enterprise, every company is going to have to think very seriously about protecting workers' privacy with policies and technology controls about how the content will be used and stored," said Pedersen.
"Right now, what we're seeing is a lot of companies are really in the pilot stage of implementation and they are trying to figure out what privacy issues are emerging," said Debra Mackinnon, a PhD candidate in the sociology department at Queen's University in Kingston, Ont.
"In terms of how the Canadian privacy landscape works, we don't know that there has been a privacy complaint made to the privacy commissioner or another group that has landed on their desk, but we may start to see things emerge."
Mackinnon and Steven Richardson, also a PhD candidate in the sociology department at Queen's, co-wrote the research study Left to Their Own Devices? Privacy Implications of Wearable Technology in Canadian Workplaces for the 2016-17 Contributions Program of the Office of the Privacy Commissioner of Canada (OPC).
And when attending various wearables conferences in Canada and the United States, "understandably, the issue of privacy is brought up every single time," said Richardson.
"But the narrative has started to shift, where it's not so much about privacy per se, in a practical sense involving lawyers and privacy experts; they are trying to talk about it as a social issue."
Most of the wearable products available don't last long enough to record everything anyway due to low levels of battery power, according to Richardson.
"The battery can't last for a whole shift, when recording audio-visual all the time," he said.
"If the main concern is the camera part of it, practically speaking, the technology isn't really there yet."
And wearables are not "living up to the tidal waves of hype that they were expecting, a la smartphones," according to Richardson.
Still, with a new tool comes a new set of concerns about privacy, said Mackinnon.
"The importance of installing a compliance officer with any emerging technology that is brought into a workplace and dealing with issues of consent limiting use, disclosure, retention, all these need to
be brought in with policies and the technology."
In Canada, employees have a reasonable expectation of privacy, said Richardson.
"Let's say Google Glass was given to you by your employer, 'Here: Use it while you are assembling something,' and then you put it on for your shift."
"The question is: 'Would the employee have a reasonable expectation of privacy of any personal information that could be on that device during the course of their shift?'"
And once an employer decides to implement a wearables program such as GGEE, it should conduct a "privacy impact assessment" with an experienced consultant, according to Richardson — especially small employers that cannot afford dedicated lawyers on staff.
But once wearable eyeglass products become more ubiquitous, usage might rise, said Pedersen.
People want to use their cellphones for contacts and a lot of other things but "anything a company can do to speed the process is something that will probably work in the market."
"We could be even more addicted to our computers devices if we make it easier all the time," she said.