Immersive technology takes on harassment in the workplace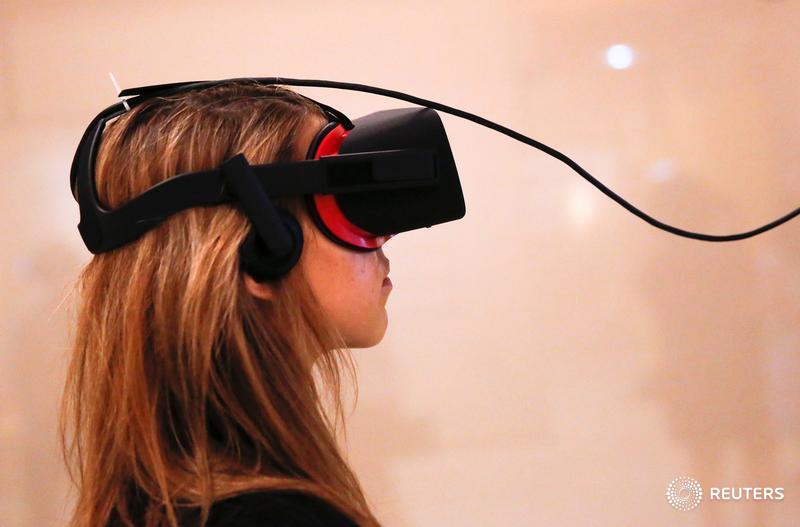 LONDON (Thomson Reuters Foundation) — Your boss ends a meeting by grabbing a colleague and asking her to "pack something fitting" for the party you're all planning after an out-of-town conference.
Do you A. say something or B. let it pass?
That's the type of hypothetical question put to staff in a new virtual reality (VR) training program, which uses immersive technology to tackle sex harassment in the workplace.
It is one of a series of schemes using VR to explore social issues that are hard to teach the traditional way.
"There is no better way to explain a feeling than to really immerse somebody in a situation," said Morgan Mercer, who said she was subject to two episodes of sexual violence so founded a training company to help others avoid the same fate.
Globally, one in three women and girls experiences physical or sexual violence, the United Nations estimates.
Used in consoles to bring players close to the action, virtual reality is increasingly deployed for far more than fun.
Be it increasing awareness about homelessness, spreading the word about sex trafficking or fighting dementia, VR has featured in social spheres far from the gaming world that brought it to prominence.
Supporters say it provides an enveloping experience that makes viewers feel personally involved in a given situation.
"People respond to virtual situations as if they were real," said Mavi Sanchez Vives, an expert at the University of Barcelona on VR applications in neuroscience.
BLURRED LINES
Mercer founded her San Francisco-based training firm, Vantage Point, in 2017.
Last month it launched its first courses, with staff at 12 companies donning VR headsets to join simulated meetings where they witness inappropriate comments or behaviour — and work out how they might react.
At least 25 per cent of women in the United States and more than 50 per cent in Britain report having experienced sexual harassment in the workplace.
Training focuses on situations where work and social life blend, often a fraught place as old-world offices mimic the relaxed culture of a startup, Mercer said in a telephone interview.
"People work in environments where colleagues hang out, get drinks and are friends, so it is about teaching them how to identify when somebody is uncomfortable, what is appropriate and what is not and what actions can be taken," she said.
"Often things can be nipped in the bud before they progress up to HR (human resources)."
In May, a poll found that only a third of U.S. employers had taken new measures to prevent sexual harassment since the #MeToo movement sparked international debate and led to a global furor over the widespread nature of sex harassment.
WALK IN MY SHOES
In Barcelona, Sanchez Vives has been using similar VR technology to help violent men see how it feels to be on the other end of their abuse, part of a pilot rehabilitation program run by the Catalan government.
Under the scheme, first-time offenders are transposed into the body of a women facing an aggressive partner, who hurls insults, smashes a phone then moves in uncomfortably close.
The simulation gives offenders much more insight into the impact of their outbursts than role play or educational videos, said Sanchez Vives.
"You don't have to imagine how the other one would feel," she said. "The problem with imagination is that some people are very good at it, but others are not."
In a study published this year, Sanchez Vives and her team found perpetrators of domestic violence were poor at recognizing fear — often mistaking a scared expression for a happy one.
Such a lack of empathy has been linked to aggressive behaviour, Sanchez Vives said. The VR session improved offenders' ability to spot fear, she added.
"We don't know how long this effect lasts, but we know there is at least a short-term effect," she said.
Professor Massimo Bergamasco, of the Sant'Anna School of Advanced Studies in Pisa, took the idea further, introducing a wearable robotic arm that simulates the grab of the aggressor.
The Italian system had yet to be tested for rehabilitation.
FACE FEAR — VIRTUALLY
In Canada, psychologists are helping victims of sexual violence get over their trauma by re-enacting the abuse via VR.
In exposure therapy, patients must face their fears in a bid to overcome them and VR makes returning to the scene of a crime safer, said Stephane Bouchard, a psychology professor at the Universite du Quebec en Outaouais.
"You put on the goggles and you find yourself say in a bar or in a house," he said, referring to a digital simulation developed by his team, where an avatar controlled by the therapist lurks around, before following the viewer outdoors.
"We showed that we can induce emotions with this environment and also that it's safe," Bouchard said.
VR can help victims and perpetrators of abuse but it is not in of itself a silver bullet, said Nissa Ramsay, founder of Think Social Tech consultancy.
"A new technology can come in and inspire the sector to start working in a different way," she said. "(But) it's really important to make sure that people making use of that technology have access to other support and services."