It's a brave new world for HR in 2020 and that means new skills and new priorities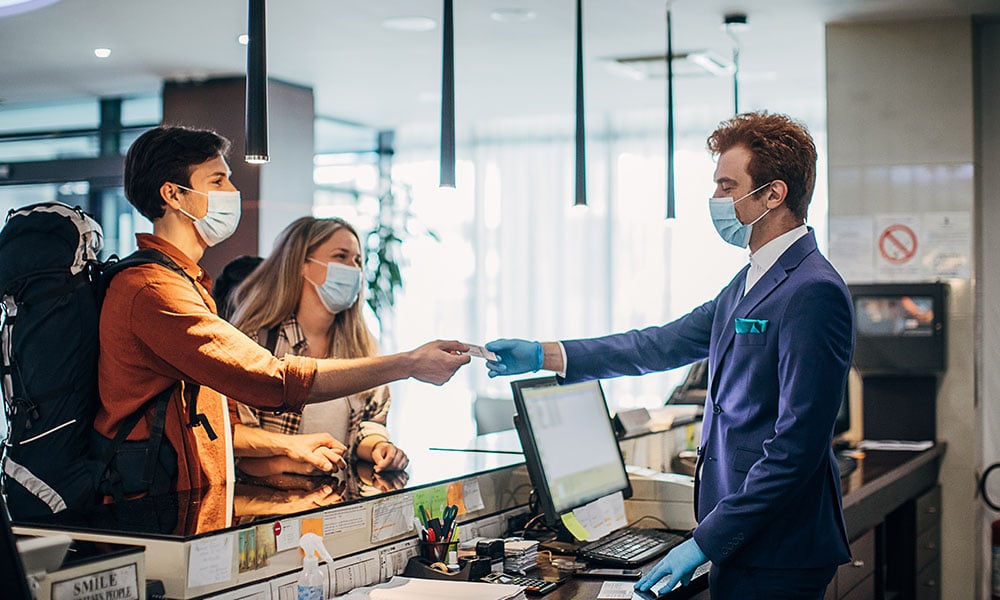 While many departments have radically shifted perspectives and workflows during the coronavirus lockdown and a now-slow reemergence back into the office, HR has been thrust into the forefront of the new normal; in some cases, at lightning speed.
And that's meant a dramatic shift to its role.
"COVID has just accelerated all the thinking and impetus to act that HR has been sitting with for the past five to 10 years [to] 'How do we start to enable a more digital workforce? How do we rethink the work people are doing because it looks different when they're doing it in a different context?'" says Jodi Baker Calamai, global Canadian practice leader HR strategy at Deloitte in Toronto.
"All these top-of-mind factors, what we used to call 'the future of work,' have just been accelerated, given the state of COVID."
Spotlight on HR
HR's overall importance has grown, especially considering the nature of the lockdown and its effect on workers, according to Paula Allen, senior vice president of research analytics and innovation at Morneau Shepell in Toronto.
"In my experience, it's actually changed for the better. Sometimes, in a crisis situation, you just don't have time for silos, so, at the end of the day, IT has to make sure that they have everybody set up, finance has to make sure that they're doing the right projections. The role of HR has been elevated tremendously as a critical role in this pandemic, because, when you really think about it, 100 per cent of the risks and 100 per cent of its destruction has to do with people. It's not about a risk to land or property or something else, it's 100 per cent a people issue."
Not only have things changed but everybody is watching how employers are doing, she says.
"One of the top PR firms said the annual reports are being read more than ever before; social media is really paying attention to how organizations have been coping, how they're treating their employees, whether they're in a good place or a bad place. The amount of public scrutiny on how businesses are functioning during this crisis has really increased a fair bit," says Allen.
"It's not even just how you're doing but there's this other level of making sure that you're doing things that are going to support your reputation as an organization — doing the right things and making sure that it's recognized as such."
Remote work focus
The performance of HR in transitioning the workforce overnight to a remote-centred reality has shone a positive light on the department and this has helped eliminate some of the traditional animosity from other departments, says Baker Calamai.
"The resistance felt previously in the broader business context has shifted, and now it's about: 'HR, tell us what to do and how to do it?' The fact that, in 24 hours, HR could set up a command centre and get their arms around the workforce and think about how they were transitioning into a different working arrangement — that wouldn't have been possible if there had been resistance and pushback that had been felt in other initiatives."
Keeping alive the remote culture has been one of the major shifts on HR's plate, says one university-based expert.
"The bigger issue is the organizational behaviour side of it, in that we've gone from a cohesive team environment that we're always trying to promote and move forward with [to] a situation where many of our people are working isolated from the rest of their coworkers," says Rick Brick, assistant lecturer School of Business at the University of Alberta in Edmonton.
"Some tools are helping with that, certainly Zoom and Skype and FaceTime, but, unfortunately, it's not a perfect substitute for in-person, face-to-face camaraderie that helps build a team environment. And, for most organizations now, that team environment is essential to team job performance. Finding a workaround for that is probably the bigger challenge."
Change leaders needed
HR has also been asking many questions around business continuity, says Allen.
"Do you have ways that you can protect your people even while they maintain productivity? Your suppliers, do they have resilience? Are they going to going to let you down because they can't provide supply?"
HR has also had to pivot to become truly people focused due to the fact that the pandemic has dramatically affected employees' lives, according to a change management expert.
"There's more of a shift now to a more people-centred approach in organizations, and that's where HR plays a very big part to support that type of change," says Yvonne Ruke Akpoveta, change strategist advisor at the Change Leadership management consulting firm in Toronto.
And with the anti-racism movement of Black Lives Matter and greater focus on diversity and inclusion, that's a heavier look at values as a whole, she says.
"There is more need to be change leaders, to be responsive to the changes that are taking place around us, because there's a huge variety of changes taking place around; it's happening at such a speed that there's so much that they have to be conscious about."
Newer skills required of HR
In addition to managing people, HR is becoming an essential component of the strategic management function and organizations are looking for HR "to help solve and help direct and lead this transition into this new workspace," says Brick.
"Companies are looking to HR for solutions and ideas and, of course, this is new to us as well. But we're in the people business, and organizations are realizing just how critical our staff is. The reality is they're now finding that they need those employees in ways that they had never envisioned before [because] this came out of left field for most organizations; it happened so quickly that they are now turning to HR to say, 'Can you help lead us with this?'"
As well, HR professionals need to be aware of "softer or more transient capabilities, things like digital literacy or innovation, action orientation, being purposeful and data-obsessed, being team igniters — these are the net new capabilities that we see [in] HR leaders around the world asking the question 'How do we start to build these up?'" says Baker Calamai.
To keep up with the change and take advantage of it, HR professionals should be looking to adopt a more "non-technical skills-based approach. Things like more empathy, emotional intelligence, all those kinds of skills are becoming more important," says Ruke Akpoveta. "It's even having HR to say, 'How do we recruit for the new types of skillsets that we need in our organization in order to move forward?'"
HR can cast a wider net to find those types of skillsets in new hires, she says.
"Is that talent based here in Toronto? Or now that we have more remote working, do we have that option to fill in gaps that we couldn't fill before with recruiting people from different places, because remote working is now more accessible?"
But HR leaders should also remember to look inward, says Brick.
"A lot of HR organizations tend to forget that they need to care for themselves. One of the things we're starting to see is some burnout with HR people. They've got so much going on, and they're constantly being asked to help and to do things, and it's new to them. New is exciting, but new is also exhausting at times and, so, we're finding that one of the lessons that I give when I'm talking to HR executives is: 'Please don't lose sight of the effect this is having on your team. Your team has to be well to help the others be well.'"