Inspectors taking 'data-driven approach' to focus on places with outbreaks, such as manufacturing, warehouses, construction and grocery stores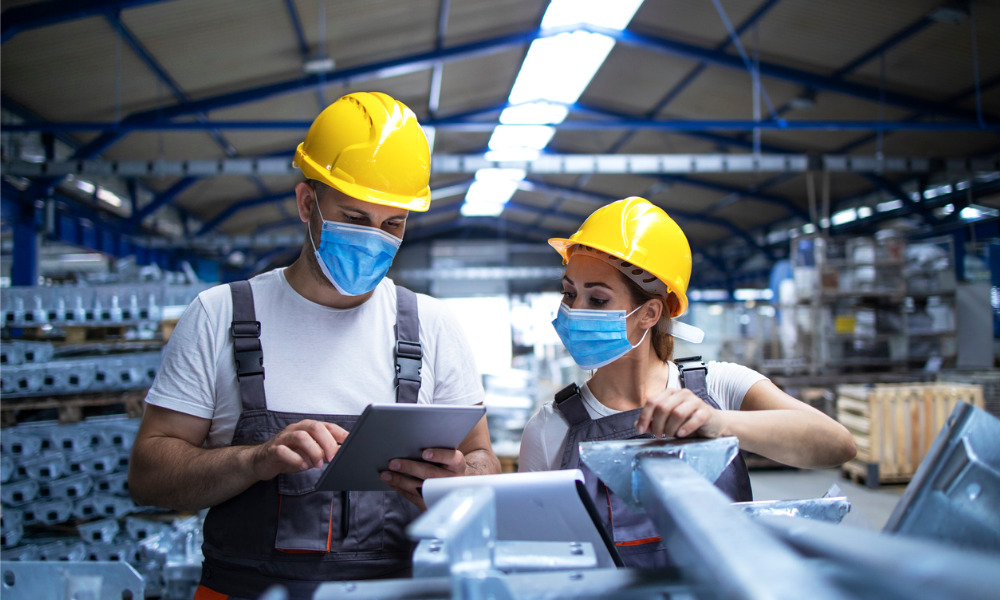 With COVID-19 cases continuing to rise at an alarming rate, and the "looming threat" hospitals and long-term care homes, the Ontario government has declared a second provincial emergency.
"Ontario is in a crisis and with the current trends, our hospital ICUs will be overwhelmed in a few short weeks with unthinkable consequences," says Premier Doug Ford. "That's why we are taking urgent and decisive action, which includes declaring a provincial emergency and imposing a stay-at-home-order. We need people to only go out only for essential trips to pick up groceries or go to medical appointments."
Effective Jan. 14, 12:01 a.m., the government is issuing a stay-at-home order requiring everyone to remain at home with exceptions for essential purposes, such as going to the grocery store or pharmacy, accessing health care services, for exercise or for essential work.
All non-essential retail stores, including hardware stores, alcohol retailers, and those offering curbside pickup or delivery, must open no earlier than 7 a.m. and close no later than 8 p.m. The restricted hours do not apply to stores that primarily sell food, pharmacies, gas stations, convenience stores, and restaurants for takeout or delivery. Schools in many regions will not return to in-person instruction until Feb. 10.
All businesses must ensure that any employee who can work from home, does work from home. And individuals are required to wear a mask or face covering in the indoor areas of businesses or organizations that are open.
The government made no mention of providing paid sick days to employees, despite many calling for the change.
Workplace testing, inspections
To help quickly identify and isolate cases of COVID-19 in workplaces, the province will provide up to 300,000 COVID-19 tests per week to support key sectors such as manufacturing, warehousing, supply chain and food processing, as well as additional tests for schools and long-term care homes. This volume of rapid tests would support antigen screening for up to 150,000 workers per week over the next four to five months in Ontario's most critical workplaces.
The Ministry of Labour, Training and Skills Development is also launching a "Stay Safe All Day" campaign by focusing workplace inspections in areas of high transmission, including break rooms, and providing new educational materials to employers to promote safe behaviour before, during and after work.
"Evidence gathered from COVID-19-related workplace inspections to date shows the vast majority of employers and workers are following COVID-19 safety requirements when working. However, when in a break room, a vehicle or not on the clock, there is a tendency to forget about the importance of wearing masks, maintaining physical distance and hand hygiene," says the government.
As part of the campaign, inspectors will use a data-driven approach to focus on workplaces with reported COVID-19 outbreaks, manufacturing businesses, warehouses, distribution centres, food processing operations, construction projects and publicly accessible workplaces deemed essential, such as grocery stores.
"As COVID-19 cases continue to rise, we all need to step up and take additional measures to stop the spread," says Monte McNaughton, minister of labour, training and skills development. "This includes increasing our inspections to look at everything workers do both while on the job and throughout the workday."
If an employee becomes infected with COVID-19, they may be entitled to federally funded paid sick leave of up to $500 a week for two weeks. Workers can also access Canada's Recovery Caregiver Benefit (CRCB) of up to $500 per week for up to 26 weeks if they are unable to work because they must care for their child or a family member.
New enforcement measures
The Ontario Provincial Police, local police forces, bylaw officers and provincial workplace inspectors will be allowed to issue tickets to individuals who do not comply with the stay-at-home-order, or those not wearing a mask or face covering indoors, as well as retail operators and companies that do not enforce these rules. Those that do not to abide by orders will be subject to set fines or prosecution under both the Reopening Ontario (A Flexible Response to COVID-19) Act, (ROA) and the Emergency Management and Civil Protection Act (EMCPA).
The government will also implement new health and safety measures in Ontario child care settings, such as enhanced screening to align with school requirements, voluntary participation in targeted testing and additional infection prevention and control measures to align with schools. These enhancements are in addition to the existing health and safety measures already being implemented in child care settings across the province.
Back in November, the Ontario government said it was boosting enforcement of workplace measures.