Thomson Reuters, KPMG among employers allowing staff to temporarily set up roots abroad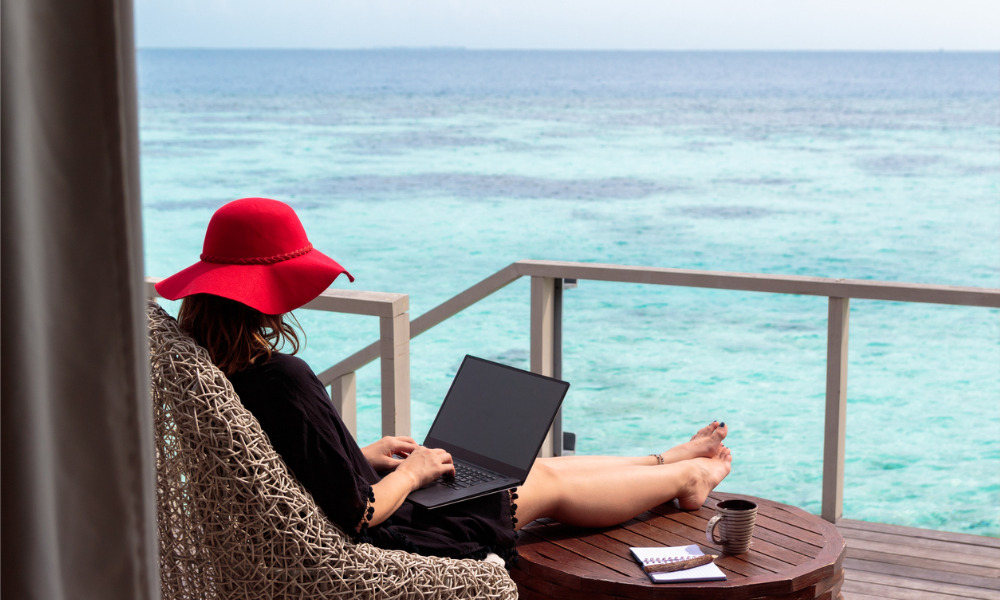 "We're really trying to put a stake in the ground and lead from the front on this."
So says Mary-Alice Vuicic, chief people officer at Thomson Reuters in Toronto, in describing her company's generous benefits when it comes to "work from anywhere" flexibility and leaves for caregiving and sabbaticals.
"If you're rigid, if you're limited in the flexibility that you offer... people just aren't willing to make the sacrifices that they have in the past," she says.
"We certainly expect to see more requests and expectations for flexibility in how people get work done. So I'm excited... I think that this is launching a whole wave of creative and innovative ways of working that never would have happened had the pandemic not occurred."
Over the last several months, there's been a big shift, says Sonia Gandhi, national leader for KPMG's global mobility services in Canada, which offers a "roam" program allowing employees to work remotely outside of their home province for up to eight weeks in a fiscal year.
"Things have opened up in Canada, restrictions are being lifted, people are going back into the office, and employees are really starting to think about working remotely. Almost every day, I'm entertaining a call with a company in terms of 'How do we put this in place? What does it mean for employees? What are we seeing in the market?' So employees are really starting to think about this."
And it's doable, she says, "as long as you do your homework in advance and upfront, and companies are setting their boundaries and business rules around what their comfort level is around risk and compliance.
"It's important that the parameters be set and the employer and the employee understand the implications with respect to working in a different country, and all the do's and don'ts that go along with it."
Focused on flexibility
Three months into the COVID-19 pandemic, Thomson Reuters (TR) had already decided the future of work at the company would be hybrid, says Vuicic.
"We gave managers and individuals the opportunity to design work or determine what version of hybrid worked for them, and committed to experimenting along the way."
Later, when people said they would like greater flexibility, TR launched a "Flex My Way" program which allowed them to work eight weeks from anywhere in Canada.
And when employees asked for an expansion of that offering, the content-driven tech company — which has roughly 1,400 employees in Canada and 24,000 worldwide — said people could work four weeks from international destinations as part of its "Work from Anywhere" policy as of July 1, 2022.
"We have many people who have family who reside in a different country, so they may have emigrated from their home country and they want the opportunity to go back and visit their family — or just go somewhere where there's a better climate," she says.
"We've had just amazing feedback about it; our people are enormously grateful."
Read more: A "remote-friendly" company recently held an off-site retreat after a two-year absence.
To that end, offering such a generous perk helps with employee attraction and retention.
"It's a differentiator for TR, the focus on wellbeing, focus on flexibility, that focus on trust," says Vuicic.
"[It's about] trusting our colleagues and our leaders... to find ways to work to do their role, but do it in a way that fits in their life."
Nearly one out of four Canadians have considered working from abroad while keeping the same job, and 39 per cent say they would keep their current job but live in another province or country if their employer lets them do it, according to a recent survey.
Support environment needed
To work from anywhere, employees must make a request of their manager just as they would for their vacation time, she says.
If they are going to work in the same time zone, there's no issue, but if it's a significantly different time zone that means they're going to be hours ahead or behind, the manager and worker should identify which meetings are critical for the person to attend and what support is needed to cover certain work while they're away, says Vuicic.
"By and large, we've had very strong uptake to date and a very supportive environment."
As for any safety concerns around COVID-19, it's up to the employee to decide what makes sense, she says.
"Obviously, the safety and wellbeing of our people is paramount, and we follow all local regulations and requirements. But as those have loosened around most of the globe, we leave it to people to determine what feels right for them — people have different risk tolerances."
Read more: 'No thanks': Many employees still reluctant to travel for work
In offering these policies and flexibility, a supportive culture is key, says Vuicic.
"If you have a program or an offering and you don't have a supportive manager or supportive colleagues, it's meaningless."
Immigration, tax, payroll considerations to remote work
The decision to provide four weeks away is related to tax requirements, she says, to avoid "a situation where there could be certain tax obligations or reporting obligations. So the team did an extensive amount of work on this."
The decision on timing should not be taken lightly, according to Gandhi.
"A lot of companies think, 'OK, if I just limit it to four weeks or to 30 days, I'm in the clear with all tax and legal issues,' but that's not necessarily the case."
Countries are trying to ensure that you're not creating a "presence" in that country, which could result in taxation, she says.
"Presence can be different in different forms, but also time spent in that country could create a longer presence."
The first item to consider is immigration: Does the employee have the right to work in that other country? In countries like the U.S., for example, it doesn't necessarily equate that a person can work remotely, says Gandhi.
"You typically have to be a citizen of the U.S. or you have to be sponsored by an employer to have a work permit to work in the U.S."
On the other hand, there are "nomad" countries that offer remote work visas encouraging foreigners to work there, she says.
"It's important that the employee has the immigration authority and the right to work in that country."
Read more: 5 key employment law questions about employees working in another jurisdiction.
Then there are tax considerations, such as payroll tax, corporate tax, social security and pensions.
"The way the global network works is that each country typically would have a treaty between each other. So, let's say between Canada and U.S., we would have a tax treaty, and a tax treaty is needed to ensure that there's no double taxation for both companies and the employee, because each country has their own domestic laws," says Gandhi.
But every treaty could be different. For example, if you've got an employee from the U.S. who wants to go to Switzerland, you have to look at the treaty between those two countries.
"It's really [about] just looking at all of the treaties, and then understanding what the parameters might be whereby it would trigger tax implications," she says.
If a treaty involves a country with a domestic law that says payroll implications would kick in after four weeks, then the employer can impose that time limit for employees working temporarily in that particular country so they don't trigger any payroll requirements in the home country, she says.
"It's important to understand what all the rules are because each country is going to have a different rule; each combination of countries is going to have a different rule."