Tech company plans to test out 4-day work week this summer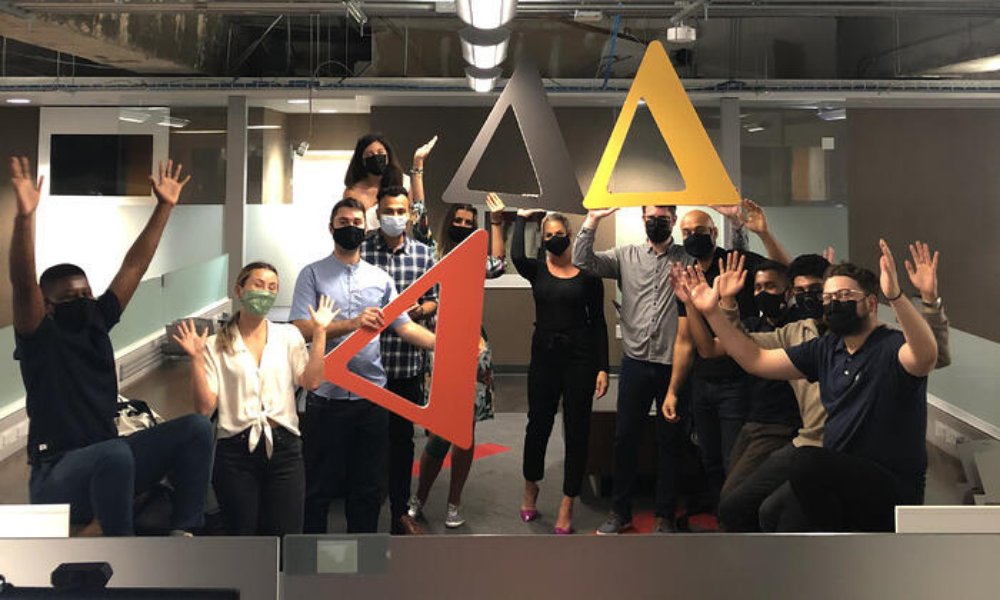 It's a brave new world, and if you're not prepared to change with the changing times, it can be a little scary.
So says Ross Wainwright, CEO of Alida, in discussing his company's decision to pilot a four-day work week starting in July. Employees will maintain their full salary and benefits and take Fridays off.
"Does it mean it's a bit of a crazy week? Yes. Does it mean you get to celebrate as much as eight long weekends over the summer? [Yes.]"
The objective is to help ensure that the employees are in the best place possible to serve their customers and collaborate with their colleagues and do their jobs, he says. Between four or five lockdowns and remote work that might involve working from a small apartment with young children, for example, there's a lot of mental health stress.
"This is really intended to try and meet the employees where they are… This isn't about reducing productivity hours or dropping from five days to four days — the work still has to get done. This is really more about empowering the employees to choose the schedule that best works for them to get their work done," says Wainwright.
"And if the clients are happy and the employees are happy, and we can perform, then maybe this is something that I should consider on a permanent basis."
To recognize the contributions of KPMG in Canada's employees, the firm is making every weekend a long weekend during July and August. That adds up to seven additional paid days off through the summer for more than 10,000 workers.
Focused on attraction, retention
Another motivator for Alida's pilot project? The "great resignation," as many workers reconsider their career path amid the pandemic.
"There's always been a war on talent — it's pretty frothy in tech in Toronto, for sure — and the pandemic heightened the anxiety and the stress level for the employees and that contributed to the great resignation."
Alida, provider of customer experience management software, hired 190 people last year and currently has roughly 500 employees; it will probably hire another 120 next year, says Wainwright.
"The recruiting engine is running all the time. And it's not just filling the job, it's the quality of the candidates. And most of the young people, all the young [job candidates], the first thing they talk about before money or equity, they want to know about work-life balance and culture."
Read more: Having rolled out a major program that reduced the work hours of more than 2,500 workers to four days per week, Iceland called the trials "a major success."
With many people working from home during the pandemic, there have been a lot of mental health issues for workers. And now, coming out of the pandemic, employers are facing a crunch to find people to do the work, and retention is a big issue, says Margaret Yap, associate professor in human resources management at the Ted Rogers School of Management at Ryerson University in Toronto.
As a result, offering a four-day work week makes sense — but it's definitely not straightforward, she says.
"I bet they are going to do this because they want to get more people to apply. Everybody is now on the verge to find out 'What tricks can I pull out of my hat so that people will apply and want to come work for me?' But the thing is, if [employers] promise something, they better deliver it, because otherwise 'I join your company, I'm just going to leave if you don't deliver.'"
Measuring the success of a four-day work week
If productivity stays the same or goes higher, there is no additional cost to the employer with the shortened week, says Yap.
"They really seriously shouldn't care whether you work five days or four days, as long as you maintain or improve your productivity level. And there are studies that have shown that a shorter work week actually increases productivity, there are benefits coming out of it — higher productivity, higher engagement, higher job satisfaction, lower absenteeism, lower turnover, which is great for this 'great resignation' period," she says.
"The idea here is to maintain productivity levels so employers do not have to hire additional staff, because hiring more staff means more costs. And then if you can improve productivity, I bet you 100 per cent all employees will love it."
Read more: Back in October, Steven Del Duca, leader of the Ontario Liberal Party, promised that if his party was elected, it would "launch a pilot project to analyze the potential for a four-day workweek."
Alida will measure success based on productivity and business results, in addition to leveraging its in-house platform to gather feedback on employee happiness levels.
"We're fortunate that we're in the low 90s, typically, so if that goes up, that's a good thing. I think we'll [also] see a lot from retention of talent, as well as recruiting top talent," says Wainwright.
With 500 employees, if employee churn goes down from 20 to 10, for example, that's 40 people that don't need to be hired, he says.
"What's the cost of hiring them, training them, ramping them up, getting them to a point of productivity? There's a cost associated with that, too."
On the business side, it's largely performance based, and Alida will keep track of stats like the net promoter score to gauge the impact of the four-day work week, says Wainwright.
"We can figure out whether the numbers are going in the right direction, and then [it's about] performances, pipeline, net dollar retention… are we hitting the KPIs in the business?"
Empowerment is based on trust, and if employees are empowered, great things can happen, he says.
"I trust that the employees are going to still get their work done. If you don't have that trust, you've got to have a pretty authentic culture. You've got to have motivated employees or, otherwise, it's a risk."
The question is: How many employees will take advantage of it and how many are going to work their tails off to make sure they don't disappoint? Says Wainwright.
"I'm banking that the bulk of the employees are going to do the latter."
Potential challenges to fewer hours
Despite the enthusiasm for the compressed work week, there are a few challenges for Alida to consider. For one, the company has 500 employees globally, with teams in Copenhagen, Amsterdam, France, Germany, Hong Kong, Singapore and Australia.
"We've got to go through some labour laws and talk to some of our attorneys just to go and figure out [what's involved] because I want to do this for the entire employee base," says Wainwright. "It's a lot easier for North America or for the U.S. and Canada."
In addition, each department is going to have to manage the shortened week a little differently, he says. Alida will have to do training with its managers on how best to manage their teams. For example, customers will expect tech support on Fridays, so the company might have to rotate those teams, he says.
Sales is also "tricky," says Wainwright. "Candidly, if you're not working on a Friday, you're going to sell less, you're going to build less pipeline, so that's something that we're going to have to work through. And then how do we coordinate the VAT team, what we call the value added team, on how they work with sales and supporting the customer?"
The customer has to be at the centre of everything, he says.
"If the customer says, 'Hey, I need I need you to present Friday morning,' then we're presenting Friday morning."
Read more: Consulting company Avanade recently announced it is offering Canadian employees 100-per-cent flexibility in how they configure their workweek.
For this approach to really work, it's going to be challenging, says Yap.
"A lot of the cases I've seen so far are smaller companies, where they can be a bit more agile in terms of their decision-making. And, of course, the number of people being impacted is also fewer… so it's going to be easier to do."
The other challenge is that a lot of organizations have both full-time salaried employees and hourly employees, along with contractors and part-timers, she says.
"If you do this for the full-time salaried, how does it seem to be equitable? What is there for the part timers?"
Essentially, success is based on two ingredients, says Yap: trust and discipline.
"We need trust, trust by the employer that the employees will be doing the work [and discipline because] it is very tempting for us to stay on a computer to 10 pm because the computer is right there…. So if you don't have the discipline, your four-day work week [means] employees will be thinking about work all the time."