Increased stress, caregiving responsibilities among top reasons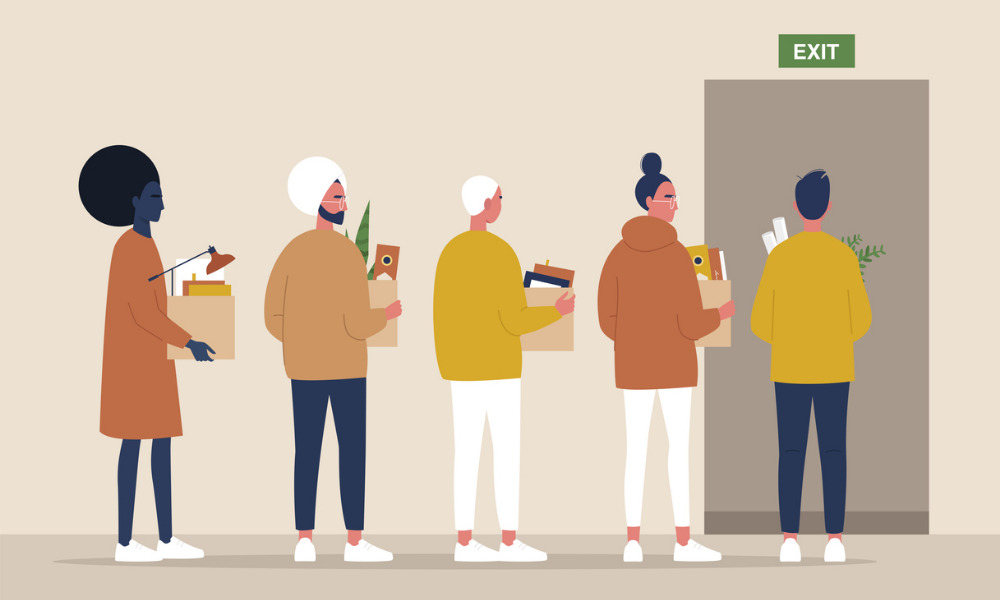 Amid the COVID-19 pandemic, eight per cent of people chose to resign from their job.
Another 17 per cent are thinking about doing it while 18 per cent are unsure, according to a survey by LifeWorks
Employed people with reduced salaries are 50 per cent more likely to think about leaving their job than employed people with no change to salary or hours.
And respondents under 40 years old are 70 per cent more likely to be thinking about leaving their job than respondents over 50.
Reasons for leaving jobs
Why people are leaving work is varied, according to the survey of 3,000 respondents in Canada in September.
Eighteen per cent did so because of increased stress at work while 16 per cent did it due to caregiving responsibilities.
Older employees are feeling underappreciated in the workplace at a disproportionate rate, with 35 per cent of respondents between the ages of 40 and 69 citing lack of appreciation as the reason for considering resignation, compared to nine per cent of those aged 20-39.
"Ongoing workplace changes and uncertainty for the future continue to increase the mental strain that employees are experiencing, and Canadians are indicating that actions speak louder than words when it comes to how employers address this. Building a supportive culture that speaks about and provides resources for mental health needs is a great first step. Employers must recognize that employees are considering resigning from their jobs if they don't get support. An investment in employees is an investment in business success," says Stephen Liptrap, president and CEO of LifeWorks.
More than one-fifth of Canadians also say they would leave a job that they are happy with for a salary increase of 10 per cent or less, while 74 per cent would leave a job that they are happy with for any increase in salary.
Eighteen per cent of Canadians would consider quitting their job if they don't get a raise by year's end, according to a separate report from Robert Half.
Flexible work valued
Nearly three in 10 (29 per cent) of respondents want to have flexibility in their work location while 17 per cent would want to get more/better support from their employer for their personal wellbeing, finds LifeWorks.
However, 47 per cent say their employer has not asked them about their working preferences, while 33 per cent have been asked.
"Feeling heard and valued are critical to employee satisfaction and total wellbeing. To foster a healthy workplace, it is not only critical that employers look beyond policy to consider their employees' unique wants and needs, but that they also provide ongoing opportunities for workers to share their thoughts and feelings in an unbiased, safe environment," says Paula Allen, global leader and senior vice president, LifeWorks.
"Listening to employees' views plays a crucial role in ensuring they feel valued and motivated to continue doing their best work."
In this "era for employees," companies should be giving employees opportunities to prevent the Great Resignation and turn it around into the "Great Retention," says Jeanne Schad, talent solutions and strategy practice leader, Randstad Risesmart.
"Opportunities to grow. To learn. To do new things. To take on new responsibilities. To make more money. To find more balance. To align their new priorities to meaningful work."
More than eight in 10 (84 per cent) of Canadian employers say they will consider some sort of permanent work-from-home policy, according to another report from Randstad Sourceright.