'We have moved to a globally competitive labour market and there is no going back'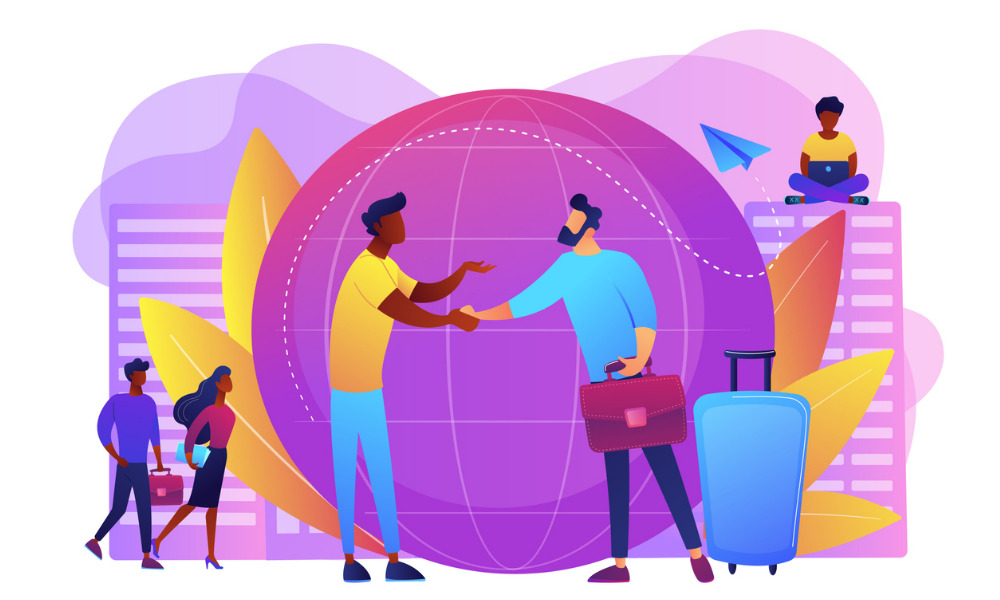 To help alleviate the effects of the ongoing labour scarcity, Canadian employers should be prepared to look abroad and perhaps foreign employers should be encouraged to look to Canada, according to a new report by PricewaterhouseCoopers Canada (PwC).
"If Canada allowed or simplified — which I know is counter-intuitive — the process of hiring remotely, then we could benefit from high-skilled Canadians who stay in Canada and would work for, say, a U.S. employer," says Michael Dobner, national leader of economics and policy at PwC Canada in Markham, Ont., who spoke with Canadian HR Reporter.
"What that will do is their family stays here; they spend here; they pay taxes here; and we are creating a pool of high-skilled people that are getting experience with international companies."
The current environment makes it very difficult for foreign companies to hire Canadian workers so, he says.
"Canada has one of the most complex regulatory environments when it comes to remote hiring and so that deters employers from outside Canada to hire employees in Canada on a remote basis, and they tend to go to the option of moving [them] there physically."
With the pandemic, many employers have come to realize that the hiring pool does not need to be quite so local because there's valuable talent to be found further afield ― in another city, province or country, say experts.
Open to remote
The report finds that 65 per cent of 46 employers surveyed between June and August would be open to having remote employees across the country while one-third would be willing to look to other countries for workers. These figures pale in comparison to U.S. companies, according to Dobner, which "are much more active in that regard."
Employers need to understand that we have moved to a globally competitive labour market, he says, "and there is no going back… we need to compete on a global basis."
With job vacancies rising 22 per cent from May to June, accounting for more than 800,000 job openings, it's incumbent upon employers to expand the hiring net, says Dobner.
And for Canadian employers, a lot of this attitude stems from a "conservative element" within our corporate mindset, he says.
"Canadian employers are less willing to go outside their comfort zone, but there is also an issue of overestimating the challenges and difficulties in doing that. There are challenges, there are difficulties but, in our view, those challenges are surmountable and when you compare that to the opportunity cost that's been lost by not attempting to go beyond your borders, that equation does not look rational. When we see where employers that were forced because of the situation to do that, they found that it's not the end of the world to engage in remote, cross-border hiring."
The report found that 23 per cent of respondents had remote employees in other countries but these were concentrated in technical and professional service positions.
Canadian HR Reporter recently spoke with Erika Van Noort, vice president of candidate and employee experience at Softchoice in Toronto, for best practices on recruitment success in the "new normal."
'Simplify' tax form
Another barrier identified in the research is the T2200 form, in which home employees claim expenses and it must be completed by employers.
"Employers that we talked to told us that the current T2200 is too complex and it was designed on a pre-COVID basis and does not take into consideration [people's] ability to work from home or to work in a hybrid environment," says Dobner.
"[It] needs to be changed to help employers navigate through those new situations where [a worker] might be residing in one jurisdiction and work in another jurisdiction, for an employer in another jurisdiction, so you need a form that would help you to navigate through that in a more simple way."
Surprisingly, employers are willing to continue the status quo of having a large segment of workers being remote, says Dobner.
"We didn't fully expect that to be the case, that only 14 cent [of employees] have gotten back to the office but we were surprised that the small number up-to-date that have gone back fully to the office."
And for those employers who embrace the remote model, it creates a more diverse and equitable organization, which may help attract workers, he says.
"It provides an environment that is more inclusive because it helps, for example, mothers that take care of children, it helps people with disabilities who have a hard time commuting, and … [it] widens the net of employee base from which you can hire and it makes many employees happier because they control their time."
Employers should understand that employees have new expectations, and flexibility has become a top priority, "so they need to take that into consideration when they're building their hiring strategy," he says.
Another positive way to retain workers is to take a hard look at your retirement strategy, found a panel discussion and salary and senior titles still are important, according to another survey.