Micro-learning is growing — but are employers taking them seriously when it comes to recruitment?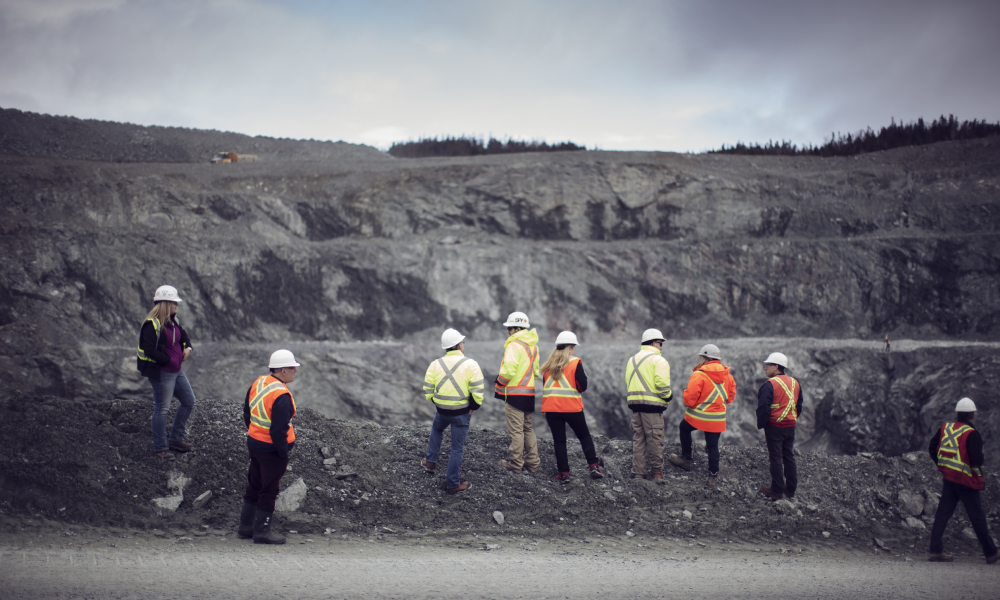 For miners working in remote regions of the country, just-in-time micro-learning might be the best way to upgrade their skills, one module at a time.
Take, for example, Anaconda Mining, a gold producer with projects in Newfoundland and Labrador and Nova Scotia. The company has embarked on a two-year project to boost the safety skills of its workforce and is employing micro-learning to achieve that goal.
"What we wanted to create and deliver was a micro-learning-based training program with a focus on behaviour-based safety and communication to provide moments-of-need learning," says Amanda Abballe, vice president of human resources at Anaconda Mining in Toronto.
"We've realized that workplace learning has experienced drastic shifts, especially with COVID limiting employees' options to leave the site for training and being in a remote location."
For mining employees — who are often nowhere near a traditional school setting — taking quick micro-courses on their phones and tablets is ideal, she says.
"We have a lot of boots-on-the-ground employees, employees that are on shift work; we have a 24-7 mill that operates, so it's very hard to deliver some of this safety-based training stuff at 2 a.m."
The company has partnered with Ryerson University's Future Skills Centre (FSC) and Agnico Eagle on "just-in-time learning snippets of two to four minutes long [with] educational topics around safety that we could inject in their day and not disturb any workflow or focus on what they're doing," she says. "We tried to find a balance in terms of providing training and skill development but not taking away from the day-to-day focus."
The initiative will involve more than 200 participants from Anaconda and Agnico Eagle, according to Abballe, and will come with a $930,000 funding contribution from FSC.
Filling the skills gap
Micro-credentials are designed to "fill Canada's largest skills gap," says Tracey Taylor-O'Reilly, assistant vice president of continuing studies at York University in Toronto.
"Our programs are driven out of where we see those gaps emerging, where there are jobs without people, where employers are desperate to find people with the right skillset. We reskill people who have just graduated from a degree or a college diploma program or people later on in their careers."
As an example, York University looked at what was needed to be a UX (user experience) designer.
"[That meant] what are not only the technical skills in UX design but we work closely with employers to find out what their soft skills are, what those cross-functional skills are. Because people fail in jobs usually not because they don't have the technical skills, it's because they don't have problem-solving skills, the ability to communicate, higher management, those kinds of things."
Defining micro-learning
There is one challenge, however — what is the actual definition of micro-learning?
"I've asked that question about 40 or 50 times and most people are unable to answer, other than by saying, 'Well, a micro-credential,'" says Taylor-O'Reilly. "The problem is we all define it in different ways. Some people are talking about a very specific thing, like technology companies that are giving out digital badges and how to code, like the IBM badging system. Others are talking about digital badging in higher education, usually on a skill or a competency."
In an effort to nail the definition down to a more manageable morsel, York University has partnered with the Business + Higher Education Roundtable (BHER), which was created from the Business Council of Canada.
"Currently, their working definition is that it is a credential, probably not a single skill, for a program that's smaller — and they haven't defined what it's smaller than — [but] it's probably going to be a degree or diploma, which would include certificates," says Taylor-O'Reilly.
NorQuest College in Edmonton has time-based classifications for many of its micro-programs.
"The ones that we offer are usually around four to six hours; they're usually delivered in a workshop scenario," says Dawn Bland, talent acquisition specialist at the college.
Micro-learning programs are generally taken after a person has gained some form of post-secondary learning, she says.
"They're meant to enhance any skills, education or experience that individuals already have. Anybody who takes a micro-credential or a digital badge, they're going to gain skills and knowledge on top of any credential they've already achieved," says Bland.
"Let's just use my vocation of recruitment [for example]. You can take a whole HR diploma or you can take a micro-credential specifically in talent attractions in social media. It's a focused bit of learning in one area of a vocation."
How well is it appreciated?
The concept of micro-learning has grown over the years, but how well do employers value this approach in providing trusted skills and competencies compared to the more traditional system of degrees and diplomas?
The perception from employers that are involved in the development, teaching and maintenance of these programs is that this is part of the life-cycle of adult learners, says Taylor-O'Reilly.
"They look to us to partner with them to upskill their workforce because they can't always hire people with these skills: they're coming in and they're hiring people right out of our programs, and they can't find enough of them."
But for those that source and hire people directly, the recruitment field in general could use more education on what micro-credentials are and what they offer, says Bland.
"I'm lucky because I work in post-secondary that offers some micro-credentialing, so I know a bit more about it than maybe the average recruiter," she says. "In my peer circles, though, when we see that continuing education or micro-credentialing on a resumé, we view it as a sign of initiative — a commitment to growth and learning. I coach my hiring managers on recognizing those achievements in the same way."
And the popularity of micro-credentials is growing, says Bland.
"I see a lot of LinkedIn profiles where people are starting to share those badges on social media. It's a great initiative that people are wanting to learn and grow and specialize."
Mixed reactions
Back at Anaconda, the reaction to the micro-learning project has been mixed, according to Abballe.
"If I look at the general workforce, they're kind of split right now: You have younger employees, maybe, that are very comfortable with technology and are embracing this and thinking, 'OK, we'll just fold in the training in our day and it'll be great.'"
But when it comes to the more seasoned workers, there is some trepidation.
"A lot of employees are blue-collar workers, so their comfort level with technology maybe isn't at optimum [and] a lot of our department heads are in the 30 to 40 [years old] range. They're quite young, but the population they lead is significantly older so we know that is going to be a bit of a challenge," she says.
When the micro certificates are earned by the Anaconda and Agnico Eagle workers, they will be provided with "industry-wide recognition" with certification provided by the Mining Industry Human Resources Council (MiHR), says Abballe.
"This will be an evolution and, hopefully, get some momentum with other mining companies. The idea is to create a blueprint for workplace-based micro-learning that can actually be replicated and scaled across topics and industry."