Assessment portal aims to help foreign welders gain credentials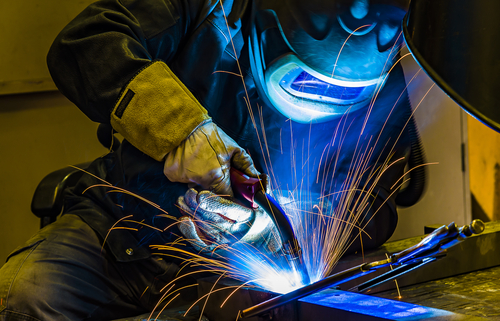 Looking to get skilled immigrants quickly credentialed in Canada, the federal government recently earmarked $650,000 over two years to help create a Newcomer Welding Professional Credential Assessment (NWPCA) portal.
The initiative will be operated by the Canadian Welding Bureau (CWB), which provides welding certifications under Canadian Standards Association (CSA) auspices.
The portal is meant to smooth the path so newcomers to Canada — who have foreign certifications in welding — can more quickly integrate into the Canadian labour market, according to the government. It's part of the larger Foreign Credential Recognition Program (FCRP).
"It will provide information on the profession, it will provide information on what are the provincial requirements for licensing; if you want to enter into this particular profession, then it will outline what are the requirements," said Husam Mansour, program director at CWB Group in Milton, Ont.
"It will do self-assessment between your requirements versus the requirements that you're going to need. It will provide you with the gap analysis around the training, testing and certification. And then, hopefully, it will link you to some employment opportunities."
The bilingual portal, which was started in February, will be launched as a pilot program in 18 months, in hopes of going fully operational in two years, said Mansour.
"Helping (welders) get their foreign skills credentials recognized will allow them to pursue their profession in our workforce, benefitting our economy and our people," said Employment Minister Patty Hajdu, in announcing the funding.
"Through this investment, we are making sure no untapped talent is left behind."
'Labour crisis'
Welders are in great demand, according to Patrick MacKenzie, CEO of the Immigrant Employment Council of B.C. (IEC-BC) in Vancouver.
"In the Vancouver region, if I had 1,000 welders that I could place, I (would) probably have them with jobs inside of two weeks."
The welding industry is facing a generational crunch, according to Mansour.
"There's not enough high-school students who are interested in getting into the skills trade and, at the same time, a significant number of the existing qualified workers are baby boomers and — based on a number of studies and anecdotal information that we receive from the field — there's going to be a significant shortage in the next five to 10 years in this industry," he said.
"That's what creates what we would call a bit of a labour crisis."
About 100 immigrants are expected to take advantage of the online service in the industry, which grew 15 per cent between 2011 and 2015, according to Statistics Canada. During that same period, the demand for metal workers grew by 30 per cent.
But the CWB Group is not working from scratch on the design, said Mansour, as it will "potentially" model its approach after the FAST (Facilitating Access to Skilled Talent) program, which is delivered by the IEC-BC.
The "online competency-assessment program" is intended to help skilled workers who want to emigrate to Canada apply their credentials to local standards.
"We've worked with industry experts to set up these skills assessments and to really get at the heart of what an individual can do and compare that to what's required of the job in Canada," said MacKenzie.
Foreign workers often face many barriers to entry, such as a lack of language skills, little or no Canadian experience and the "inability to have their foreign credentials recognized," he said.
And with many skilled trades industries crying out for workers, the sheer amount of skilled trade licensing is vast, said MacKenzie.
"Even within Canada, we have over 400 bodies and organizations that offer some sort of credential, be it secondary or industry-focused. It's very difficult for us to harmonize or get us all on the same page," he said. "To try and do that internationally, it compounds in scope."
These barriers often force foreign welders to abandon the profession, according to Mansour.
"They tend to choose different careers simply because that's the easiest path for them."
But the new portal hopes to address all these complications, at least for the welding industry, he said.
"The idea is to try and identify what are the gaps between their internationally recognized credentials, what is the gap to achieve Canadian requirements, and who would be the service providers that can help them in that? And then also try to link them to employment opportunities."
The portal will help people navigate through a fairly complex requirement: One thing can span across multiple industries and have different licensing requirements, said Mansour.
"Every jurisdiction has about 80 per cent harmonized requirements between various jurisdictions, but there are other jurisdictions where there are some additional requirements," he said.
"The idea is to create a portal that allows for pre-arrival preparedness so somebody who is coming to the country, he or she will have some time to actually prepare for it, understand exactly what their requirements are and then, by the time they clear that burden, the barrier is not as significant as it would be if they were coming in cold."
More than 50 per cent of those who will be served by the new portal will join the labour market, according to the federal government.
For the CWB Group, the first steps are to first focus on an assessment of Ontario, Nova Scotia and British Columbia, and to research all of their certification requirements, with the goal to expand nationwide, said Mansour.
CWB Group will begin by mapping out the common and unique aspects of certification between the three different Canadian jurisdictions, he said.
An advisory committee will also be set up, said Mansour.
"What we would like to do is put together a panel of experts that represents the industry — it represents possibly government, other certification organizations, and placement agencies that have been in the business and that will help guide the project itself."