Workers want it, employers know it's important – they just have to agree on how to get it right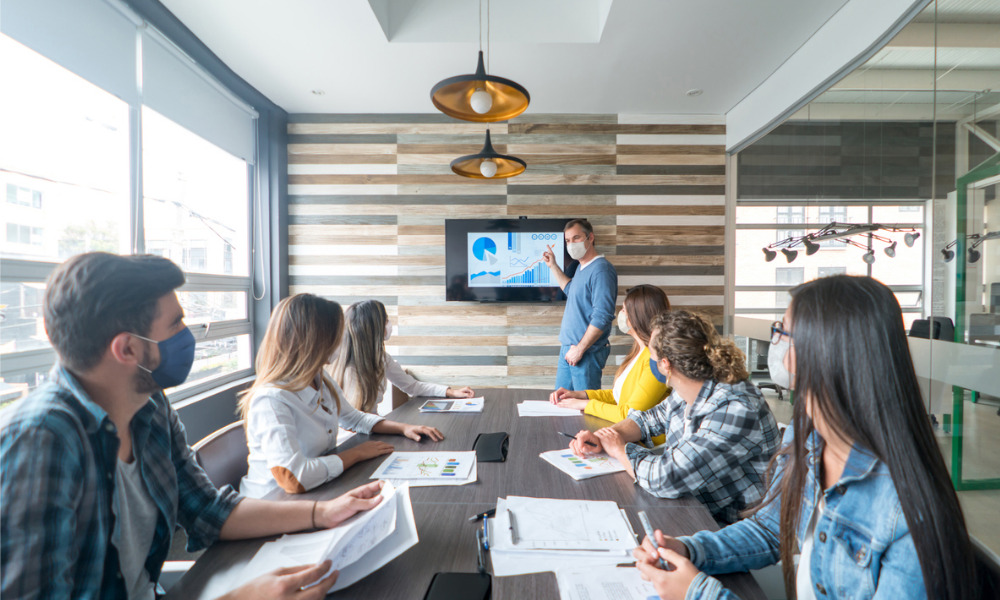 "It's an absolute reflection of workers understanding that we can no longer give lip service to lifelong learning."
So says Richard Wahlquist, president and CEO of the American Staffing Association (ASA) in Alexandria, VA looking at the results of a recent survey by his organization.
It found that 80 per cent of U.S. workers consider an employer's professional development and training offerings an important consideration when accepting a new job. That's true for all the generations: millennials (84 per cent), baby boomers and generation X (both 79 per cent) and generation Z (70 per cent).
However, just 39 per cent say their current employer is helping them improve their current skills or gain new skills to do their job better, finds the survey of 2,042 U.S. adults. Again, it's a sentiment shared by each generation: 50 per cent of millennials, 37 per cent of gen Z, 33 per cent of gen X and 31 per cent of baby boomers.
These days, workers have choices, says Wahlquist.
"Employers are competing, it's a war for qualified talent. And with the options, employers have got to step up their game. So when they're talking to candidates, candidates are much more interested in getting a sense of fit, alignment with values [and] culture, and then investment in addition to pay. One of the key benefits, as our survey indicated, was this investment in 'me' and my professional development," he says.
"As we live longer, and we don't want to outlive our bank accounts, there is a keen level of awareness that we are all going to have to be committed to lifelong learning."
In December, Canadian HR Reporter unveiled the 5-Star Learning & Development winners for 2021.
Combatting the 'great resignation'
Talk of the "great resignation," the "great reshuffling" or the "great rethink" fill the airwaves these days, as the ongoing challenges of the pandemic drive many workers to reconsider their careers and their jobs.
But one important way employers can work to combat a potential flood of resignations is through training.
"If companies aren't investing in training or professional development, I would highly advise that they get a plan together pretty quickly," says Travis O'Rourke, president of Hays Canada in Toronto.
That's because employers that show that they truly are investing in staff see benefits in employee retention and engagement, he says.
Secondly, with the war for talent and inflation, "you're going to find right now that the cost to acquire the talent that you need is a lot higher than the cost to invest in the person that you trust and that you already have."
Generally speaking, people are happy to stay with their employer so long as it's invested in them like the employee is invested in their employer, says O'Rourke.
"Often, when people leave, it's because they're bored. And development is a great way to keep people engaged and to keep people interested in it."
As for employers, "if we just look at birth rates, we aren't replacing ourselves and we're living longer, so we've got more older workers, we've got more workers who have retired… it's a supply and demand issue," says Wahlquist.
In looking at how to source and retain talent, employers are realizing that an important piece of that is developing talent.
"Businesses over the past year have been taking a look at what they've got in their toolkits in terms of employee recruiting and retention and development. And they've been adding toolkits and it's evidenced by an increase in the training, development budgets in workplaces," he says.
It's a story that's been replicated in industry after industry, with employers realizing: "We can't hire them; we're going to have to grow them up."
Looking at demographics and labour market projections going forward, there aren't any big new crops of future workers, says Wahlquist, "so, yes, businesses will necessarily have to have a focus on workforce development and [individual] personal development."
And workers are very cognizant of the landscape today, he says.
"[Employees] are very aware of the need for a continued upskilling, reskilling during their professional careers."
In light of the ongoing labour shortage, many employers would rather upskill, than look outside, found a separate survey.
Why the disconnect around training?
So if both sides are so keen, why is there the disconnect cited in the ASA survey?
On the employer side, surveys have shown that business leaders know they must do a better job, says Wahlquist.
"Training employees, upskilling employees is not a core competency of virtually any business as they provide products and services. And the employee development for so many organizations has been tangential."
While employees are always looking to improve, employers' intentions may be more self serving by focusing on the bottom line or new technology, says O'Rourke, "without being able to show employees how this might benefit them personally or professionally, in a role or in their next job, or to get to that next level in their business."
Development in all areas should always start with "What does the person need?" he says.
"Now, the personal development goal that complements the business goal is spot-on — everybody's winning — but that is a gap that we are seeing very, very often. And whether it's to recruit or to hire a new employee, or to retain an employee that you already have, the most common themes we're seeing right now is 'Do they care? Are they invested in my well-being?' And the well-being obviously is a huge and a very important topic. And showing that you're willing to invest in your person is, I think, critical to keeping and recruiting."
For HR professionals to remain relevant — especially post-pandemic — many need to boost core competencies, as only about one-quarter have four key future-proof skill sets, according to a survey.
Training comes in all forms
Employee training and development doesn't necessarily mean sending an employee to an external course and paying several thousand dollars, says O'Rourke.
"One of the things that we're always encouraging people to do is to cross-train people, and it might not appear to be completely relevant to their current role but there's ways to provide benefit."
For example, a sales team might not need a course on public speaking but could benefit from working with the finance team to understand the purchasing process or speaking with the manufacturing department about company products to better deal with customers.
"There's so many opportunities internally for people to cross-train each other. And the residual benefit is improved relationships, improved understanding of how everyone's job goes towards the greater good. Just look outwards from your current role and there's training opportunities and development opportunities everywhere."
Plus, employees who provide the training feel good about their contribution, he says.
"I think you'll be surprised when you start programs like this by how many people are keen to teach because it's a fun thing to do."
And sometimes, people don't even realize they've been trained, says O'Rourke. For example, a manager may have effectively shown a team member how to do a particular task so they can work more independently.
"From an employer standpoint, sometimes it's important to show people how they have developed throughout the year… and remind them that 'Three years ago, you wouldn't have done it this way…' Show them the ways and experiences that they've picked up that have made them a better person inside and outside of work," he says.
"It takes a bit of finesse, but I would always encourage people to explain to their staff that 'You have been trained, you have been developed,' and using a professional development plan is a great way to do that."
Plus now, there's a concerted focus and effort on identifying skill sets that are needed and different ways of making the education available, says Wahlquist.
"COVID has certainly accelerated not only remote work but remote learning. And we have examples of companies that had been doing some leading-edge things pre-COVID, such as virtual training in virtual and augmented reality situations — everything from training up electricians to forklift operators. It's quite impressive with the kinds of things that we can make available to people, in their homes and their home offices."
With the virtual world exploding amid the pandemic, it's a good time to refine L&D (learning and development) strategies, according to one expert.