Phased returns planned but concerns about outbreaks, social distancing 'keep employers awake at night': survey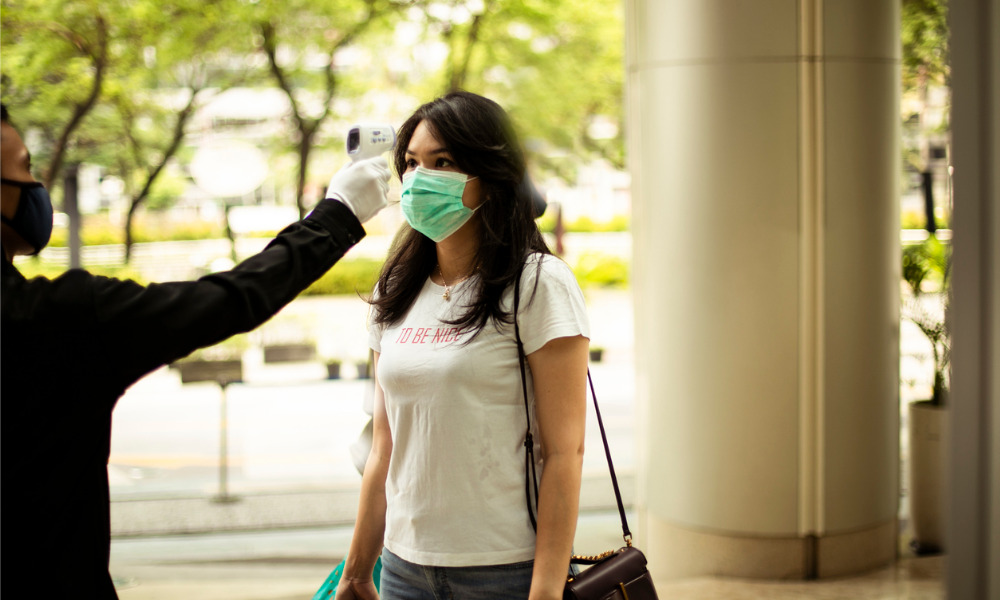 Only a small number (eight per cent) of employers are fully prepared to welcome back remote workers to the workplace as the COVID-19 pandemic subsides.
However, a majority (87 per cent) are nearly or somewhat prepared for a full return-to-the-office scenario, according to a Conference Board of Canada survey.
"What we're hearing from employers is not to rush this: When it comes to bringing workers back to the workplace, it needs to be done carefully and responsibly," says Allison Cowan, director of human capital research at the Conference Board of Canada in Ottawa.
At Sun Life Financial, for example, the return will be gradual, says Shelley Peterson, senior vice president of total rewards in Toronto.
"It's going to be staged, there's going to be a whole new set of safety protocols and routines and experiences for people."
And employees will have a choice, she says, so it will be voluntary for those who want to go back to the workplace and feel like they're more productive there.
"That relieves some of the anxiety around it for people who... feel concerned about how they would commute back and forth to the workplace and those kinds of things. So, over the next while it's going to be gradual, it's going to look different for people, we're going to allow choice in that."
Worst case, employees may have to be sent home again if an outbreak arises inside or outside of the workplace. On that note, 28 per cent of employers say they have plans in place to send workers home if conditions warrant while 62 per cent are working on such a scheme, found the survey of 279 respondents conducted on May 11.
"Employers may need to adapt along the way several times. This could include bringing employees back and then having to close the workplace again. Employers obviously don't want to be in that kind of scenario," says Cowan.
Remote work to remain popular
Almost half (40 per cent) of employers reported they will need some workers back in the office. But 30 per cent said workers will be able to remain at home full-time, while another 27 per cent will be given a choice, found the survey. Only four per cent of employers will require employees to return to the workplace completely.
The risk of catching COVID-19 (96 per cent), caregiving responsibilities (86 per cent) and household members who are at high risk (84 per cent) are the top three reasons cited by employers in allowing some workers to remain at home.
"Many employers are also looking for the upside long-term such as real estate savings, eliminating the need for employees to commute," says Cowan. "Where some employers thought it not possible before to have such a large portion of their workforce working remotely, they're likely seeing opportunities now to make it work and make use of new technologies."
Safety a top concern in bringing people back
To accomplish this safely and effectively, many workplaces are adopting a staged approach to reopening, she says.
"[It's about] bringing people back in phases: Not bringing too many people back at one, allowing for spacing out employees and limiting those face-to-face meetings and also, where required, making sure they have enough personal protective equipment."
Ninety-nine per cent of workplaces will bring employees back in phases, 95 per cent will restrict the number of employees on-site, and the same percentage of employers will also control on-site movement, found the Conference Board.
"They're still very much working through these steps and they let us know they're worried about bringing employees back to the workplace too soon, [they are] worried that employees will become lax and forget the physical-distancing norms, afraid that they'll have an employee test positive or an outbreak in their workplace or community," says Cowan.
About half of employers are planning to screen employees with questionnaires upon arrival to the workplace, she says, so a phased approach allows them to do this "in a more efficient way."
"What's keeping them awake at night is keeping their employees safe and what's required to do so," she says. "They're [also] worried about shortages of needed supplies, such as personal protective equipment, hand sanitizing stations."