How can employers combat concerns about Ukraine conflict, COVID risks, natural disasters?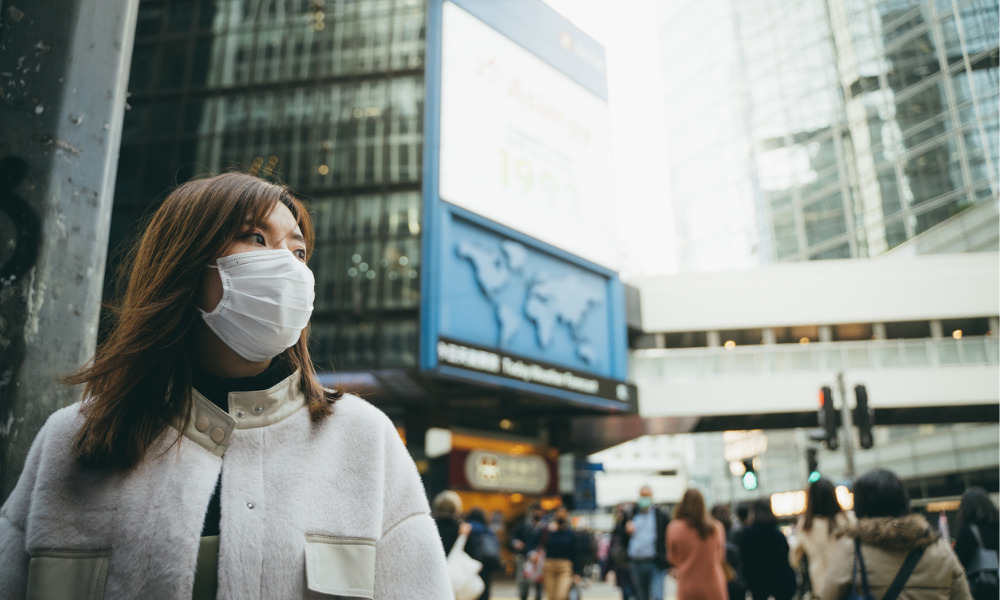 With all of the troubles happening in the world today, such as the conflict in Ukraine, natural disasters and the lingering effects of the COVID pandemic, it's not surprising that many employees are reluctant to travel.
Safety concerns about travelling is the number one reason for refusing assignments (53 per cent), found a survey by SAP Concur between April 28 and May 23, of 3,850 business travellers in 25 markets, including Canada.
Fifty-one per cent of employees would say no to travel if COVID concerns cropped up.
"Absolutely, things have completely changed over the last 30-some-odd months," says Kristen Hrycoy, senior global partner business manager at SAP Concur in Calgary.
What is duty of care?
But an employer's responsibility to keep far-flung employees safe has changed, she says.
"Duty of care was… usually described as a company's responsibility to address things like severe weather conditions or terrorism threats, transportation disruptions, political instability… so it's really evolved into encompassing much more than that now."
Responsibility for duty of care has also shifted, says Robyn Joliat, chief technology officer for 3Sixty part of RESIDE Worldwide, a provider of global alternative accommodations, from Canton, Ohio.
"It's not just the responsibility of human resource departments or maybe mobility professionals but we're seeing more stakeholders responsible for duty of care, including more risk managers, the C-suite, they're definitely getting more involved and want to have a hand in what's getting used, how programs are getting built, and just ultimately, how the safety of employees is being handled."
With all of these concerns, now is the ideal time to review organizational plans and policies, according to Hrycoy.
"If they have any policy in place, they need to get back in there and look at what that policy might be: identify any gaps if they didn't put that health and safety as part of their duty of care policy. They really need to have a look at it to determine how they're going to move forward," she says.
"Health and safety has always been part of duty of care but with the COVID restrictions, vaccine requirements, entry requirements changing so rapidly, really the importance of a duty of care — in the communication with remote workforce, the ability to make decisions to protect travellers — it's more important than ever, so companies really need to re-evaluate what that duty care means to them."
Business travel spending is expected to rise in 2022, compared to 2021 levels, according to another survey.
Employees are also becoming much more cognizant of these new realities, says Joliat, especially with news continuing to focus on global hot spots.
"The traveller is much more aware, and they're on hyper alert, and so travellers are definitely much more conscientious around where they're staying, what's happening prior to them arriving to prepare for their stay, and what measures are in place to really take care of them… whether it be for two nights or 30 days in accommodation."
New tech tools for travellers
To help remote employees, there are new tech tools that alert people to threats, says Joliat.
One of these is an app-based product, GeoSure, which "provides real-time safety data, looking at where housing or hotels or accommodations," she says. "They can see and get safety ratings on nine various categories to give them some insight around health and medical insights, around theft, around women's safety, around the LGBTQ community. It's really allowed us to provide an additional level of awareness and information to travellers."
As well, there are full-service crisis-management providers that can provide real-time help to employees who are conducting business in areas of the world that carry greater risk, she says.
Some employers are offering workcations that combine business travel and tourism for employees, as a new perk.
Planning is key
Being prepared for travel beforehand is key to completing a successful business trip, says Hrycoy.
"I once heard the saying that says, 'Preparation is the antidote to fear,' which totally rings true for travellers. [It's about] proactively knowing where travellers are booking, what cities and countries they're booking in, that gives the duty-of-care manager an opportunity to run a pre-trip info package, and arm their road warriors with all this relevant information.
"The data gives the company insight into their travelling population, knowing where their people are, how to reach them, those are all the cores of a successful duty of care policy."
Once the employee is situated in another jurisdiction, having a transparent and clearly defined set of policies is key to reacting to events, says Joliat.
"Making them aware, communicating effectively, giving them tools that are easily accessible, making sure that they have the ability to [communicate] on their phones, or through apps, or on their mobile devices, or tablets. Those are the things that for people on the move, [that's] how they want to access their information, and how they want to be able to access their resources."
Providing tools and policies will give employees "peace of mind" when travelling, which is also important for their overall mental health, in addition to the physical health concerns.
"Giving that sanity check to those employees who are making the decision to still go out there and travel or relocate when there is so much uncertainty really is critical, and probably where you could have a lot of risk, if not done properly," says Joliat.