Over two-thirds of workers can effectively perform their jobs from abroad: survey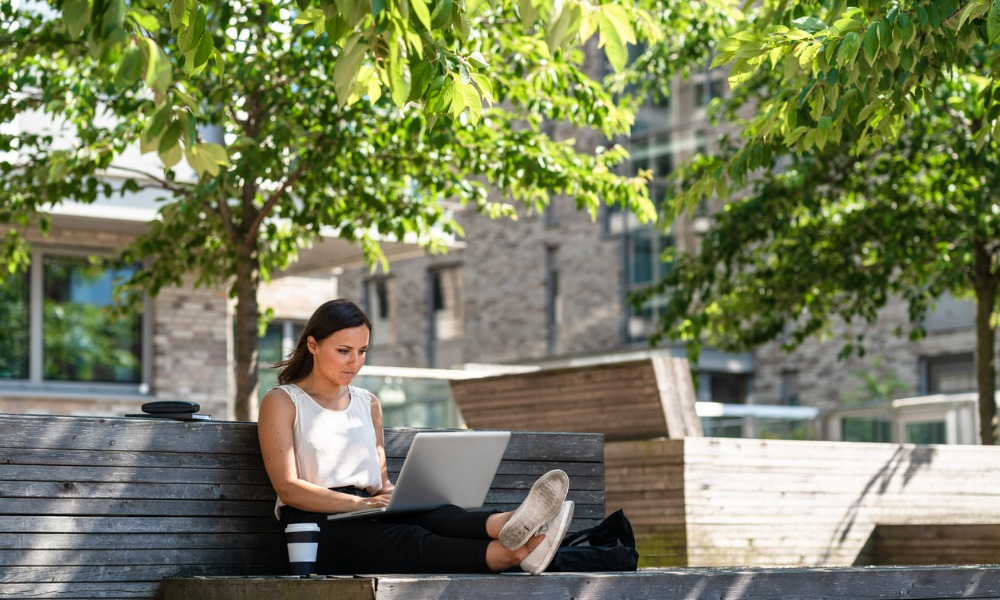 Toronto has been named the joint best city in the world — along with Barcelona — for "workations", according to a report.
Both scored 58.5 out of 90 in an IWG ranking that looked at nine criteria: climate, culture, accommodation, transport, food & drink, happiness, broadband speed and the availability of flexible workspace.
Toronto "boasts high scores in accommodation, happiness and a wealth of flexible workspaces, making it an ideal choice for travellers," said IWG.
"Canada's largest city offers a diverse experience for digital nomads, with over 25% of the city covered in forests and an impressive 18% dedicated to parks, providing ample green spaces for relaxation amidst the bustling urban setting. With a multicultural ambiance, over 8,000 restaurants, vibrant neighbourhoods, and abundance of coffee shops and flexible workspaces makes Toronto an appealing option."
Barcelona, on the other hand – renowned for its vibrant cultural scene, breathtaking architecture and almost year-round sunshine – "continues to be a highly coveted destination, attracting millions of visitors each year," said IWG in releasing the survey results, based on a survey of 1,009 U.K.-based hybrid working office workers.
"In recent times, it has become a thriving hub for digital nomads seeking the perfect blend of work and leisure for their 'workations'. The city's allure lies in its unique combination of sun, sea, sand, and cosmopolitan atmosphere, along with its excellent transport system and relatively low cost of living compared to other popular European cities."
Toronto and Barcelona beat out 23 other cities on IWG's list. Tailing them in the top 10 are:
Beijing (with a score of 57.5)
Milan (57)
New York (56.5)
Rio de Janeiro, Amsterdam, Paris, Jakarta (55)
Lisbon (54.5)
Toronto also has the most competitive job market in Canada, according to an analysis from LinkedIn.
Benefits of workations
Jo Johansson, of Resource Guru, noted that the term "workation" was first used in 2013. And this trend has grown since.
Nearly nine in 10 (88%) hybrid workers "worked from anywhere" last year, while almost three in five (57%) extended holidays by working from abroad, reported IWG, based on a survey of 1,009 U.K.-based hybrid working office workers in August 2022.
Over two-thirds (67%) of workers said they can effectively perform their jobs from abroad, and 71% said they would only consider a job that offers the flexibility to work remotely, at least part of the time.
And the ability to work from anywhere brings a lot of positives to workers, outside of work. These include:
improved work-life balance (76%)
the ability to spend more time with friends and family abroad (52%)
the ability to save money by traveling during off-peak times (47%)
the ability to have longer holidays (30%)
"For an increasing number of workers, hybrid working offers the opportunity to work wherever we will be the most productive. And thanks to cloud technology, that can be anywhere in the world, provided there's a high-quality internet connection available," said Mark Dixon, IWG founder and CEO.
"So, it's no wonder that more and more individuals are embracing the idea of combining work with travel, whether it's for a few days tacked on to the end of a vacation, or a few months as a digital nomad."
However, workations are no silver bullet. They also present challenges, such as a high cost of living (71 per cent) and time-zone differences that harm work communication (48 per cent), according to a previous report from passport-photo.online.
Best practices for managing work from anywhere
Employers that want to offer workations should follow these five key best practices, according to Tivian, a provider of platform and tools for employee experience:
Put clear policies in place. These should include who is eligible to take them and where people are allowed to work, and legal issues. Policies should also set clear expectations about when people will be available – and when it's OK to be off duty.
Understand the legal implications. Educate HR teams about legalities and the impact on employee benefits (like health insurance). Ensure that employee policies are clear on who is responsible for obtaining things like working visas when necessary.
Focus on engagement. Consistently listen from workers on workations. Collect their feedback and act on them to deliver the individual employee experience that they are looking for.
Put the right tools in place. Ensure you provide the digital tools that employees need to collaborate and work with the rest of their team, backed by accessible IT support to keep them up and running.
Train your managers. Train them on how to manage geographically dispersed teams effectively, especially on how to avoid favoritism or overlooking those that aren't in the office or working in the same time zones as everyone else.