Feelings of isolation and stress might actually be rising, especially among Canadians working at home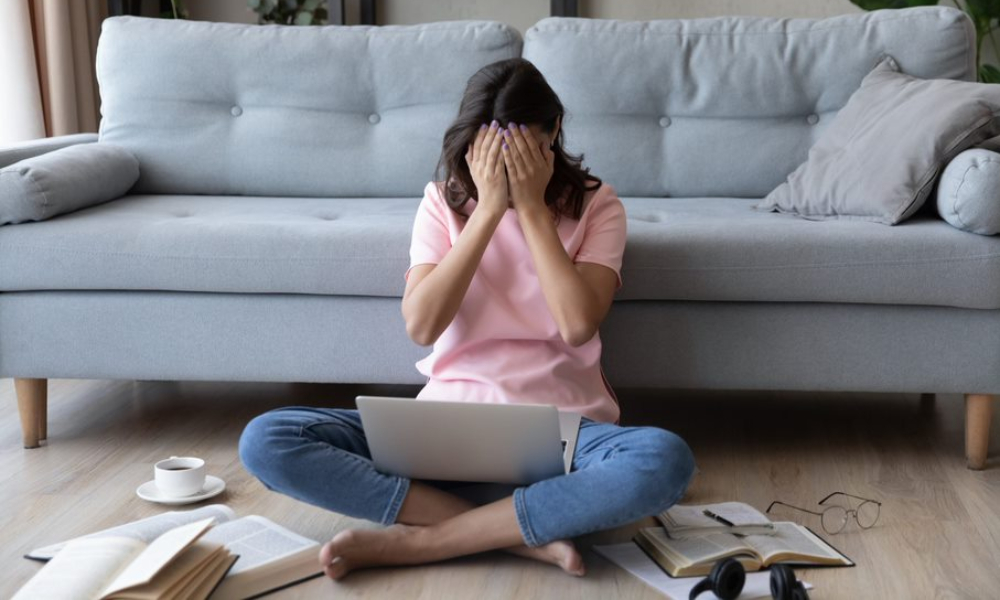 As many people roll into a second straight year of the COVID-19 crisis, a growing sense of isolation may be one of the unwelcome side effects of working safely from home.
Loneliness is a growing problem with today's distributed workforce, says Lisa Gibson, head of communications and business manager marketing and operations at Microsoft Canada in Toronto.
About 36 per cent of workers in Canada reported feeling isolated compared to the global average of 27 per cent, found a Microsoft survey that looked into how the workplace is evolving and what will that mean.
The 2021 Work Trend Index gleaned insights from 31,092 people in 31 countries in January and it analyzed business practices via Microsoft Office and LinkedIn.
Stress, exhaustion despite home environment
One in five global survey respondents said their employer doesn't care about their work-life balance while 54 per cent feel overworked and 39 per cent feel exhausted.
For Canada, 47 per cent said they felt exhausted, says Gibson.
"Even when you look at the number of people that reported feeling stressed — 51 per cent reported feeling stress in Canada versus the global average, which is 42 per cent — [it's] a little alarming for some of us when you start thinking about your own team."
The stats are backed up by another survey that found that more than half (52 per cent) said they experienced stress during the past year that was caused by overwork.
Jointly done by Vancouver-based employee engagement software company Jostle and business-leader trainer Dialectic in Guelph, Ont., the survey of 406 remote workers, mainly from Canada and the U.S., was conducted between November and January.
While for many, working at home represents a pleasant shift to a better work-life balance, all situations aren't the same, warns an HR consultant.
"Not everyone's home environment is necessarily a happy environment. Some people would [use] work as a bit of a refuge [and] employers shouldn't make the assumption that all employees want to be at home," says Robin Turnill, managing consultant of people and culture at Pivot HR in Vancouver. "For some people, that's really stressful."
People don't really stop to listen to what their bodies need, says Mary Ann Baynton, director of collaboration and strategy for Workplace Strategies for Mental Health compliments of Canada Life in Toronto.
"We push through and that's more complicated when you're juggling family or caregiving responsibilities, as well as work," she says. "That idea of the rest-activity cycle, that we are supposed to take a break every 90 minutes, that's how we stay focused, is being missed.
"Stop trying to push through and start trying to take multiple short breaks to maintain your mental energy," says Baynton.
In addition, the digital intensity of workers' days has increased substantially, found Microsoft, with the average number of meetings and chats steadily increasing since last year.
Digital exhaustion is being intensified by the flood of video meetings and many times, it's not necessary, according to Turnill.
"There's no reason for a lot of these Zoom meetings that a five-minute phone call could clear up. The other thing is if you're going to have people participate in virtual meetings, brevity is important," she says.
Strong leadership needed
Another concern? The stress levels for managers are significantly less than what many employees are experiencing, says Gibson.
"You had 61 per cent of leaders saying they were thriving and that was 23 per cent higher than those that were classified as not having decision-making authority. As a leader or manager, it's a bit of a wake up-call, quite frankly."
And while 73 per cent of employees say they value the option of working from home, 67 per cent also want more in-person time, found Microsoft. Encouragingly, two-thirds (66 per cent of) leaders reported they are willing to redesign the workplace to address these concerns.
These findings were matched by the Dialectic and Jostle survey as 54 per cent of respondents reported their leaders were not providing them with enough support while remote.
Failing to give employees enough choice in how they complete their work also creates a potential disconnect, says Turnill.
"[It's about] engaging people — it doesn't mean that employees will ultimately get the final decision, but certainly, at least, understanding people's preferences and, where possible, being able to cater to those preferences and trying to set up your work structures that suit people's lifestyles will be a major source of helping people."
And letting others know that it's perfectly acceptable to report feelings of isolation and anxiety will go a long way toward employees feeling comfortable about sharing their own concerns, says Gibson.
"I've noticed with my team if I'm willing to be vulnerable and share how I'm doing, it enables people to open up a little bit more and they feel OK to share because there's a lot of concern in the workplace right now that people feel like they always have to demonstrate they're being productive and that they're doing OK."
New education could be implemented immediately so that leaders are better able to recognize and react to the new normal, says Turnill.
"Training around appreciating the different circumstances that people find themselves in now [and] situational leadership where you're really adapting your leadership style based on the particular individuals on your team and what they need, and empathy for self and empathy for others, would be a really important training to focus on now."
Connecting the silos
The shift to remote also shrunk networks, according to Microsoft. At the start of the pandemic, interactions with close networks at work increased, while interactions with distant networks diminished.
"Put simply, companies became more siloed than they were before the pandemic."
The siloed teams' effect must be tackled before it contributes to a further sense of isolation, says Baynton.
"Organizations need to see this as cascading down that frontline supervisors should be working with their team but then they have to cascade back up. [It's about understanding] how can those frontline employees feel connected? Because that's what helps support engagement and loyalty and motivation. Any organization [that] is still working in silos is failing to optimize the creativity and innovation of their own teams."
The effect can be mitigated by employing older ideas, says Turnill.
"There is a real role for leaders to be able to share coffee with the CEO, where they might invite six people in from different departments and they would just talk and hear what was going on in their departments and form those connections, even if we can't do that face to face."
It's also up to leaders to participate in purposeful actions to alleviate the isolation, says Gibson.
"Being deliberate, making sure you are still engaging [teams] on a regular basis to bring people together, who might not otherwise work together is pretty critical. Whether you do that to solve a business challenge or whether you're just doing that for a creative brainstorm, that's certainly a way to get people connecting."