Many concerned about legal risks of checking credentials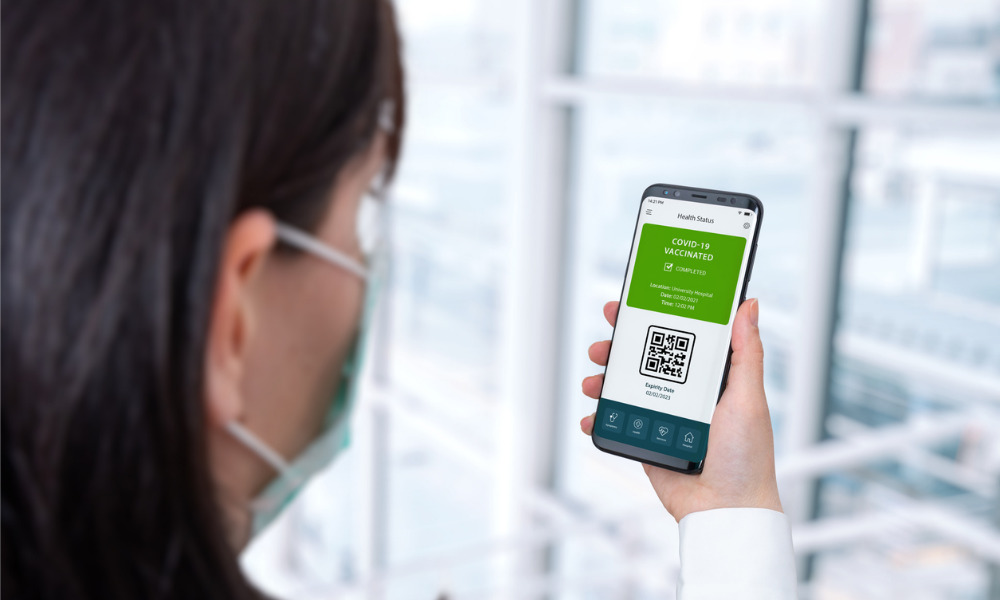 Employer support for the government's use of COVID passports differs from one situation to the next, according to a survey by the Canadian Federation of Independent Business (CFIB).
Nearly half (48 per cent) of employers support the use of passports for employees in the workplace while 40 per cent are against it and 12 per cent are undecided.
More than half (55 per cent) welcome the passport for employees or customers as an alternative to lockdowns in the event of a fourth wave of COVID-19. More than three in 10 (31 per cent) are against it and 14 per cent are undecided.
Meanwhile, just over a third (37 per cent) support requiring COVID passports from customers visiting businesses while 47 per cent are against it and 16 per cent are undecided.
"Small business owners urge provincial governments to adopt a comprehensive 'Stay Open' plan that includes rapid testing, clear evidence-based communications around risks and any decisions leading to restrictions, and a focus on hospitalization rates rather than case counts. Direct provincial funding should be in place before any additional COVID restrictions are deployed," says Dan Kelly, CFIB president.
Nearly two-thirds (62 per cent) of small and medium-sized employers in Canada are making or plan to make COVID-19 vaccinations mandatory for employees, finds a separate poll by KPMG in Canada.
Employers showed the biggest support for the use of COVID passports for international travel (74 per cent) and for large events (65 per cent).
Vaccine challenges
Why are employers hesitant to implement vaccination policies or passports?
Nearly two in three (61 per cent) say it would be a significant challenge for their business to create a system to ensure employees and customers are fully vaccinated, found CFIB's survey of 2,878 small and medium employers.
Sixty-four per cent are concerned about the legal risk (such as privacy or human rights) of checking vaccine credentials for employees or customers.
The federal government, the City of Toronto and the Toronto Transit Commission (TTC) have also already announced plans to require workers to be vaccinated against the virus.
"Some businesses have chosen to mandate vaccines for employees or customers without guidance from provincial governments or to advertise that all their employees are vaccinated. However, those businesses should be aware they could risk costly lawsuits and human rights complaints," says Kelly. "CFIB encourages business owners to create an open and non-judgmental environment to discuss vaccines with employees."
Legal experts have spoken with Canadian HR Reporter about what's involved with mandatory vaccinations, along with offering employees incentives to get the shot.