Emergency safety measures will likely continue for long term to prevent new outbreaks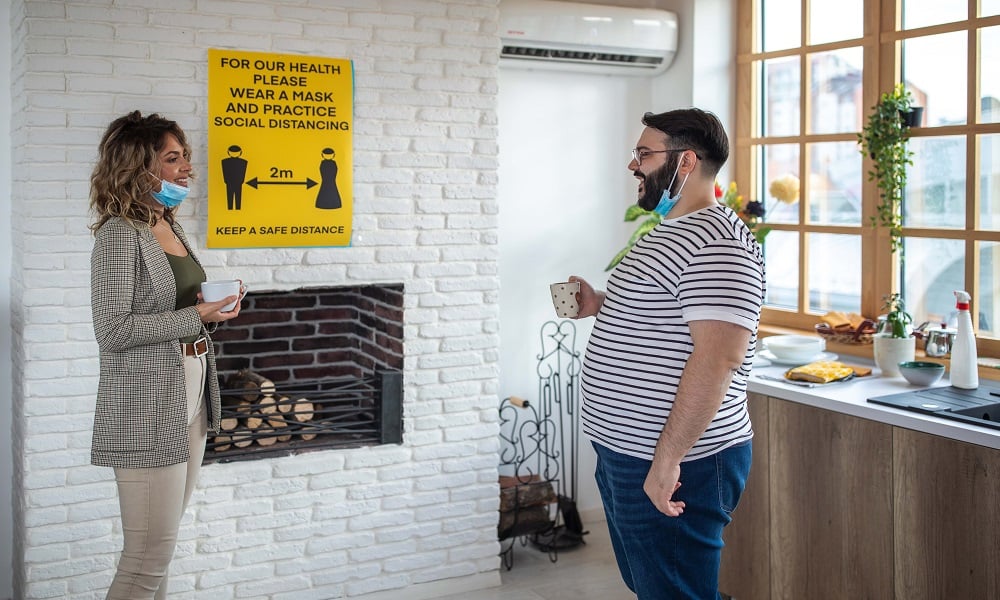 While hard to imagine at this point, the crisis of the COVID-19 pandemic will lessen as the virus subsides and people return to their daily routines.
But how will workplace health and safety change in a post-pandemic world? Will employees need to be constantly reminded about the six-foot rule? How will privacy of data fit into the safety measures?
"Social distancing is going to be here to stay for a while, COVID or no COVID," says Mike Salveta, president of HR solutions at Pivotal Integrated HR Solutions in Mississauga, Ont.
When SARS hit Canada in 2003, there were "many pandemic plans and action plans that were put in place; they all drained away in time," he says. However, with COVID being much more wide-spread, things may be different.
"A lot of organizations are going to take some of the best practices that were learned around social distancing, and it's going to stick for a while."
When people get back to work, "smart organizations are going to keep good work practices because it's also good for the common flu, which can dissipate [and] decimate an organization as well," says Salveta.
Distancing key to continued safety
Despite the promising news around vaccines — as Prime Minister Justin Trudeau clings to the government's September target of having all Canadians who want inoculation being given shots — it's not the magic bullet that will make everybody safe, so distancing will still make sense, says an occupational nurse.
"There's research that shows the virus can still lodge in the front of your nasal cavities and so, even if you've been vaccinated, you could potentially breathe it out onto someone," says Geoffrey Thompson of the Manitoba Federation of Labour Occupational Health Centre in Winnipeg. "There's a concern [that] vaccinated people should still wear masks and keep their distance, even if they've been vaccinated.
"With this murky picture becoming evident, "workplaces are going to be challenged to parse that [social distancing] language if you do get vaccinated, to continue to respect those rules around social distancing and wearing a mask," he says.
Once offices and workplaces are repopulated, the six-foot or two-metre rule that has been mandated by public health bodies since nearly the beginning of the pandemic will be enforced but many workplaces are erring on the side of caution and "shooting for much more; they're spreading that out even farther," says Salveta.
"A lot of companies are taking a 20- or 30-per-cent capacity, which is resulting in much more than six feet of social distancing."Some employers are placing desks as far as 12 feet apart so that there is more leeway for fellow workers, he says."If you place them six or eight feet apart, regularly during the day, people are going to get inside that barrier."
Newer technologies
Another consideration? New technolo-gies that can help people keep their distance.
For example, Safeteams in Montreal has developed a system that features clips to be worn on belts or clothing that help to enforce social distancing and "talk" to each other.
"There is a soft light notification if people are within two metres [of each other] for too long of a period, longer than 30 seconds," says Symon Edmonds, marketing director.
But the company maintains that the device is not meant to admonish or reprimand employees.
"It is there as a reminder more than an enforcer, meaning we're not in the position to tell people what to do or check what they're doing. We're there to remind them that they should social distance," says Simon St-Germain, marketing director at PixMob, a smart wearable company that launched Safeteams. "It's a red blinking light when they're too close to each other. I call it a friendly reminder."
The Safeteams' product also provides contact tracing.
"Looking at how long each individual has spent in the time of someone else with anonymized data on our back end, and if there is a positive COVID case, you can go back and see who that person has interacted with," says Edmonds.
"You can potentially get people to self-isolate or interview those people to see what interaction they had with that individual. This is a lot easier than doing this process manually."
Legal questions around tracing data
While many employees are embracing the technology, not everybody is thrilled about being tracked while at work, says St-Germain.
"The conversation I've had with some clients is a lot of employees are questioning the use of the product ― they're wondering if they're being tracked everywhere: 'Do they want to know when I go to the washroom?' They're wary of the platform, and we understand where everybody's coming from," he says.
"That being said, the clients that were the most successful at implementing it were super transparent with the employees by showing what data we were collecting and what information... the employer had access to."
But these kinds of technologies do raise some privacy concerns over what is being done with the data, says Jennifer Singh, labour and employment lawyer at McInnes Cooper in Halifax.
"What kind of access does this machine have to data? And who is ultimately getting the data? If it's just for the employer's purpose of ensuring social distancing, that's an interesting concept because it'll come down to: How accurate is this device? Are there potential situations in the workplace where you might be one inch off from someone?" she says.
"Another consideration would be what happens to the information that is provided by customers? How is it stored? In paper format? Is it electronically stored?"
Writing down all of these considerations in a policy is key to keeping employees safe and the employer's bases covered, says Singh.
"What I recommend employers do is make sure employees are educated on the policy and make sure the employees have to sign some acknowledgement that they've read and understood the policy. That will help with enforceability because it would be hard for someone to say they didn't know the policy when they've gone through a training session and acknowledged the policy."
HR messaging around social distancing
It's important also for HR departments to push the message that the employer is not instituting these new policies simply to control workers, says Singh.
"What should be kept in mind is health and safety in the workplace because that's priority number one right now. The best way is paying close attention to government directives as they relate to the workplace because that'll inform the degree and extent of safety measures that need to be taken."
For years, health and safety committees have largely focused on better-known issues such as ergonomics, chemical hazards or physical risks. With the pandemic, that strategy needs to be modified somewhat, even after most people have been vaccinated and are basically COVID-free, says Salveta, with a focus on distancing and sanitizing efforts.
"HR are going to look at [these newer initiatives] and say it's the new occupational health and safety program. They're going to assess which ones should continue and in what form does it continue. HR will be the champion to educate and make sure on the occupational health and safety committee that it's addressed and looked at on an ongoing basis."
And, of course, it's not only physical safety that needs to be promoted, says Thompson.
"Psychological safety is a growing concern in Canada during this period of time ― there's anxiety, there's fear, folks don't know exactly what's coming, misinformation, distrust. What employers can really do is articulate more and more that they are following the rules as best they can," he says. "Certainly, HR is a vehicle to communi-cate those concerns."