'These cleaners and staff play a critical role in protecting public health and safety'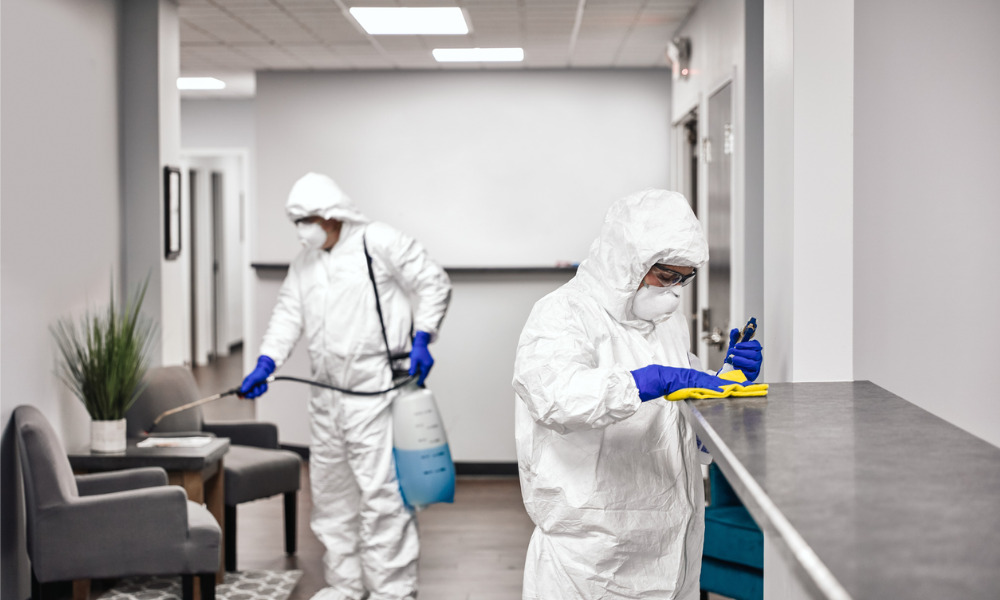 Support staff at commercial buildings have been looking after Canadians since the pandemic began but their health and safety is not being adequately protected, according to a report.
Since COVID-19 hit in March, 66 per cent of non-unionized workers and 49 per cent of unionized workers saw their workloads increase due to increased cleaning protocols.
And 80 per cent of cleaners in non-unionized workers do not have access to paid sick days, according to the Canadian Capital Stewardship Network (CCSN).
"These conditions are pervasive across Canada and what the COVID-19 pandemic has done is brought this to the forefront because now we know that these cleaners and security staff working in the commercial properties play a critical role in protecting public health and safety," says Shannon Rohan, chief strategy officer at the Shareholder Association for Research and Education (SHARE) Vancouver.
As well, only 30 per cent of non-unionized workers and 36 per cent of unionized employees said that their employers brought in additional staff members in light of the enhanced disinfection procedures mandated by public health.
"The cleaners who sanitize the surfaces we're touching, the security guards who monitor physical-distancing measures, they're all on the front-line in terms of public safety and how do we ensure that these workers have the protections that they need in order to do their jobs well," says Rohan.
Pension funds talk about CSR
The report was compiled after 10 pension funds and commercial real estate owners were given a questionnaire in May asking about some of their practices. The CCSN is comprised of union-nominated trustees on pension fund boards and labour representatives and is housed at the SHARE offices in Vancouver.
The CSSN is also pointing out that 10 major public pension fund owners (which collectively allocate $220 billion or 13.2 per cent of their portfolios to real estate) are pledging to uphold labour rights in their mission statements.
"The tendency has been to consider more the environmental side of the equation. But in terms of the social side and looking at the different people that are either constructing or maintaining those buildings, it hasn't been something that has gotten a lot of attention in the Canadian context," she says.
Part of the challenge is how the management contracts are structured.
"There's increasingly complex levels of intermediation and subcontracting happening and we see that in lots of different sectors. What can fall through the cracks is workers' rights get overlooked," says Rohan.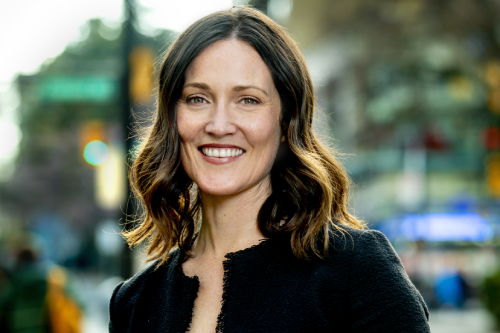 Shannon Rohan
As well, the status of some of the workers plays a role in undermining their safety.
"Sometimes workers don't feel comfortable raising concerns for reasons of potentially losing their job. If they're a temporary foreign worker and their status here relies on that, they might just put their head down, suck it up and continue," she says.
3 recommendations
The report makes three main recommendations so that property owners and their real estate managers ensure:
a stable continuation of income and benefits in times where contracted workers must stay home due to illness, quarantine, or caring for a sick family member
a safe working environment across their buildings, for employees and contractors
policies, such as responsible procurement policies or responsible contractor policies (RCPs), to ensure that contractor practices promote operational efficiency and respect for workers' fundamental rights.
SHARE and CCSN are planning to work with pension funds in the near future to address these shortcomings, according to Rohan, and they are looking abroad for inspiration.
"We've also seen in other jurisdictions — like the U.S. and Australia — that pension funds and large real estate investors [implement] proactive policies. In the U.S., they're usually referred to as responsible contractor policies. In Australia, they have something called the Cleaning Accountability Framework (CAF)," she says.
"They outline expectations at the outset as these various services are being contracted out. We haven't seen that as much in Canada so that we can work collaboratively together with them to identify what some of the expectations could be."
And pension fund managers are aware of this oversight, and they do want to get it rectified, says Rohan.
"They are all taking this very seriously and they are engaging in a sincere and authentic way with their various real estate managers and portfolio managers and those on the operational side, to ensure that the safety protections are taking place. The question for us is: How do we do that in a way that is proactive? It can be a condition of the contract as opposed to an expectation that's happening as an afterthought and how can we establish that more as a market standard?"
In Alberta, the government has introduced a plan to make safety rules easier to understand, while the federal government is investing in farmer protection in Quebec.