Over 350 Canadian Armed Forces members to benefit from government investment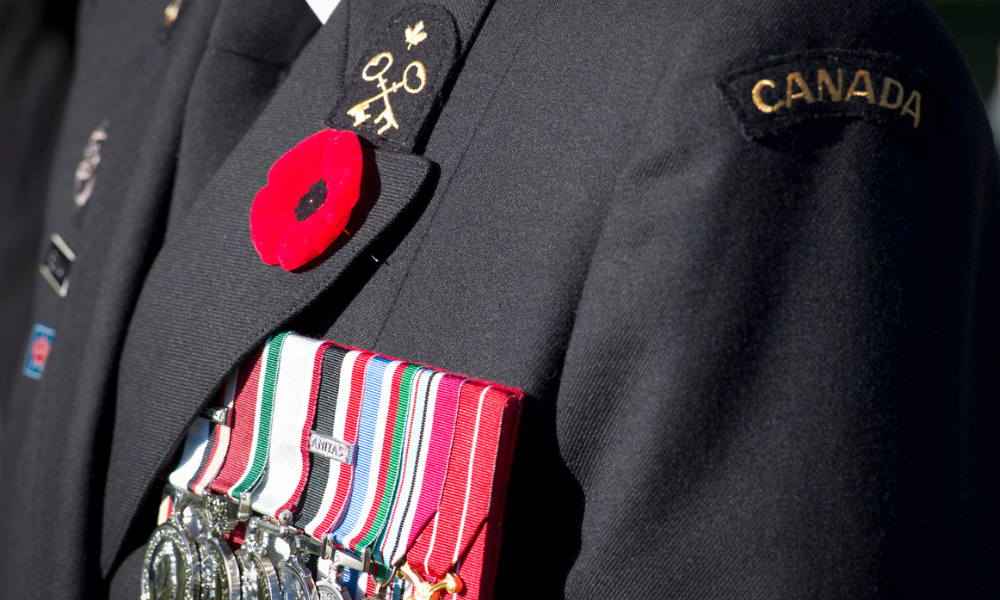 Ontario is looking to ensure that military veterans will have rewarding careers once they get out of the service.
The provincial government is investing $4.3 million in four innovative training projects to help Canadian Armed Forces (CAF) members prepare for in-demand jobs and transition to civilian life.
A total of 356 CAF members will benefit from the investment.
"Men and women of the Canadian Armed Forces give their all for this country. When the time comes to hang up their uniform, they deserve to know help will be there," says David Piccini, minister of labour, immigration, training and skills development. "Under the leadership of Premier Ford, our government is proud to invest in programs that help our veterans to find well-paying and rewarding careers and build better lives."
Earlier this year, Ontario proposed legislation that would provide job-protected leave for reservists who would require physical and mental treatment after their service.
Technical training, mentorship, counselling
True Patriot Love Foundation is leading the first project being financed by the Ontario government. The project will help 130 jobseekers land meaningful jobs in healthcare.
The foundation will also be partnering with 40 Ontario employers from a variety of sectors to educate and inform them on the benefits of hiring veterans and best practices for reducing barriers to employment.
"Many of our Veterans can find the transition to a new career post service challenging; bringing with it changes in community, potential loss of purpose and a need to align skills learned in the military with opportunities in the civilian sector," says Nick Booth, CEO, True Patriot Love Foundation.
"As Canada's Foundation for the military community, True Patriot Love welcomes this investment in supporting Veterans in post-service employment, and we applaud the Ontario government's commitment to supporting those who served."
True Patriot Love Foundation is also receiving $1.04 million from the Ministry of Children, Community and Social Services to support community-based projects that improve Veterans' access to mental health and support services. These projects include job training courses, trauma and resilience programs, and mental health support through the creative arts.
Earlier this year, all BMO employees who are members of the Canadian military community were made eligible for a Military Leave Top-Up as part of a Military Reservist and Military Family Leave, where an employee has a family member who is a military reservist.
Coding for Veterans, Helmets to Hardhats and the Roland Gossage Foundation will lead the other three projects, which will benefit 226 jobseekers.
They will offer a variety of tailored supports, technical training, bootcamps, mentorship, apprenticeship referrals and counselling. The projects will focus on preparing veterans for lucrative careers in industries like software development, IT and construction.
Funding connects jobseekers with skills, training
The projects are funded through Ontario's Skills Development Fund (SDF) Training Stream, which supports ground-breaking programs that connect jobseekers with the skills and training they need to find well-paying careers close to home.
"It is amazing to see the Ontario government's ongoing support of our veterans through the SDF program," says Roland Gossage, CEO, Roland Gossage Foundation. "Their support has allowed us to change the lives of our graduates in such a meaningful way. It makes me proud to be able to do this work with their partnership, and I look forward to continuing on this journey together."
Ontario has invested over $860 million in the SDF Training Stream and has helped half a million people take the next step in their careers to date, notes the provincial government.
Interested parties can apply for the SDF Training Stream until Nov. 17, 2023.
Previously, Walmart launched in Canada an education program that has been a big success in the United States. Through the Live Better U (LBU) education program, Walmart Canada is investing $50 million over the next five years to send associates to top-tier schools across Canada.