Supportive workplace helps Michael transition from Michelle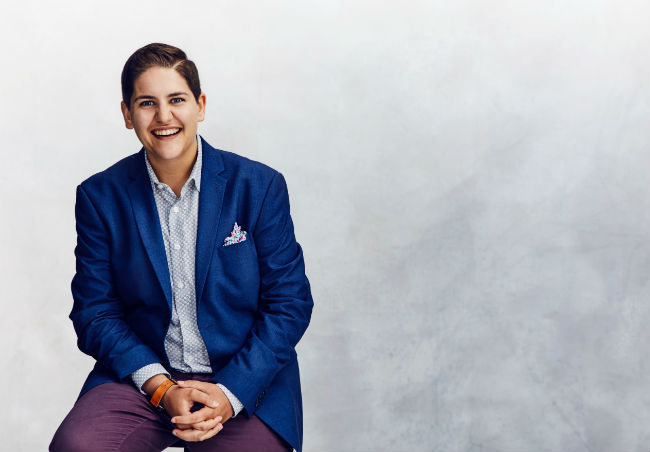 When she was seven years old, Michelle Cherny remembers playing video games and creating characters whom she'd call Michael. And when asked to picture herself in 20 years, Michelle drew herself as a basketball player for the Toronto Raptors, wearing number eight — as Michael.
But it wasn't until 20 years later that Michelle finally went by the name Michael, when he came out as transgender at Deloitte, where he works as chief of staff to the national audit public practice leadership in Toronto.
It was a bold move, announced on LinkedIn on Jan. 8: "Hi, I'm Mike. And today is my first day living my truth."
Michael made the announcement because he wanted everyone to know, all at once, he said.
"They say you come out 1,000 times in your life, you come out every day. And I still will. And I still am."
"I wanted to show others that it's possible, that it's OK. And knowing there are people all across the country, all across the world… literally sitting there in fear of coming out, I wanted them to see that here I am, at a senior level, coming out, living my authentic truth and receiving an overwhelming amount of support."
The post has been viewed almost 400,000 times, said Michael, with hundreds of positive messages pouring in from around the world — including colleagues.
"I've connected with individuals in the U.S. at Deloitte who have said to me, 'You know, I'm a year into my job here at Deloitte, and I never thought that I'd be able to transition on the job, let alone at such a senior level. And you're the reason that I'm going to stick around now.'"
Supportive culture
Along with the support of friends, Michael was also emboldened by the work he'd done as national chair of the Deloitte Pride employee resource group, helping others transition in the workplace.
And about two years ago, Deloitte put in place a set of gender-transitioning guidelines. They were meant to help colleagues and leaders know how to support someone, whether that meant updating a security pass or Skype or Outlook account, said Michael.
"Everyone comes out differently, and everyone transitions differently… It's sort of 'Here's how we can help you walk through the conversation.'"
It's also important to create a safe place for people to ask questions they might consider silly or stupid, such as what to call the "new" employee, what if they use the wrong pronoun or what bathroom people will use.
"If I'm in the room, they might feel like they're offending me," said Michael.
"There's certainly pronoun slip-ups. And I've always said to them 'All I care about is your intention.' It's natural to slip up. I called myself Michelle for 28 years. It takes me some time to change it too when I naturally go to write emails. I might still write it by accident… I'm not going to beat people over the head and say, 'I can't believe you slipped up.' But, amazingly, people catch themselves and they keep each other accountable."
As part of his coming-out process, Michael went to his immediate leadership, and they were "incredibly supportive and positive," he said.
"But they were also very much 'I don't know how to support you, I don't know what I need to do. But I'm willing and ready to do anything you need me to.' And that's, knock on wood, often the response we hear, especially in supportive workplaces: 'I'm ready to support you, just tell me what you need.'"
As further evidence of the supportive environment, two colleagues gave him a leather notebook engraved with "Michael."
"It was just such a touching, thoughtful gift or sentiment and they were like 'You know, we want you to always be yourself.' And it was just perfect. But it was such a great example of 'OK, I've got support here.' People are almost more afraid that I'm going to leave Deloitte than the fact that I'm transitioning."
Spreading the word
To announce the transition, Deloitte posted a profile of Michael to its internal website, along with a separate notice from the regional service leader for the audit public practice to the Toronto public practice of about 450 people:
"Michael, who many of you have known as Michelle… identifies as male and is going through a transition to openly live as his true gender identity. Mike has my utmost support and I'm honoured to be sharing his exciting news… we deeply admire his courage and look forward to his continued leadership."
The note goes on to say people should use male gender pronouns and forms of address going forward, along with acknowledging "it will be common for co-workers to make slips using the old name/pronouns; let's all work together to honour this transition and guide each other in the use of name and correct pronouns."
People were also asked to be respectful and encouraged to ask any questions with the leadership team or Michael directly. The congratulatory note also mentions Deloitte will be running sessions around transgender awareness.
When it comes to communicating the change, that can vary by person, said Michael.
"Everyone's journey is very different; everyone's desired outcome can be very different. And so even (with) the other individuals that I've helped transition, each one of their transitions looked very different from each other. Some people didn't want to do a public post, some people only let the 20 people that they work with know, some people didn't actually put anything out."
Administratively, there are also changes. Michael will change his name legally, which will impact things like payroll and insurance, and he's updated the internal system at work and with CPA Ontario with his preferred name.
"It's self-serve — you go in, you update, it's easily done and then it flows through… it was seamless, which I really appreciate," he said.
Changing relationships
And while some people might fear losing their job because of such a transition, Michael was more afraid of people being two-faced, saying they were fine with the change but not really meaning it.
"All of a sudden, I'm using the men's washroom and I'm thinking to myself 'Am I going to make them — especially because we have a lot of male partners — am I going to make them uncomfortable? And so am I going to get a smile and nod to my face, and 'I'm supportive' and all that, but then… you're treating me differently?" he said.
"I was worried that they would treat me differently in the sense that I'm capable in my job and I excel at what I do. And you've leaned on me for support for a number of years. And all of a sudden, things are now going to change. And I didn't want that professional relationship to change, either."
If anything, relationships have become stronger and more authentic, said Michael.
"I don't know if this is in my head or not, but I actually truly believe they're coming to me more, and they're relying on my support more. And I think it's just because when you show someone that vulnerability, and that trust, and I opened up to them… I think they also recognized how invested I am. It strengthens relationships you have with the people around you."
"And here I am finally living out loud as Michael. What a remarkable feeling."