Many employees face both physical and mental struggles on daily basis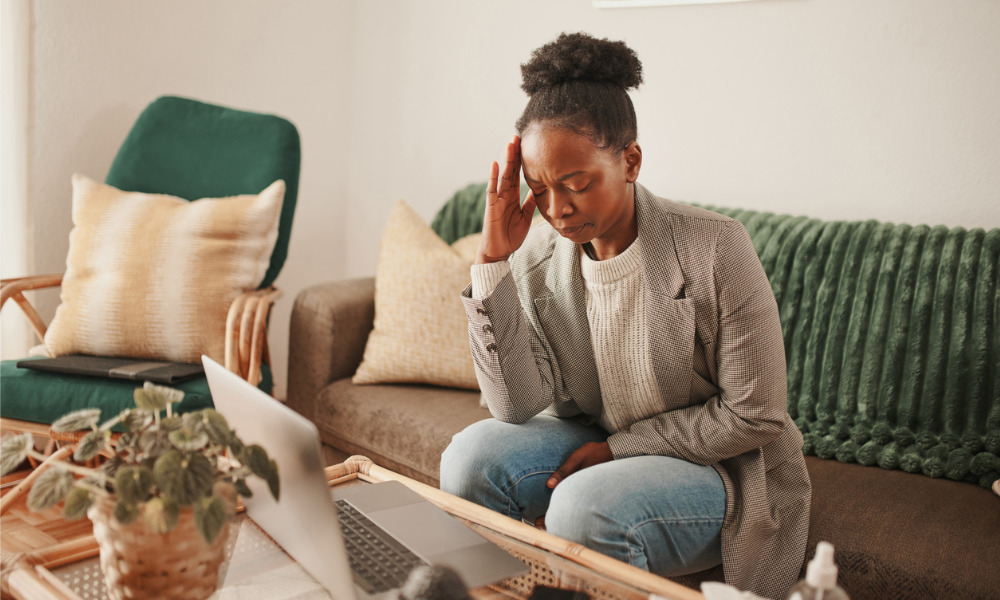 "He's had significant, ongoing heart issues. He said he experienced serious difficulty breathing for eight months. He said that he had serious insomnia; there was one point he went for a stretch of nine days without sleeping."
So says Laura Putnam, CEO and wellness expert of Motion Infusion, in San Francisco, in describing a friend from long COVID.
About 10 per cent of those who have been infected with COVID-19 will suffer long-term effects, according to the World Health Organization (WHO), which suggests that workplaces may have to contend with the after-effects of the deadly disease for years to come.
What does that mean for HR and wellness initiatives?
"The first step that any HR leader needs to be thinking about, what employers need to recognize, is they need to acknowledge just how widespread this is," says Putnam.
Daily struggles of COVID sufferers
Ann Maynard has heard of one person who's been suffering for 15 months, while one still has symptoms after 18 months.
"It was very intermittent that they feel well enough to go back to work, and then the next day, they wake up, and they can't even get it to bed to make a meal," says the human resource director at Pivotal HR Solutions in Oakville, Ont.
For the most part, people have trouble concentrating and find their daily lives extremely exhausting, to the point where they just can't do anything, says Caroline Cardozo, human resources manager at Pivotal.
"Some are still experiencing some type of pain when breathing and in the chest area, and some are still experiencing the loss of smell and taste sometimes; and definitely, most were talking about anxiety. Some are talking about depression, especially for these long-haul [sufferers]; they almost develop depression or have been experiencing these types of symptoms too,"
Another friend of Putnam's had mild symptoms early in the pandemic, but today his symptoms are manifesting acutely, leading to regular appointments with nine specialists.
"He's had significant, ongoing heart issues. He said he experienced serious difficulty breathing for eight months. He said that he had serious insomnia; there was one point he went for a stretch of nine days without sleeping," she says. "I just don't think that we have an appreciation unless we know somebody directly who's gone through it."
Even though employees have been urged to stay home when sick, a surprising percentage still went it to work, found a survey.
Mental health supports also needed
Given the uncertain nature of COVID, HR must come up with ways to mitigate the impact and help the affected employees cope, says Maynard.
"It's not a one-size-fits-all for these people because the symptoms are so varied. They have to look at an accommodation with their employee and then they have to keep tweaking along the way because it's not something that's a stable road; it goes up and down," she says.
For example, employers should provide more in the way of mental health options, along with employee assistance programs (EAPs) and other wellness initiatives to help the employee, says Maynard, along with "more of an understanding that the accommodations have to be individualized."
While mental health has been a big focus for many employers and wellness professionals, the advent of long COVID should add to this burden, according to Putnam.
"Those people who are suffering from long COVID — and as I've seen through my friend — they are visibly shaken by it. While a lot of employees are nervous about returning to in-person work environments, it's much more so for those who are suffering from long COVID. There needs to be added measures given to those who are suffering from long COVID to ensure that they feel safe but also for everyone there needs to be added measures around really tackling mental health head-on."
Managers will also need to use effective speaking methods, says Maynard.
"It's the manager's responsibility to keep the communication going with his employee and keep it regular, keep it consistent. Find out when is the best time, so maybe midday is a good time, for the employee to talk rather than first thing in the morning or that type of thing."
Managing that worker, who will inevitably have to interact with other team members, is a delicate task for leaders to navigate, she says.
"The manager has to work with the employee and understand how much that employee is willing to let the rest of the team know. If they can be a little bit transparent, they may find it easier because the rest of the team can pick up quickly when needed and fill in gaps, and probably be a lot more understanding than if they're kept in the dark and don't understand," she says. "But that's up to the employee, how much they want to divulge."
Education will have to play a part, says Putnam, in understanding how many people are suffering from long COVID, being sensitive to that and appreciating that these lingering effects "are not in any way made up and they're very real."
"Now's the time to be leading differently from the way they might have been leading in the past and, frankly, to also understand that some of these softer aspects of being an effective manager have always been critical elements to building a high-performing team," she says.
Work-from-home solution?
While offering remote work might help some employees, some people suffering from long COVID may struggle with fatigue and confusion, says Maynard.
"One thing that we were hearing is that the employees are working into the evening hours because they can't get through all their work because it's taking them longer."
This remote aspect might also lead to feelings of isolation and missing out on promotions, so it's incumbent on managers to "keep meetings going on a regular basis and keep in touch on a regular basis, and then that can work," says Maynard.
Working from home does have a positive effect on both mental and physical health, according to another survey.
Don't neglect performance management in these cases, says Cardozo, which has been put on the "back burner" for many during COVID.
"It's important for employees as well. They want to know how they're doing. It's still along lines of communication but it allows for them to know that they're still OK, they're doing well because they're feeling insecure. Increase engagement levels, sense of belonging amongst employees; if we can bring the team together in any kind of social ways… their team is strengthened that way."