'Precarious' work, fewer pensions, rising debts contribute to lack of savings: Experts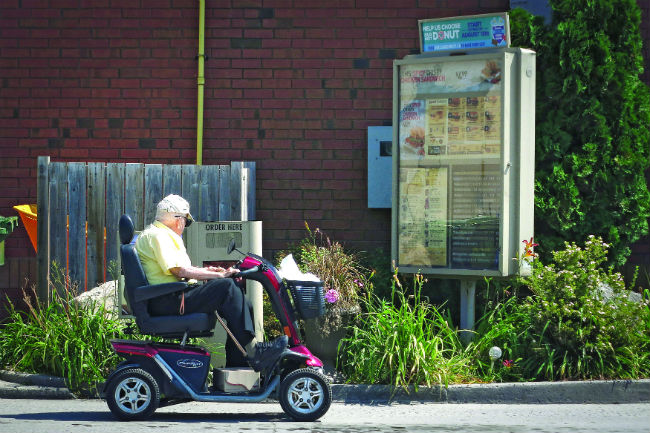 While the fact that people are living longer is of course a trend to celebrate, there are still challenges for a society with an aging population. And one of the biggest is retirement income security, as fewer people are saving what's needed, workplace pensions are on the decline, and debt levels are rising.
But employers can still play an important role, according to experts speaking at a recent conference in Toronto.
Changing environment
Workplace pension coverage has gone from about 45 per cent to 35 per cent, according to David Herle, owner of polling and research firm Gandalf Group in Toronto.
In looking at a potential retirement "crisis," people often say retirees are doing OK — but current retirees are much more likely to have a workplace pension plan than people who will retire in the future, he said.
And one-third of Canadians don't put away one dollar for retirement, said Herle, speaking at an "Evolving Nature of Retirement" conference hosted by Ryerson University's Centre for Labour Management Relations (CLMR). Even among people approaching retirement, 38 per cent said they put away nothing; one-half of those earning under $55,000 of household income put away nothing, and the same is true for people without a workplace pension plan, he said, citing Gandalf research.
"You're going to find savings rates for retirement that are wholly and wildly inadequate, and people know it."
Around 70 per cent agree they won't have enough money to stop working at 65, he said.
"There is a significant difference depending on the pension coverage you have."
In aggregate, it's about workplace pension plans disappearing outside of the public sector, said Herle, "where defined benefit plans are even rarer outside the public sector, where the risk is transferred from a shared-risk environment between employees and employers to solely being on the basis of employees… real incomes for most Canadians have been flat for 30 years now, so they were expected to take up that burden of saving for their own retirement out of existing income — and they haven't done it, and they won't do it."
And with changes to a more gig-type of economy, with less permanent work and fewer workers working for one single employer, "it's going to make it even more difficult to put anything away for retirement," he said.
When people are asked about what's contributing to the crisis, the number one answer is employers don't offer good pension plans, followed by government's failure to make it mandatory for employers to offer pension plans, said Herle.
"Canadians, frankly, do not accept the proposition that employers can't afford to offer these plans, even in a tough economy. They think employers are choosing not to offer these plans anymore and, therefore, they think there's a role for government."
We are in a period of heightened inequality when it comes to income, according to Sheila Block, senior economist at the Ontario office of the Canadian Centre for Policy Alternatives in Toronto, citing the escalation of "precarious" and part-time work.
With declining union density, growth in low-wage industries and reduced pension coverage across all age groups, there are higher debt levels and, therefore, less of a capacity to save, she said.
"Of particular importance to look at is the really marked increase for people in their 30s and their 40s, because we know that those are really essential years if you want to have adequacy in retirement, those are the years where you really need to start saving," said Block.
"We really need policy changes to catch up with the changing labour market… We really have a labour market, labour relations and an employment standards regime that's based on that model of standard employment that's no longer the case, and although we've had a shift in pension policy, we still need to move further to really provide a pension policy that will provide adequacy of incomes for people who are retiring from this new, more precarious labour market."
Younger workers
Independent workers who make up much of the precarious workforce pay double that of a conventional employee for the Canada Pension Plan (CPP) benefit through their income tax, according to Andrew Cash, co-founder of the Urban Worker Project in Toronto. "They don't have an employer that contributes to their plan."
Young people have a hard time engaging in the issue of pensions, he said.
"From a political perspective, it's very difficult, and so what needs to happen in that context is much more… education, much more talking to young people about pensions, about their CPP," said Cash, adding many don't file income tax in their early years.
"No one explains to anybody under the age of 35 that through their income tax, they're making contributions to their pension. It's a really important point and it impacts people in a number of different ways."
Most labour laws and policies remain rooted in an era predicated on full-time, stable work, and many precarious workers lack a pension, he said.
"For them, the evolving nature of retirement is really one of devolution," said Cash, and many instead focus on their health, assuming they'll have to work as long as they're healthy.
"As work continues to change, as more and more young people are in independent work, our prescriptions, including for retirement, must change too."
Increasingly, the deck is stacked against the younger demographic, making it hard to save for retirement, said Paul Kershaw, associate professor at the University of British Columbia in Vancouver. A typical 35- to 45-year-old today earns thousands of dollars less for full-time work than the same-aged person in 1976, even though she's twice as likely to have post-secondary education, which means more people are starting with more student debt than in the past, he said.
And, of course, housing prices have gone up considerably.
"This is squeezing a younger demographic with time and money pressures, which then compromises their ability to set some dollars aside in their young adult years for retirement," said Kershaw.
"Younger people are not dumber today about saving than they were in the past. When you earn thousands (of dollars) less and are facing housing prices that are hundreds of thousands more, it is just more much challenging to save dollars, and if we mandate that they save more now, then you exacerbate the current squeeze."
Many millennials lack awareness or knowledge about pensions and the importance of contributing, said Tamar Becker, research co-ordinator at the CLMR.
"A lack of information leads to low millennial engagement in the dialogue about retirement savings, so many don't understand enough or find it relevant in their life."
Many young people have a negative perception about the retirement industry, thanks to the 2008 economic crisis and a system that's based on people having stable jobs and being generously provided for — unlike today where defined contribution plans ask more from employees, she said.
"This leaves millennials with less incentive to buy into their pension program, with a negative view overall."
Younger people, faced with "outrageous" student debt and precarious work, want retirement products that better suit their needs and don't necessarily lock the money away, said Becker.
"Without pension products and policies that take into account the needs and challenges of the priorities of millennials, the pillars will be increasingly inequitable across generations."
Potential solutions
So, what kinds of solutions make sense? Eighty-one per cent of respondents to a Gandalf poll said all workers should have a pension that guarantees a percentage of working income in retirement. This is influenced by the 2008 crisis for sure, said Herle.
"People no longer see the stock market as a reliable planning basis for your retirement."
Only 27 per cent said they'd keep the money instead of contributing to a pension plan, he said.
"People know intuitively that if a certain amount of money is deducted from their cheque, and if it's matched by the employer... they can probably manage; but if they actually get the cash, it won't ultimately get into retirement savings — it's going to go toward some demand at home."
As a result, one solution could be finding a way to return to a shared risk employer-employee workplace pension system, or "having to significantly augment public pension support systems to avert what is ultimately going to be a return in this country to poverty among seniors," said Herle.
There's an argument to be made for mandatory pensions, said Block. And the planned expansion to the CPP makes sense because of its portability, its coverage of the self-employed, greater risk-sharing and lower administrative costs.
"It is the mega-model of what we need in the new economy, where your benefits are no longer linked to an individual employer but can move with you province to province, workplace to workplace, career to career," she said, along with modernized labour laws, less misclassification of workers and wage theft.
And multi-employer pension models are another consideration that could work, said Block.
"Some of those multi-employer pension plans, if you can actually carry your service and contributions between employers, then that's the kind of model that would provide that kind of support for those who are in more precarious work."
Looking to provide more solutions for employees, Sun Life takes a hands-on approach to deal with complex benefits and savings plans, low financial acumen and plan member apathy, according to Kate Nazar, vice-president of client solutions at Sun Life Financial in Toronto.
It's also about reaching out to millennials and providing a more personal approach, she said.
"Contrary to what some might believe, they are quite concerned about money and what are good behaviours around saving, especially for the women in the group. But I'll stress that what resonates with the group is saving, not the concept of retirement, so we need to tailor our messages as an industry around the channels that keep them engaged."
It's about making saving simple and engaging, through innovations such as fingerprint recognition, tips, tools and calculators for mobile devices, video conferencing, screen-sharing capabilities, gamification and more targeted messaging through intelligence-based technology, said Nazar.
"If they know it's relevant and personalized, they're more apt to pay attention, as well as take action."