Whitepaper: With the pandemic subsiding, employers should prepare for claims and absences due to continuing challenges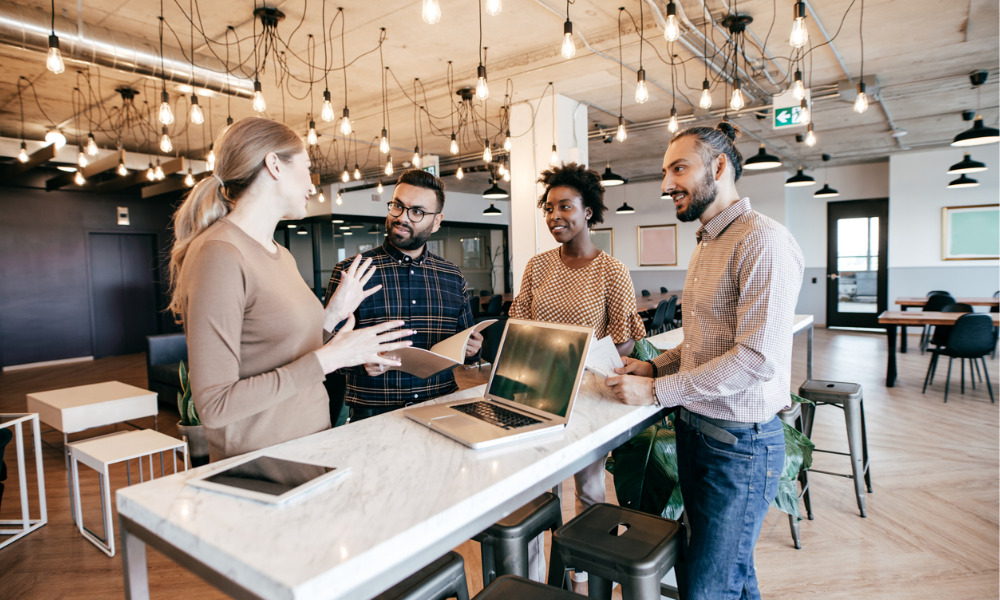 When it comes to disability management these days, organizations need to take a slightly different approach, according to Shawn Wakley, assistant vice president of client relationships, health solutions at Aon in Edmonton.
"Not that they're doing anything wrong, it's just things are different, so the approach needs to change."
For one, the demise of the COVID-19 pandemic does not necessarily mean better times for disability.
Stress, anxiety and job insecurity can push a worker to "power through" a weak economic period, but when the economy improves, along with a worker's health and financial security, the accumulated effects of the stressful period take a toll on workers.
"It would be reasonable for most of us to think we're coming to the end of that and things should get better, but that may not be the case," says Wakley, citing factors such as increased inflation, heightened stress among employees left behind amid the "great resignation" and continuing uncertainty about the pandemic.
Even the return to the office can be a challenge, with concerns about childcare or eldercare or care for "pandemic puppies," he says.
"We've already developed new routines, we've fallen into them, and we're being asked to undo those routines… that will add stress and add burden to [employees], and potentially have impacts on their health."
While it's always wise to take into consideration predictable economic fluctuations, plan sponsors should not lose sight of their options when it comes to reducing the negative impact on plan cost and experience, according to AON's whitepaper, Bending the Curve on Disability, to help employers navigate this challenging area.
Highlights include:
Disability experience and cost drivers: The Public Health Agency of Canada (PHAC) anticipates significant post-pandemic health issues brought on by the postponement of elective surgeries and diagnostic testing and screening. In addition, a surge of cancer cases is anticipated, while the trajectory of long-haul COVID-19 remains an unknown.
"Delayed surgeries, delayed diagnostics, whether that was because of the system slowing down or patients and employees making personal choices… those are starting to have an impact, because we're anticipating diagnoses of increased complexity, a potential cancer wave, lots of things that may be on the horizon, which could be driving disability experience up or absences experience up, despite this return to normal," says Wakley.
Pressure points for plan sponsors: Ongoing labour shortages can put a strain on employees tasked with maintaining productivity levels, especially in workplaces where turnover is high. Stress and burnout are inevitable outcomes. Also of concern? Continued supply chain disruption, coupled with recovering consumer demand contributing to increased inflation, which may lead to more pressure on workers who struggle with rising costs.
Mental health is going to be a huge leader when it comes to disability and absence concerns, says Wakley.
"We see gas prices increasing, we see the cost of food increasing… [there is] almost an immediate impact of inflationary pressure that we're seeing. And employers aren't necessarily going to be rushing to adjust wages for that, because employers too are facing those costs," he says.
"When the cost of living goes up as much as it is right now, it adds that extra layer of stress, another complexity that employers are having to deal with. And we know when it comes to mental health or employee total well-being as it is, finance is a big pillar of that. So when your finances are out of control, or you feel like you're living to paycheck to paycheck, that has a direct, negative impact on your health."
Facilitating a successful return to work: Despite offering a well-designed, well-managed and cost-effective disability plan, along with an overarching wellbeing strategy, employers could find workers continue to become injured or fall ill. They may need to take time away from work, request accommodation, or both. Employers play a key role in facilitating the successful adaptation or reintegration of employees experiencing health challenges — but a collaborative effort is critical to the long-term success of the employee.
"Traditionally, in all of my years of working in disability, a lot of return to work was managed between the providers for the insurance carrier and the employer. So it was a very direct correlation that says, 'You can return to work this day' and therefore you return," says Wakley.
"But it's not always that simple. We want to make sure that all partners are involved and that includes the healthcare team, if there are union partners involved, and certainly the people leader, so the employee's manager — we want to have that voice at the table, so that everybody is fully aligned, so that everybody understands what the objectives are for a successful and sustainable return to work."
The role of leadership: An organization may develop inclusive disability policies and sponsor benefit plans and programs that support employee growth and wellbeing, but those efforts can hit a roadblock if leaders are not demonstrating and supporting the value of these policies to the organization.
Leadership is one of the most important cornerstones when it comes to good organizational health and employee well-being, says Wakley.
"A leader is the person who, for lack of a better term, controls what the work experience is going to be like for the employee… So making sure that they take that empathetic approach where they're thinking about not just the needs of the organization but the needs of the employee as a key part of that organization will really help make sure a transition back into the workplace, where there's forethought about bringing the employee back as soon as reasonable and possible, will actually happen."
Conclusion
As more is learned about the connections between the economy and disability incidence, it is expected that markets will continue to react with higher premiums. That means employers should take a more prominent role in impacting disability experience. They must turn their attention to the wellbeing strategies in their organizations and make better decisions in areas where they can affect positive change on disability experience.
"When it comes to prevention, when it comes to managing all of these externalities that we're facing right now, finding the value in a preventive strategy — so moving it away from traditional wellness which just focused on the employees' health — and moving that towards well-being, which focuses more holistically on the employees — so their health, their mental health, their work experience — employers need to start taking the bigger view in these three areas, to really come through the situations that we're facing right now and position themselves as top employers, as top organizations that will have a long stretch going forward."
For more insights and takeaways, be sure to download AON's whitepaper Bending the Curve on Disability.