Ontario needs "tens of thousands of nurses" to address labour shortage in long-term care alone, says CEO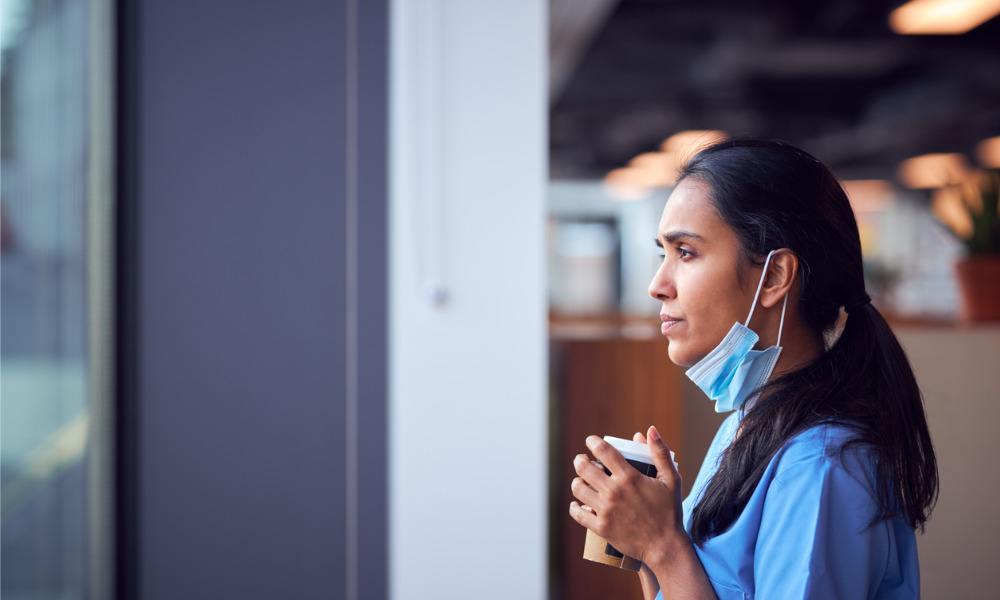 The COVID-19 pandemic has been over for months now, but things are not getting better for nurses in Ontario, according to a recent report.
Overall, 92 per cent of nurses say their workload has increased over the last few years – a figure that is higher than it was at the height of the pandemic, reports the Registered Practical Nurses Association of Ontario (WeRPN).
And workplace pressures continue to take an insurmountable toll on these nurses: 97 per cent say working short-staffed has negatively impacted their workplace culture and 91 per cent say their daily experiences in the workplace have become significantly more stressful.
As a result of staffing shortages, 91 per cent cannot get their shifts covered, 82 per cent cannot take time off and 31 per cent do not feel they are able to decline shifts without consequence.
"That reflects the issues that happened during the pandemic that caused nurses to feel that they need to either leave the job or leave the profession altogether," says Dianne Martin, CEO, WeRPN, talking with Canadian HR Reporter.
"We are still at the height of that or are still increasing in that area. So even though the worst of the pandemic is over… we're still seeing the impact of [the shortage of nurses]. And I believe we'll probably continue to see the impact of that for some time."
Sixty-two per cent of Ontario nurses say they will or are considering leaving nursing. Among those who intend to leave, 59 per cent plan to leave the profession altogether, and 86 per cent intend to leave within the next two years.
A previous report released in late 2022 also found that 75 per cent of nurses intended to leave the industry in the next 12 months.
Short-staffed leads to mental health concerns
When nurses arrive at work, they are usually assigned number of patients that they can safely care for during their shift, says Martin.
However, it has become "very normal" for nurses to arrive at work and be assigned more patients than they can possibly take care of safely because hospitals are short-staffed, she says.
That has become a burden on nurses: 68 per cent of them do not feel they have the time and resources available to provide adequate care to their patients, and 91 per cent have witnessed patient care negatively impacted due to staffing issues.
The situation is also weighing on nurses' mental health, according to WeRPN's survey of over 1,200 nurses conducted from May 17 to 25, 2023. A majority of nurses (78 per cent) have experienced a breaking point related to their job this year, and 89 per cent say their mental health is suffering due to workplace conditions.
"This is [a] very challenging work physically, but also mentally. Because at the other end of that work, they are not able to provide the type of care that they show up in the morning intending to provide, and that wears on their mental health," says Martin.
More than half (55 per cent) of nurses suffered from insomnia in the first six months of the COVID-19 pandemic, according to a previous report.
And just how many nurses does Ontario need to address the labour shortage?
"We'll need tens of thousands more just in the long-term care sector alone, in order to meet all of the needs of the long term care sector as we go along," she says.
"Nobody has really calculated out exactly the number that we need right now. But we know that we are tens of thousands short across the system."
How can we solve the nursing shortage?
In response to these findings, WeRPN is calling on the Ontario government to take the following actions immediately:
Legislate manageable workloads: Urgently establish standardized nurse-to-patient ratios to reverse deteriorating patient care and ensure workplace safety for nurses.
Prioritize retention with growth opportunities: Streamline education for experienced nurses looking to expand their careers by supporting continued education and enhancing spaces in schools.
Establish professional compensation: Establish "a fair and professional level of compensation" for RPNs that "reflects their knowledge and skills and is more closely aligned with their RN counterparts".
Guard against cost inefficiencies and privatizing healthcare: Reduce "over-reliance on for-profit nursing agencies" with the development of more strategically planned full-time nursing positions.
Healthcare workers' primary reasons for quitting are poor wages and unsafe working conditions (70 per cent), according to a previous SEIU Healthcare study.
There also needs to be an attitude change towards the nursing professions, says Martin.
Nursing has been treated differently compared to other professions over the years "because it's primarily a female profession," she says.
"We have to make sure that we value them like any other type of professionals… We have to treat this profession as not one that we can take advantage of, but one that we have to take care of. That is the most important thing that needs to happen to turn around what we've been facing."