Two-thirds say small employers should get subsidy to help cover costs of government-mandated sick leave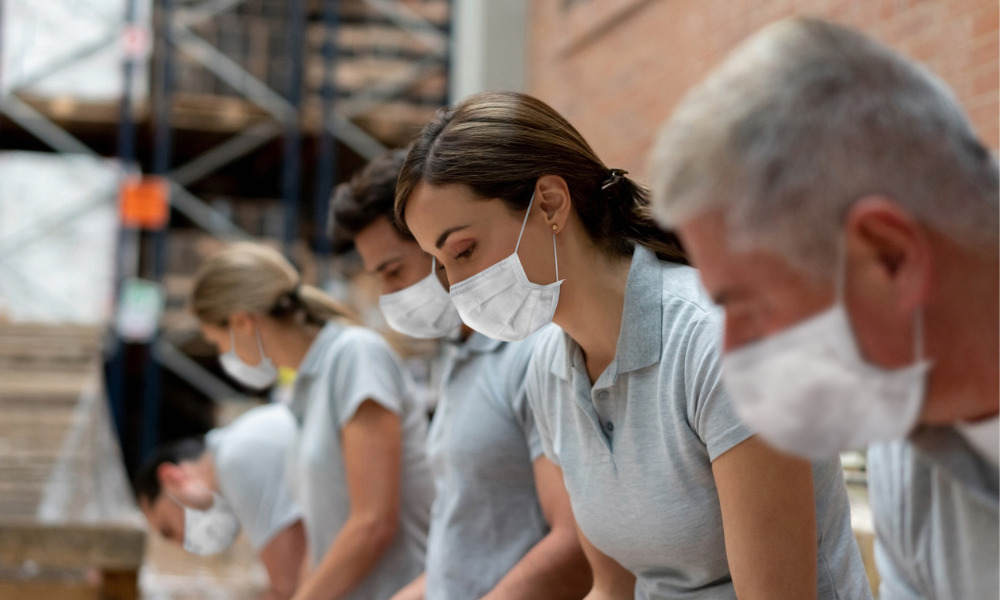 With the pandemic still ravaging the province, Ontarians support the implementation of paid sick days for workers in the province by a margin of more than four to one, according to Unifor.
Seventy per cent support five days of sick days while 64 per cent support 10 days of paid sick leave. Meanwhile, 13 per cent and 18 per cent, respectively, oppose such a policy.
"The government needs to understand that the people of Ontario want and need paid sick days," says Jerry Dias, Unifor national president. "It's disingenuous for Premier Doug Ford to pretend that the temporary federal Canada Recovery Sickness Benefit [CRSB] is a substitute for legislating paid sick days for workers, especially when just one in 10 low-wage workers have access to paid sick time."
The CRSB gives income support to employed and self-employed individuals who are unable to work because they are sick or need to self-isolate due to COVID-19, or have an underlying health condition that puts them at greater risk.
Demographics
Sixty-three per cent of respondents also believe that paid sick leave is essential to stopping the spread of COVID-19; 17 per cent disagree.
But there are variations when it comes to gender, age and sector, found the survey of 1,240 Ontario residents conducted April 7-12, 2021.
More females (75 per cent) than males (59 per cent) support provincially legislated paid sick leave of five or 10 days,
And people than 35 (74 per cent) are most in favour, followed by 35- to 49-year-olds (68 per cent), 50- to 64-year-olds (66 per cent) and those aged 65 and up (58 per cent).
Workers in the private sector are also more in favour (83 per cent) than those in the public sector (64 per cent).
Fear of losing their job meant one in five Canadian workers said they would go to the office even when they are coughing, sneezing and feeling sick, according to an earlier survey.
Support for employers
When it comes to the impact on employers, 50 per cent of respondents disagree that requiring employers to provide paid sick leave will hurt the economy and cost jobs while 23 per cent say it would be harmful.
More than two in three (68 per cent) respondents believe that if Ontario is to mandate employer-paid sick leave, the government must provide a subsidy to small businesses to help them cover the costs. Only 13 per cent disagree.
"It's time to put ideology aside and listen to workers, doctors and public health experts. Paid sick days are a tried-and-true public health benefit that leads to fewer sick people, better productivity and less crowded hospitals," says Naureen Rizvi, Unifor Ontario regional director. "Paid sick days should never have been rolled back, and Ontario's Conservative government is running out of time to correct this mistake."
Back in 2019, Ontario eliminated 10 days of personal emergency leave each year.
Almost all provinces, aside from Quebec and Prince Edward Island, do not offer paid sick leave. In Quebec, employees with three months' continuous service can benefit from up to two days of paid sick leave per year because of sickness or an accident. In P.E.I., after three months' continuous service with an employer, a worker is entitled to unpaid leaves of absence of up to three days for sick leave during a 12-month period. If the employee takes three consecutive days, the employer may ask for a medical certificate.
Petition
Meanwhile, the Ontario New Democratic Party is calling for signatures for a petition calling for emergency public health action from Ford.
"Our hospitals and intensive care units are overrun. People are dying and Doug Ford chose carding, not paid sick days or vaccines for essential workers. He's shutting down playgrounds instead of shutting down non-essential warehouses and factories," reads part of the petition.
"Ontario needs to fully repeal the expanded unconstitutional police powers, implement paid sick days, shutdown non-essential businesses, send vaccines to hotspots, and give financial help to workers and businesses urgently."