Survey finds professional, scientific and technical services lead the way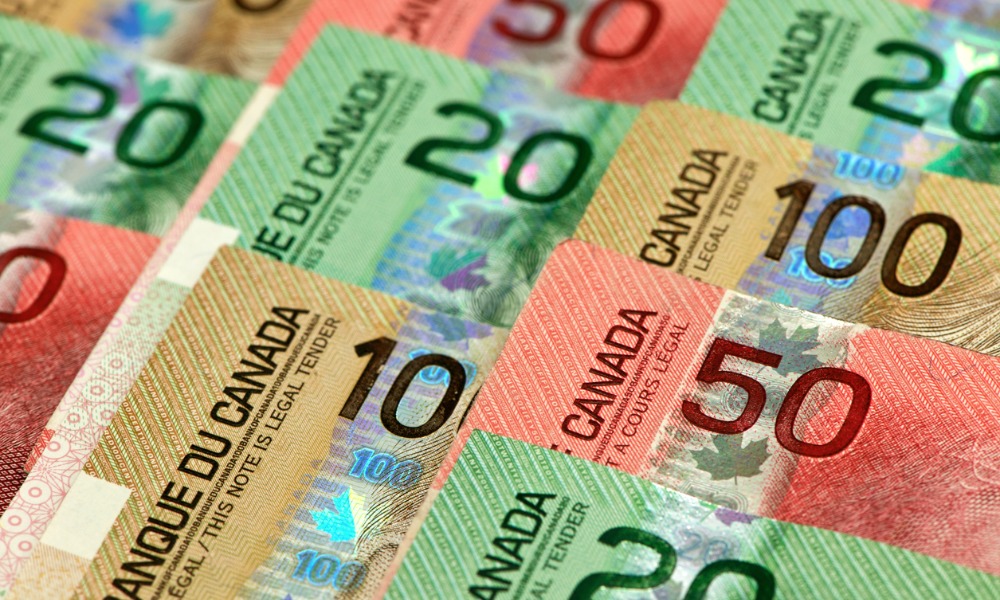 Salaries are set to rise for the coming year but not as great as they have in the past few years, according to new research.
In its latest annual wage outlook report, Normandin Beaudry predicts that pay cheques will be enhanced to the tune of 3.6% for 2024 despite some negative expectations in the overall economy.
"While a recession remains a possibility in the coming months, organizations are planning on granting increases in excess of 3% for a third year in a row," says Darcy Clark, senior principal, compensation at Normandin Beaudry.
The study — which heard from more than 700 organizations across Canada — found that professional, scientific and technical services sector allocated the most new money to employees at a rate of 4.8% in 2023, compared with a forecasted number of 4.2%.
Employers are gaining the upper hand when it comes to salary negotiations, according to another survey.
Wages higher than predicted for 2023
The real number of salary hikes came in at 4.1% for this year, which was different than the initial wage hikes of 3.8% and 4.2% released in February 2023 and July 2023, respectively.
However, in 2024, the sectors with higher-than-average salary budgets include:
Professional, scientific and technical services: 3.9%
Real estate, rental and leasing: 3.9%
High technology: 3.9%
Pharmaceutical and biotechnology: 3.8%
Durable goods manufacturing: 3.8%
Accommodation and food services: 3.7%
In the current year, only 1% of survey respondents reported they implemented salary freezes, while 2% of companies are looking at pauses in 2024, according to Normandin Beaudry. Pre-pandemic wage halts were generally around 3% to 5%.
Leading the way provincially are Quebec, Ontario, B.C. and Yukon Territory, which are projecting 2024 salary boosts above or equal to the national average of 3.6%, while other provinces and territories projected increases are slightly below average.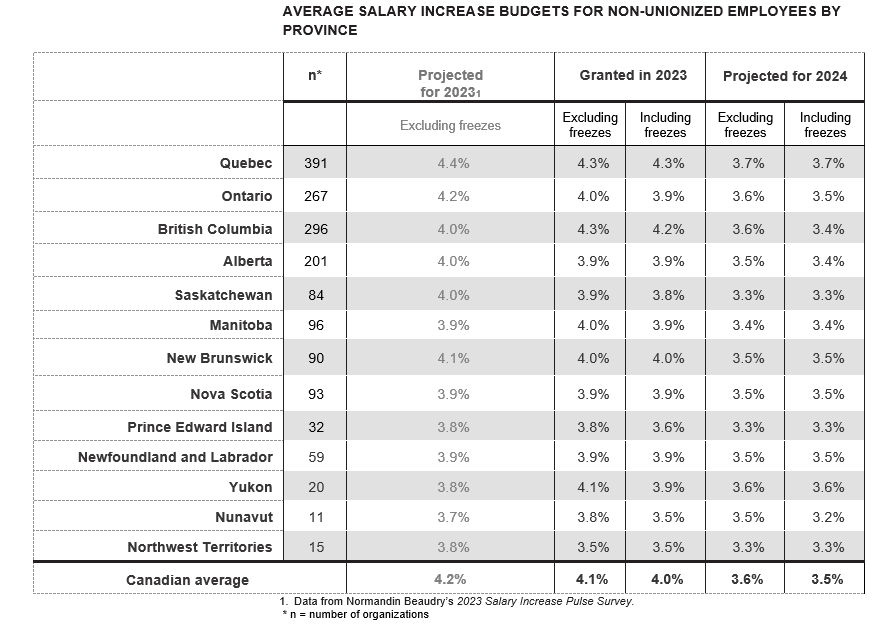 In 2024, Normandin Beaudry is predicting 43% of organizations plan to secure additional salary-related funding of an average 1%. Those organizations surveyed reported they these additional money for a variety of compensation efforts:
Market adjustments (75%)
Retaining employees in strategic and critical roles (58%)
Boosting rewards for high performers (55%)
Targeting employees with a perceived retention risk (46%)
Addressing compression and internal equity challenges (40%)
Accelerating the progression of employees in the lower end of their pay range (39%)
Granting off-cycle salary increases (24%)