Recent numbers show slow return to offices in Calgary, Toronto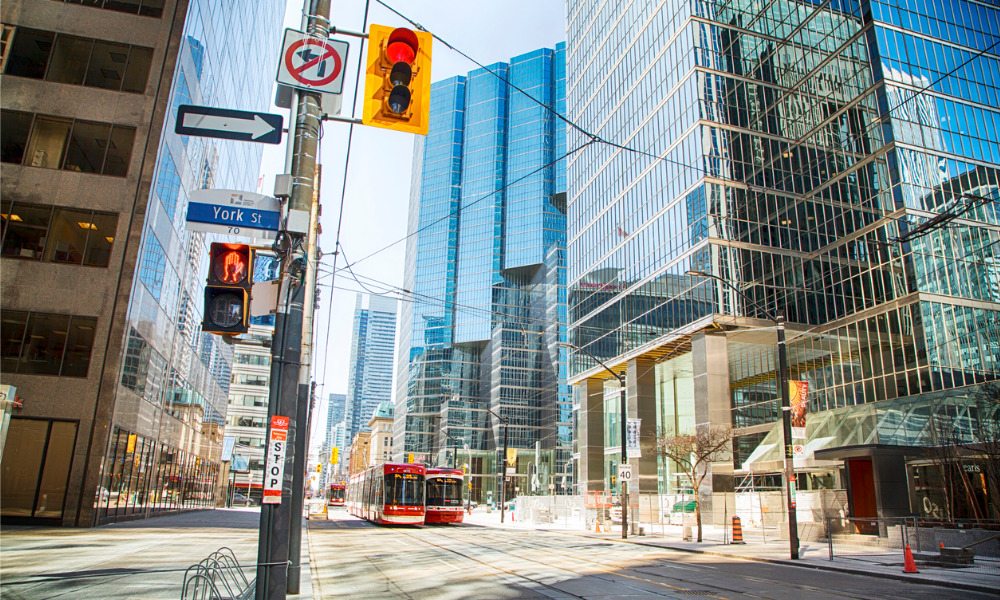 The downtowns of Canada, like many worldwide, have been relatively quiet for months. The frenzy of employees at work dropped dramatically, along with the car and pedestrian traffic, restaurant and retail business, and office workspaces.
But there are small signs the downtown is making a slow comeback, judging by the results of recent surveys.
Toronto, for example, saw foot traffic rise by 62 per cent in the third quarter compared to the second (although the downtown core remains about 80 per cent below pre-pandemic levels), according to research by Avison Young, a commercial real estate services firm.
And for the second quarter in a row, the total available sublet space in downtown Toronto fell, reaching 6.9 million square feet – down from 7.2 million last quarter, while fewer buildings have more than 50,000 square feet available: 179 in the third quarter compared to 187 in the second.
In Calgary, downtown foot traffic was up by 23 per cent in the third quarter compared to the second (though the levels are 65 per cent below those pre-pandemic), says Avison Young.
In addition, the total available sublet space fell to 4.5 million square feet from 4.6 million – though the office vacancy rate was virtually unchanged, at 29.9 per cent from 29.2 per cent.
'Steady increase'
"What we are seeing is a steady increase that's a heck of a lot better than prior weeks," says Sheila Botting, principal and president for Americas, professional services, at Avison Young in Toronto, citing factors that include the type of business or industry, public transit and local government guidance with respect to health and wellness.
There's definitely an influx and these are exciting days, says Reid McKay, policy director for innovation at the Toronto Region Board of Trade.
"It's really been nice to see, as the recovery begins in earnest. So many firms and individuals, critically -- it's the employees that are the most important part here -- still see tremendous value in coming downtown and interacting with the financial hub," he says.
"When we're talking with the executives that are tasked with strategizing this whole return to work, it's really encouraging to see because a more dynamic mode of working in the office will only serve to embolden that vibrancy that everyone's after in the post pandemic."
Montreal is hoping to entice workers back downtown with a new ad campaign. Launched by the Chamber of Commerce of Metropolitan Montreal, the initiative uses slam poetry composed by a local artist to pay tribute to downtown's "creative and innovative character."
Promoting the value of office space
Most major employers are advancing programs to have people return to office in a modified version, such as two or three days per week, says Botting.
"That's because, on one hand, it's been wildly productive... many employers have found that remote work actually works."
What's missing is the opportunity to collaborate and get together in person with teams to engage with colleagues, she says.
"That's the last piece that many employers are grasping with right now: 'How do we encourage a return to the office? How do we make sure people feel safe coming to the office, and they want to participate more?'"
It's all about the war for talent, says Botting.
"And it's all about having a value proposition from the employer, so that people will either want to be in the office or certainly with your company or your entity," she says.
"We know that the majority of people, employees, want to have a hybrid work. So a very small portion want to be in the office four or five days a week."
In June 2021, IBM announced it would be merging four Toronto-based offices into a single flexible workspace to be located in the downtown core.
But some employers – such as GSoft in Montreal – have embraced a fully remote model.
Collaboration, collision
Employers throughout the downtown core feel that there remains tremendous value, despite the advances of work from home, to maintain a central location there, says McKay.
"And speaking with employees themselves as well, many of them, most of them, pine for the return to the office, for a collaborative environment and [because of] Zoom fatigue and whatnot," he says.
"It's a lot more than just seeing one another, the collaborative… [it's what we call] 'collision,' which is like chance encounters that people have."
At home, the meetings are structured, there's one-way dialogue and there are no opportunities for side discussions at meetings or conferences, says McKay.
"It's really the informality that is missed. And the opportunities for collaboration and collision."
Those are critical to the continued viability and competitiveness of Toronto's financial sector, he says.
"That is really the magic, key to the vibrancy of the downtown core, those kinds of engagements that not only facilitate the culture that everyone's drawn to, but business itself… It's not something that people necessarily need to be reminded of, they're definitely aware of its absence, and are eager to get things back."
But that also means employers have to operate somewhat differently, in encouraging those interactions, says McKay.
"If someone comes [back] to the office, and they're just on their computer all day, they could have done that from home. So the office needs to not only enable those kinds of interactions, but encourage them," he says.
As leaders have started to craft their return-to-the-office policies, "there's a widening disconnect between executive policies and employee expectations when it comes to returning to the office," says Sheela Subramanian, vice-president of Future Forum at Slack in San Francisco.
Stressing the safety
In returning to the office, one of the bigger stress points for many people is the heightened transmission risk in a mass transit environment. But agencies such as the TTC and GO Transit have made a tremendous number of accommodations to eliminate the risk, says McKay.
"It's really just a question of making sure that commuters understand the efficacy of these measures, so that they can then internalize that into their own risk aversion. That's why the communication is so critical. Transit organizations have implemented all of these measures, and they want to make sure that people know and understand them."
And when it comes to employers' internal communications capacity, it's important to convey the latest information from landlords and transit authorities, he says.
"It's not only qualifying the remediations that are in place but also things change, by the hour, and so receiving those updates and making sure that issues, as ephemeral as they may be, are acknowledged on the fly. So a more dynamic response framework, and employers are really doing their best to make sure that they have that capacity built in"
For employers to entice people back downtown, a communication strategy is key, and that should include letting employees know that they're paying close attention to their health and wellness, says Botting.
"[It's about saying] 'We will have safety protocols in place; we will make sure that your workplace is a safe place to come to; we will make sure that we've done everything in our power; and the second that anything with COVID is offside, we will allow everybody to work from home again.' So balancing that is really the employer's challenge and opportunity today."
Of course, most building owners are "investing a lot of time and energy" in initiatives such as COVID-related signage, reduced capacity in elevators, greater cleaning cycles, and improved HVAC systems, she says.
"All of those things are things that the building owners are doing in order to maintain safety and confidence for people to return to office, that's wildly important. And I call that table stakes --- that's the bare minimum that would need to be done."
It's also important to emphasize the other elements of downtown that should appeal to people, such as the social aspects and retail offerings, says Botting.
"When you're downtown Toronto, the vibe, the restaurants, the ability to get together for industry associations, the board of trade, our real estate industry, whatever, is much more vibrant. People want to participate in that."
With the return to the workplace, Deloitte Canada is giving employees the flexibility to choose where, when and how they work.
A majority of employers have plans in place for a return to work — whether that means full-time in the office, a hybrid model or a completely flexible schedule — according to a survey released by ADP Canada.