Top considerations? Timing of return, employee wellness, outbreaks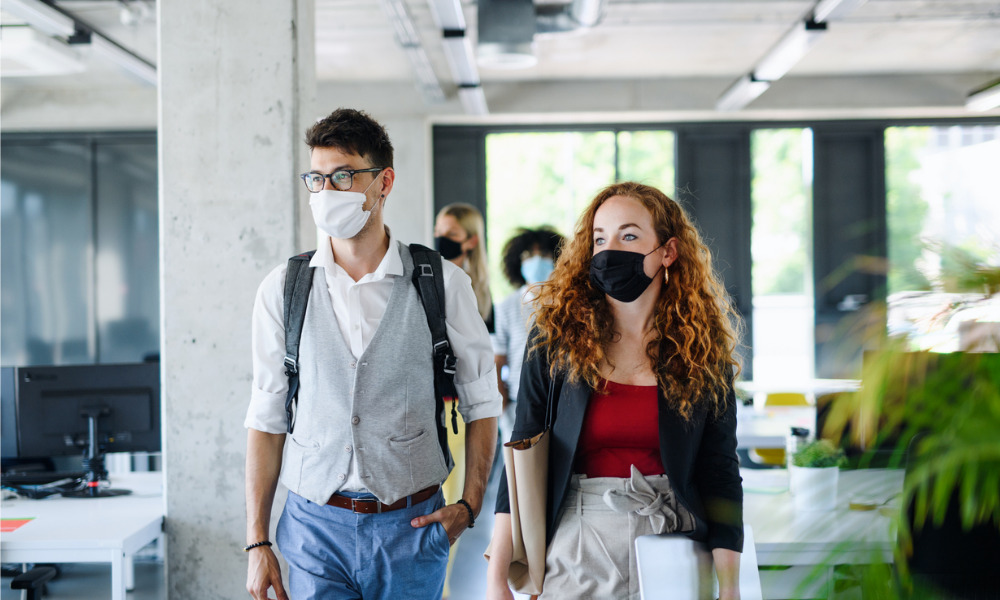 Major changes are coming as employers start to bring back employees into the office, according to a survey by the Human Resources Professionals Association (HRPA).
Nearly two-thirds (63.7 per cent) have formed some kind of planning group to plan for the return to the workplace.
"As the province begins loosening restrictions, businesses are turning to HR leaders to prepare their return to in-person work plans," says Louise Taylor Green, CEO of HRPA.
So, how will employers go about bringing people back to the office? Most organizations are looking at a staggered approach (24.5 per cent) or bringing employees back in phases (28.8 per cent).
Only 5.6 per cent of respondents plan to bring all their employees back to the workplace at once.
Canadian HR Reporter recently spoke with an expert for answers to five questions about the return to the workplace.
Employee wellness
Employee wellness and mental health (45.7 per cent) and transitioning workers back to the workplace (45.6 per cent) are the top concerns for employers regarding return to the workplace planning, according to the survey.
Also of concern? The timing of the return (42.2 per cent) and the possibility of COVID outbreaks at the office (38 per cent).
Sixty per cent of respondents are actively seeking or will seek input from employees about their feelings on returning to the workplace.
Also, 76.5 per cent say that their organizations are prepared to increase mental health supports for employees, found the survey of 800 respondents conducted May 21 to 27, 2021.
Affordability of care is a major reason why many people don't seek mental health support, found a separate survey.
Safety changes
On the matter of safety, 74.6 per cent are planning to make vaccination voluntary for employees, but 19.7 per cent say that there will be restrictions for those who choose to not be vaccinated, finds HRPA.
Very few (15.4 per cent of) survey participants are planning to introduce rapid testing in the workplace ─ though 44.5 per cent are not sure.
As for physical changes, 78.3 per cent have or are planning to add signage to help control the flow of traffic, while 76.9 per cent have or will have workforce planning controls.
A further 73.3 per cent have or are planning to restrict or ban the use of shared spaces, finds the survey.
Canadian HR Reporter recently spoke with an expert about physical changes to the workspace with the return to work.
Remote work considerations
Prior to the pandemic, 52.5 per cent of respondents did not have a remote work or flex work policy but 57.5 per cent have created or changed their policies since the pandemic began.
And nearly two-thirds (64.2 per cent) now say their organizations are planning to permanently retain or expand remote working options, while 26 per cent are still unsure of their plans.