'Leaders need a workforce that can thrive in this ever-changing environment'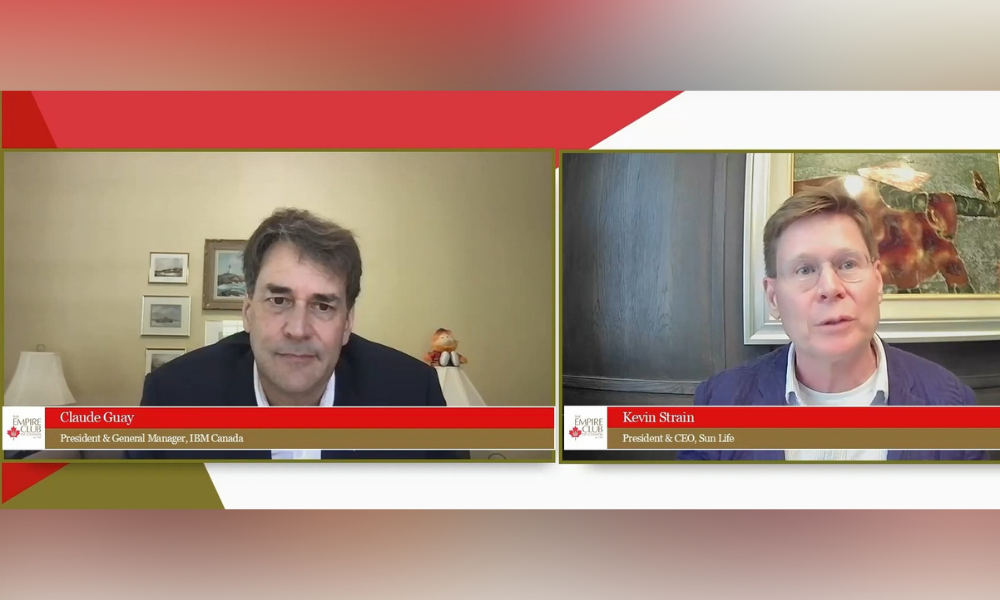 If the pandemic had hit 10 or 15 years ago, it's not clear how Sun Life would have kept operating as a firm. So says Kevin Strain, CEO and president, in talking about the major adjustments required these past 18 months.
Sun Life has "been able to pivot using Zoom, using Workplace, using Workplace Chat, using Outlook and email and different things," he says. "The technology has been really critical to us being able to continue to operate and to meet the needs of our clients and meet the needs of our people; but I can't overstate how challenging this has been for people."
Strain was speaking during a recent Empire Club of Canada virtual conversation that included Claude Guay, president and general manager of IBM Canada, discussing how leaders "are prioritizing talent and technology to enable agility through disruptions and position their companies for success."
"With employees working both from home and from office, leaders need a workforce that can thrive in this ever-changing environment, and this means more than just providing employees with the technology they need to do their jobs from home," says Guay.
Returning to the office
Work as we knew it is never going to go back to the way it was, says Strain, who is looking forward to in the next phase of returning to the office – and the choices that entails.
"We've had no choice but to work from home; that's the only choice we've basically had for the past 18 months," he says.
"When I think about the next stage, I'm actually looking forward to making choices based on where I'm going to be most productive and where the company's going to be most productive. So sometimes that will be in the office and whether a client needs us to be in the office or whether we have sessions that need that connectivity that collaboration, we'll have the choice to come to the office sometimes but we'll also have the choice to work from home – and we've gotten much better at that."
For Strain, who took over the top job in 2021, the prospect of being back at the office is exciting: "As a leader and as a person, I really miss the interactions with our people and I'm looking forward to having that choice and having that chance to do it."
Changes will also come to the meeting rooms, says Strain, to reflect the fact that not everybody will be in the office.
"The old-style meeting room was 10 seats at a table and a TV at the end of the table and whoever was on the TV screen you basically forgot. We're changing the rooms so that they're interacting with the screen the same way you're doing at home, but you can also see the people so that's really interesting. And there's four or five different footprints we're looking at."
'Accelerated adoption'
This and other changes might not have been possible without the pandemic, according to Strain.
"What COVID's done, it's accelerated adoption in a way that it's never going to go back," and he used the example of his 82-year-old father. "He's on his iPad all the time talking to family, talking to friends; he's ordering stuff online now. The adoption of digital tools coming out of COVID, we're never going to go back to the way it was before."
For clients, that might mean meeting face-to-face in the office, or at their home or meeting digitally, he says.
What is also changing are regulators, says Strain, as in the past, many required "wet signatures" for certain financial transactions, which meant ink on paper. "With COVID, every regulator in every country we do business with started to allow for e-signatures and that was a game-changer in terms of this adoption."
Local governments and large organizations are also taking the opportunity to update call centres, for example, who were swamped during certain times, says Guay.
"We worked with the city of Markham [Ontario] where we actually put in a virtual agent for COVID-related questions. CIBC launched a virtual agent that can actually do banking transaction as part of their app to help their consumers."
Many employees are feeling more detached from their employers, found a recent survey, while another survey showed that despite generally positives reviews from those who have gone back to the workplace, COVID-related fears remain.