Using the latest software and tools can help employers stand out from the crowd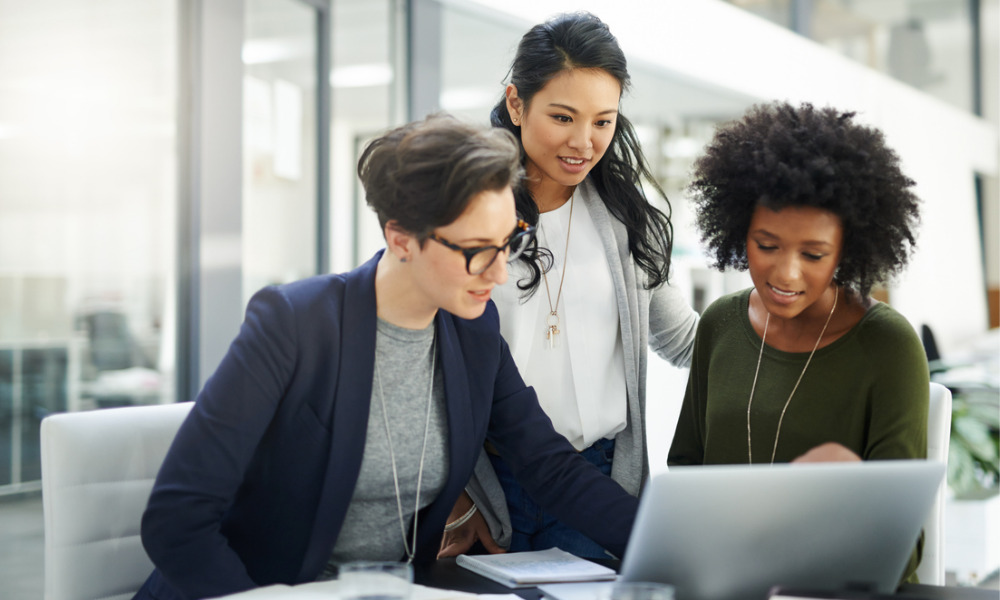 Gone are the days of dreaming of inventions and automated methods to help better engage employees. People are now finding new, innovative ways to incorporate technology with the employee experience and satisfaction.
In this article, we explore the different ways HR leaders and managers can use technology to engage – and maintain engagement – in the workforce.
Why tech should be used for employee engagement
While it is an excellent area companies should explore and invest in, new technological advancements can sometimes be difficult to venture into with all the risk and constant upgrades that come with them. Nevertheless, there are many benefits to incorporating the latest technology to maintain employee engagement.
First, employee engagement technology helps the workforce cope and find comfort in one another. Since the COVID-19 pandemic struck, companies have seen a rise in loneliness and employee disconnect caused by work-from-home and hybrid work arrangements. Employers and managers were forced to explore different collaboration tools that encourage connections within the workforce virtually. When employees feel more involved in company activities and decisions, team engagement improves, and a sense of purpose is more solidified.
Employee engagement technology also improves the flow of work and eases the burden of daily tasks in an organization. Using technology that is able to handle big data allows managers and employees to make intelligent business decisions quicker – giving them more time and energy to focus on other tasks. In addition, software that collects more extensive and more accurate employee feedback regarding their managers, peers, and work arrangements can help employers plan and decide on specific actions that enhance communication and performance management between co-workers.
Read more: Employee engagement levels fall globally
Aside from that, companies that incorporate technology into employee engagement through the latest software and tools are seen as competitive and more appreciated by current and potential employees. Technology enhances work operations and provides a more straightforward path for employee communication. Companies that are open to finding new, innovative ways to improve the time their people spend on work are viewed as employers that care for their employees – which is a trait that job seekers look for and keeps employees from leaving the company.
7 effective ways to boost employee engagement using technology
A 2020 study from Kincentric revealed that maintaining employee engagement remains a challenge for companies worldwide. Considering this, using technology is an excellent approach to increasing employee engagement. Below are some practical tools for fusing technology with employee engagement.
Have peer-to-peer recognition
According to the Kincentric report, recognition in the workplace is one of the key elements that organizations could work on to improve employee satisfaction. In most cases, employees are left feeling uncomfortable in opening up to their managers and leaders when they start feeling unappreciated for their work.
Peer-to-peer recognition is when employees acknowledge another employee's talent, skills, and achievements. Receiving peer praise is just as powerful as receiving positive feedback from managers. Using messaging tools and software can foster a good community despite the distance and encourages employees to share their achievements in a safe space where co-workers can celebrate alongside them. Once employees see how one co-worker is being recognized for their work, it becomes easier for everyone else to follow and maintain a cycle of support and collaboration.
Gamification
Gamification, if used properly, can promote customer service, sales, project management, and employee engagement. It is the process of using game-like features such as score points and rewards for non-game activities to boost employee engagement. Creating a fun game or activity that challenges employees is a great motivator for engagement and empowers people to work harder, primarily if it uses technology tools.
An excellent example is implementing online badges and leaderboards with a particular task or project. Seeing their progress posted online in real-time builds employees with motivation to reach the main goal. Pairing this with peer-to-peer recognitions significantly increases employee engagement and builds connections within the workforce. Using technological gamification tactics sees a decrease in employee stress, entertains employees, and even lowers the turnover rate.
Read more: Connecting diversity to employee engagement
However, HR leaders should always make sure the gamification fits well with the goal and work habits of their employees; otherwise, it can cause unhealthy competition and comparison between co-workers.
Investing in a collaboration tool
Collaboration has become an enormous challenge for HR leaders since many employees now report to work virtually, and the work arrangement can easily cause miscommunication or even the lack of a proper communication channel. Limited collaboration between employees makes working in teams harder and takes up too much time and energy that employees could have spent on other projects.
However, it is understandable that not every employee responds well to collaboration – especially face-to-face. Incorporating technology into collaboration eases employees' pressure when working with others. Using social media and file sharing software to connect and pass important documents around makes collaboration and engagement more manageable, faster, and more efficient.
BYOD (bring your own device)
Gadgets and other technological devices offered by the company dramatically benefit employees, especially those who need more updated equipment to work properly. However, strictly offering specific equipment to work with may restrict employees' optimal performance.
Nowadays, companies offer the BYOD option wherein employees may choose the type of device they will use for work. Giving employees the opportunity to select the device and equipment they feel more comfortable working with allows them to work freely as they are more confident in their output – enhancing the employee engagement in the process.
Have an employee recognition tool
Recognizing an employee's efforts remains one of the best tools for employee engagement. While it is easy to offer the praise and recognition an employee deserves for their hard work, leaders can use employee recognition tools to make tracking easier and more fun for everyone.
With these tools, managers can quickly point out the achievements of their employees, and anyone can send in their greetings with virtual cards, high-fives, and kudos to show their appreciation and support. Having an employee recognition tool that lines up with gamification can significantly keep the motivation alive in employees and boosts their engagement.
Provide mobile learning
A majority, if not all, of employees wish to gain more knowledge and skills that move them forward in their career path. While companies offering learning and training opportunities are appreciated, those that find ways to provide these opportunities virtually are admired and sought after.
Shifting learning and employee training into the virtual world is now becoming a common benefit companies provide. Employees nowadays try to find the proper work-life balance and would instead drop a company that doesn't fit their lifestyle than adjust to the company's needs. With online and mobile learning, employees are able to balance their time away from work, all the while growing and training to be better working professionals in their career fields. Mobile learning makes employees enthusiastic about reporting to work and learning, knowing learning tools are convenient and accessible whenever they have the time for it from the comfort of their own homes.
Utilize cloud computing technology
If companies are uncomfortable using social media platforms for communication due to security risks or if creating a communication platform from scratch is too costly, then employers can implement cloud computing technology.
Cloud computing technology is a tool that allows users to store, transfer, send, and access files and software through devices that are connected to the internet. Since cloud computing uses the internet to store and access data instead of a hard drive, companies and its employees are able to harness powerful and significant data anytime, anywhere. It allows companies to stay competitive in terms of technology without having to spend so much on purchasing and maintaining equipment and software.
What it means for HR leaders
Investing in technology for employee engagement benefits companies just as much as the workforce. Taking the initiative to engage employees through different methods consistently allows them to view companies as an organization that sees them as human beings rather than just a working body to get a task done.
This then increases the loyalty and praises of employees for their employer, generating a positive reputation and improved brand image to customers and job seekers. As a result, gathering a pool of highly skilled job seekers also becomes easier for HR leaders and employers as they are in demand with employees and increases their competitive edge.