Variety of companies tout safety options for return to workplace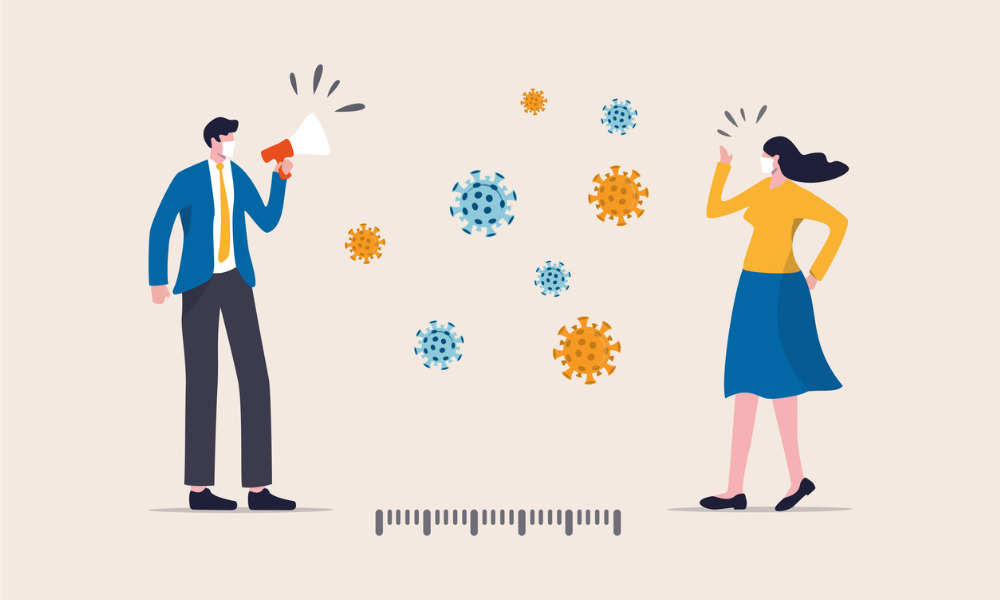 While 67.91 per cent have been asked by their employers to work from home amid the COVID-19 pandemic, employers are starting to think about what the recovery and return to the workplace will look like once the COVID-19 pandemic subsides.
Technology to help with social distancing could play a big part, as seen at a Ford Motors factory in Plymouth, Mich. where a group of volunteers is trying out watch-like wearables that vibrate when employees come within six feet of each other. The devices use Bluetooth short-wave and low-power technology to detect proximity and clustering of workers, according to Bloomberg.
The company is also expected to subject all workers entering a facility to a thermal imaging scan to detect a fever, and will provide staff with masks and plastic face shields.
Several companies are touting various technologies meant to safely see employees back in the office. For example, a wearable product called the Social Distancer is being touted as a way to help workers maintain a two-meter distance from each other.
The size of a credit card, the device instantly calculates the distance between employees. If employees are within 2.5 meters of one another, it will flash red, vibrate and audibly alert the employees to move farther away.
"Most workers have to interact collaboratively with one another at some point in their day, and it can be difficult to maintain physical distancing practices. Social Distancer was developed as an easy solution for workers to continue their projects while maintaining proper safety standards during COVID-19," says Jarred Knecht, co-founder and COO of Social Distancer Technologies.
Similarly, Proxxi's Halo is a wrist-worn band that vibrates to notify wearers that another band is within two meters, reminding them of the need to maintain social distance. The bands keep records of interactions with other bands, and managers can then track the interactions. The company also allows for data downloads so employers can have an overview of the success of their physical distancing policies.
estimote also offers small wireless devices that can be strapped on the wrist or hung around the neck, which automatically register any close interactions with others to allow companies to trace symptomatic employees and those who came into contact with them. It also notifies all exposed team members.
The wearables also have a programmable panic button and LED status indicators, and can scan for Bluetooth beacons installed in the workplace to identify and map safe and pre-authorized zones.
Taking a different approach, Truework is building an identity verification platform for employers to determine which employees can safely return to work, and when, by verifying their COVID-19 health status.
The tool secures sensitive identity information by providing details only when consumers give their explicit consent. Employees whose details are being vetted receive a text or email to approve the request for their data before it is released.
Nearly half (49 per cent) of Canadian workers say COVID-19 has affected their employment, and half of them have lost their job temporarily (40 per cent) or permanently (11 per cent) because of the pandemic, according to a survey.