Arbitrator also provides isolation pay for those who will be exposed to communicable diseases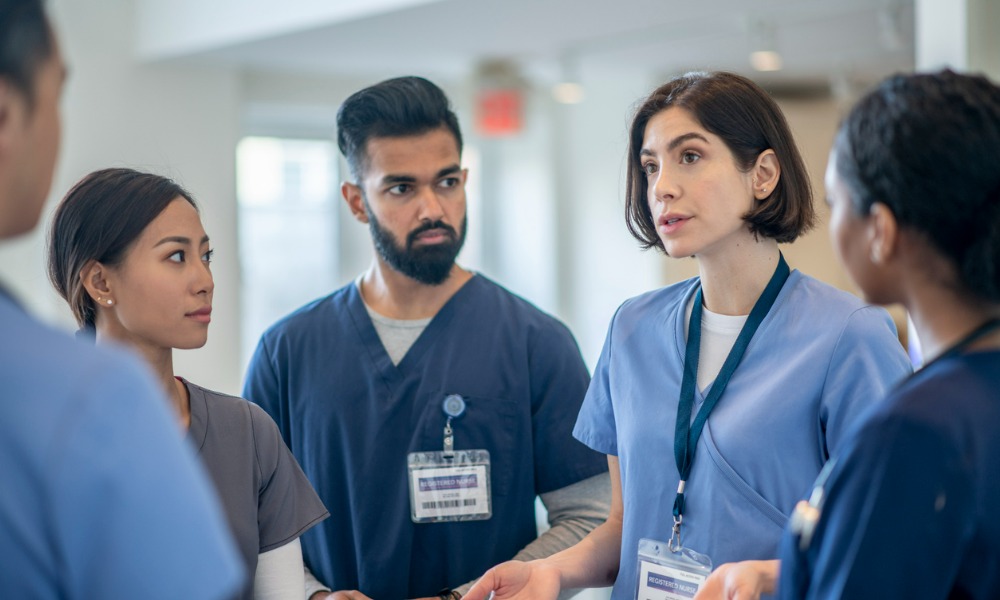 An arbitrator in Ontario has awarded more than 65,000 hospital-sector registered nurses (RNs) and health-care professionals with the most significant wage increases in decades, according to a trade union.
Arbitrator William Kaplan has provided average wage increases of 11 per cent over two years, notes the Ontario Nurses Association (ONA).
"The award takes inflation into account and is an acknowledgment of the incontrovertible evidence that for more than a decade inflation has greatly outpaced RN rates," he said.
When added to two additional recent arbitration decisions stemming from the overturn of Bill 124 – wage suppression legislation passed by the Doug Ford government – Ontario hospital RNs and health-care professionals will receive wage increases that average 16 per cent from March 31, 2023 to April 1, 2024. This amounts to an average hourly wage increase of approximately $5 to $7, it says.
The increase goes against the controversial Bill-124. Introduced in 2019, the bill would limit wage increases to one per cent for Ontario public service employees and broader public sector workers. In November 2022, the Superior Court of Justice declared the bill "void and of no effect". However, the Ford government said it would appeal that decision.
"This decision is a first step to righting past wrongs, and bringing hospitals nurses' compensation up to where it should be. In his decision, Arbitrator Kaplan explicitly recognizes that improving wages is among the best ways to recruit and retain desperately needed nurses and begin to fix the nursing shortage," says Erin Ariss, ONA president.
"ONA members have been organizing across the province to push for better wages to improve staffing and patient care. This time, we were heard."
Earlier this year, several groups criticized the Ontario government for its decision to appeal a court ruling on Bill 124. According to a September 2022 report, Ontario could save $10 billion with Bill 124.
In a first for health-care contracts in Ontario, the arbitrator has also provided dedicated isolation pay, says the ONA, which ensures salary continuation in the event of exposure to communicable diseases, such as COVID-19, recognizing health-care workers are at heightened risk.
Reducing wait times in Ontario
Meanwhile, Ontario is also investing an additional $44 million this year in 165 high-volume and smaller emergency departments to reduce wait times.
"When someone experiences a medical emergency, it is vital that they get the urgent attention they need quickly," says Sylvia Jones, deputy premier and minister of health. "By offering more funding for hospitals who show the greatest success in reducing wait times in their emergency departments, we are providing more support for them to deliver faster emergency care to the communities they serve."
From the funding, $29 million would go to 75 high-volume emergency departments across the province to increase their capacity to help more patients and reduce the amount of time people have to wait to access care.
Meanwhile, the remaining $15 million will also expand the number of smaller hospitals now eligible to receive the funding. This will help support up to 90 hospitals across the province that provide emergency care to fewer than 30,000 patients a year, so they can hire and retain the staff they need to keep their emergency departments open, according to the government.
Annual funding is currently offered to 75 large hospitals with emergency departments seeing more than 30,000 patient visits a year.
During the 2022-23 fiscal year, to support Ontario's pandemic recovery, the government allocated $93.4 million using additional one time-funds for initiatives to reduce the time patients spend in emergency departments.
The median wait time to receive healthcare in Canada has reached the "longest ever recorded," thanks to the pandemic and hospital closures that made the situation worse, according to a previous report.