Chief people officer's varied career has involved coffee, yoga, airplanes and tech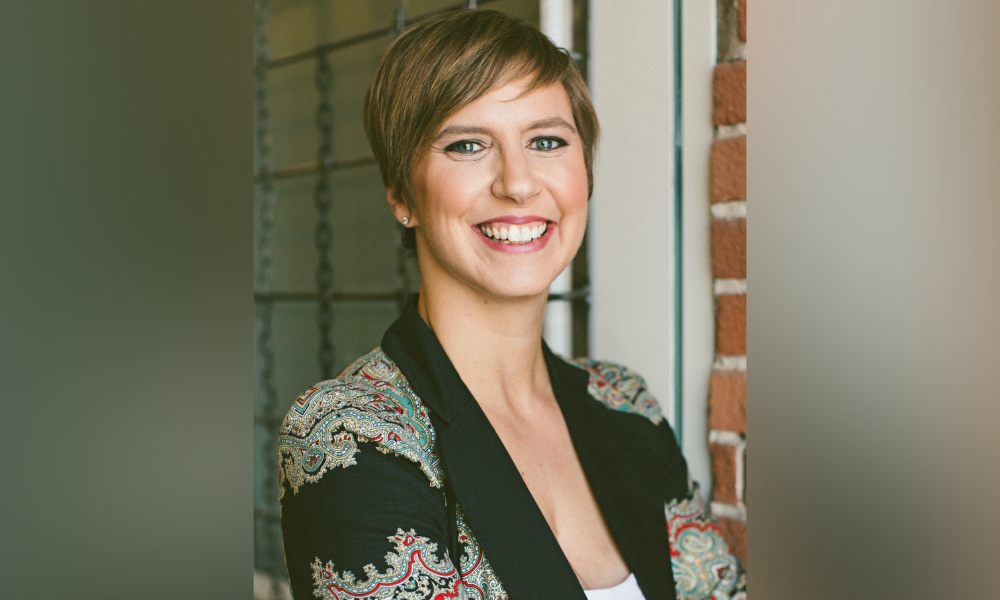 Many an HR professional has had a varied career, but Janeen Speer is a standout in that regard.
Back in 2004, she worked at Starbucks as national manager of learning and development. Fast forward to 2011 and Speer worked at Lululemon for nearly five years, as director of leadership development, director of talent and then director of strategy.
WestJet then welcomed her as vice president of talent and organizational development in 2016, before Speer headed over to Shopify to become vice president of talent for three years where she led a team of over 380 people and supported the company in growing from 5,000 to 10,000 employees in three years.
Just recently, Speer became chief people officer at Benevity, provider of corporate purpose software, in August 2021.
"Coffee, yoga, airplanes, technology don't, on the outside, have a lot in common," she says, but "every one of those organizations I've worked for has actually had some pretty key things in common."
Many of the employers were founder-led along with being high-growth companies, and Speer says she's often brought in at a time when the employer is going global or operationalizing and scaling in a broader way.
"Each one of those companies in their own way had a very specific, embedded and deep understanding of their culture in themselves."
But there's also a strong appeal to working for an employer such as Benevity, which has about 850 employees, says Speer.
"I feel quite fortunate for how I progressed along my learning journey and how I was able to have a sense of what 'fully established' looks like and then, through my career, challenge myself to also be on the creation side, not just the implementation side."
Focusing on recruitment, development
One of the priorities at Benevity is bringing on great people, she says. In growing quickly, the company is looking to hire staff who can keep up with that tempo.
"And then how do we engage and develop people so that they can thrive while they're here, so that they choose to continue their career and journey with us."
Having just completed a major acquisition, Benevity is looking forward to welcoming the new staff of more than 50.
"Many mergers and acquisitions fail, and most of them if you really drill into it, fail based on a lack of alignment with culture. And I can say with certainty, because I had an opportunity to visit with this group in person, there's zero concern about that," says Speer. "We found an opportunity to partner with an organization that just, from a values perspective, is completely aligned."
Part of the challenge is onboarding new hires when most of the workforce is still working from home during the pandemic.
"There's probably about a third of our people who have not yet had a chance to have an experience of our physical offices, have not yet had a chance to meet a lot of teammates, which... presents a bit of an interesting challenge, as you're trying to continue to grow and deepen culture," she says.
But that's what makes HR so interesting right now, says Speer.
"Everyone's talking about the future of work and the great resignation — there's definite challenges in all of that. But, at the same time, it's a really interesting opportunity. So many people right now are taking the time to really get to know themselves, and really finding their own connection to their own purpose, and how do they want to take the strengths that they have and apply those in a meaningful way."
Community, mental health among priorities
In looking ahead, Benevity is leaning into the concept of community first. That means really thinking about flexible options for people in how they work, and letting them decide what works best, be that fully at home, fully at the office or a combination of both.
"We're definitely figuring out ourselves: How do we lead a very successful global company in a hybrid way?.... That's a really big focus for us," says Speer.
Benevity has also focused on the well-being of workers during a couple of tough years. As an example, it shut down its office for a week at a time to give people a chance to rest and restore, and also boosted its mental health offerings.
"We continue to support each other in these big ways and in small ways. As a fun example… we were speaking at a town hall about some ideas in terms of how to support each other well while parents have their kids at home, and this grassroots swell came up where we now have a group at Benevity organizing themselves to read stories to employees' kids over lunch hours," she says.
"With the way the world is right now, there's just more of a need to also look at your internal community and say, 'Who has what to give right now? And who needs what? And how can we work together to help each other?'"
More than a year and a half into the COVID-19 pandemic, 62 per cent of Canadian workers say emotional, mental and physical fatigue is the top issue that is affecting them negatively. However, 37 per cent feel unsafe to talk about mental health at work, according to a report from Sun Life.
HR's rewarding role
Recruitment is always a great part of the human resources role, because it's about changing the course of a person's experience, in offering them a job.
"Suddenly, their life is now going to take a slightly different turn on the path — I think that itself is so exciting," says Speer.
The learning and development side is also rewarding.
"One of my favourite things about being an HR leader and having this be my profession is watching people over the years and how they develop, grow and evolve," she says. "Whether it's a learning program or whether it's a moment where there's a coaching opportunity, or an opportunity to help someone see something about themselves that they haven't seen before, that is just super rewarding."
In looking back to her early years in HR, Speer recalls there being a lot more continuity in the way people worked.
"I would say there was a lot more standardization in terms of your practices. It's almost like there was one way to do each of the things that you needed to do…. But in today's world, there is just no one way to do anything," she says.
"Now, innovation and flexibility is actually the new name of the game, even in HR. You have to constantly be evaluating 'Is what we're doing working? Do we need to adjust?'"
To be successful, HR leaders must "deeply listen to people and really understand the experience of their people so they can come up with the right set of options," says Speer. "And I think you have to be courageous to try new things."
Canadian HR Reporter also spoke with Hermina Khara, senior vice president of people and culture at Alida, a customer experience management and customer insights platform.