But expert warns of 'long, bumpy' road ahead with third wave of pandemic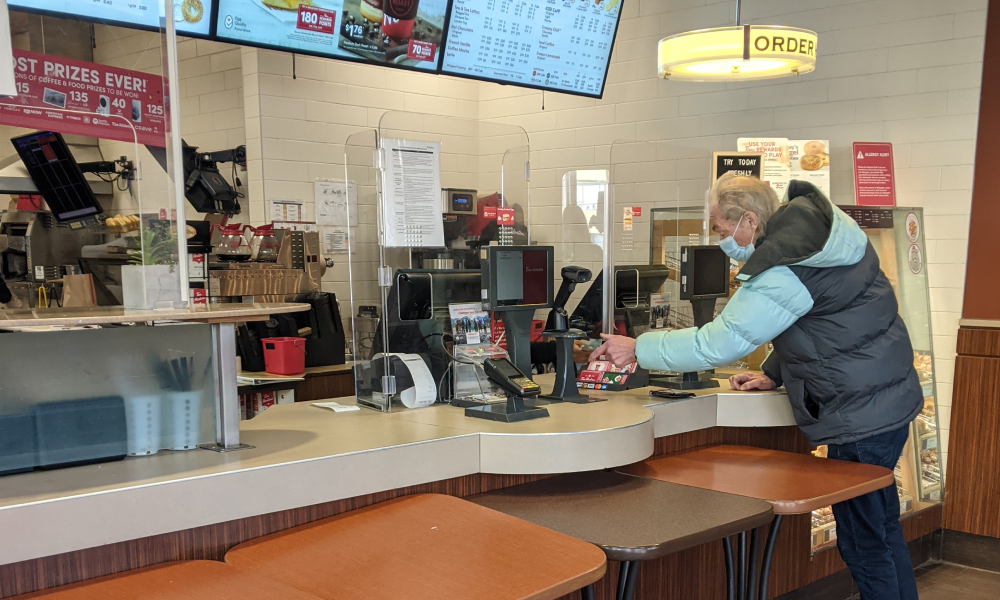 Canada gained 303,000 jobs in March, a 1.6-per-cent increase from February, marking the second straight month of increase in employment numbers in the country, according to Statistics Canada.
This follows an increase of 259,000 (1.4 per cent) jobs in February.
Job gains are biggest in wholesale and retail trade (91,800 or 3.3 per cent); information, culture and recreation (61,500 or 9.4 per cent); and health care and social assistance (46,800 or 1.9 per cent); educational services (35,000 or 2.4 per cent), construction (25,700 or 1.8 per cent), accommodation and food services (21,400 or 2.4 per cent) and business, building and other support services (11,300 or 1.6 per cent) also had significant increases.
Increases in manufacturing (8,200 or 0.5 per cent); natural resources (7,000 or 2.2 per cent); professional, scientific and technical services (5,900 or 0.4 per cent); agriculture (2,500 on 1.0 per cent); and finance, insurance, real estate, rental and leasing (1,100 or 0.1 per cent) are smaller in comparison.
Meanwhile, transportation and warehousing (-7,300 or -0.7 per cent), public administration (-4,700 or -0.5 per cent), utilities (-100 or -0.1 per cent) and other services (-3,000 or -0.4 per cent) recorded decreases.
"Total hours worked rose two per cent in March, driven by gains in several industries, including educational services, retail trade, and construction. Building on a steady upward trend since April 2020, this brought total hours to within 1.2 per cent of February 2020 levels," according to the government.
Meanwhile, the unemployment rate fell by 0.7 percentage points to 7.5 per cent in March, the lowest since February 2020.
Mixed reaction
The labour market recovery took a step forward in March, delivering another "eye-popping gain," says Indeed Canada economist Brendon Bernard, citing increases in several pandemic-exposed sectors, including retail, and increases in job postings in March.
"It's heartening to see those trends translate to an improving situation for jobseekers."
However, the Canadian Chamber of Commerce warned that rough roads may lie ahead with the third wave of the COVID-19 pandemic.
"Although two months of solid job gains are encouraging, it's still likely to be a long, bumpy journey to the end of the pandemic tunnel for Canadian business owners and their employees as the third wave of COVID-19 breaks across the country, threatening to disrupt the positive trends we've seen in today's numbers," says Leah Nord, senior director of workforce strategies and inclusive growth at the Canadian Chamber of Commerce.
Looking ahead, the timeline for recovery hinges on whether employment grows at a pace consistent with a typical economic expansion, or can maintain the outsized pace seen during reopening periods, says Bernard.
"Prior to today's report, we found that the Canadian employment rate has a chance to recover this year if gains can maintain a 95,000 monthly pace. The March jobs surge puts us ahead of schedule. At the same time, progress will likely slow in April as the third wave and resulting public health restrictions send activity backwards. Major strides on the vaccination front will be necessary to make these gains sustainable."
On March 10, new job postings by employers in Canada stood at 0.3 per cent year-over-year, marking the first time the data reached over zero since March 18, 2020.
Variations by age, region
Both full-time (175,000 or 1.2 per cent) and part-time (128,000 or 3.9 per cent) employment increased, finds the government.
Employment among youth aged 15 to 24 rose by 115,000 (five per cent) in March, with gains entirely in part-time work.
Compared with February 2020, employment was down 122,000 (9.5 per cent) among young women, compared with 39,000 (three per cent) among young men.
Among the provinces, the biggest winner is Ontario (182,300 or 2.5 per cent). Coming in second is Alberta (37,100 or 1.7 per cent) followed by British Columbia (35,000 or 1.3 per cent), Quebec (25,900 or 0.6 per cent) and Newfoundland and Labrador (13,400 or 6.5 per cent), says Ottawa.
Manitoba (6,300 or 1.0 per cent), Nova Scotia (1,600 or 0.3 per cent), Prince Edward Island (1,300 or 1.7 per cent) and New Brunswick (400 or 0.1 per cent) recorded smaller gains while Saskatchewan saw no change in employment numbers.