30-second clip showcasing tactical manoeuvres faces criticism – and support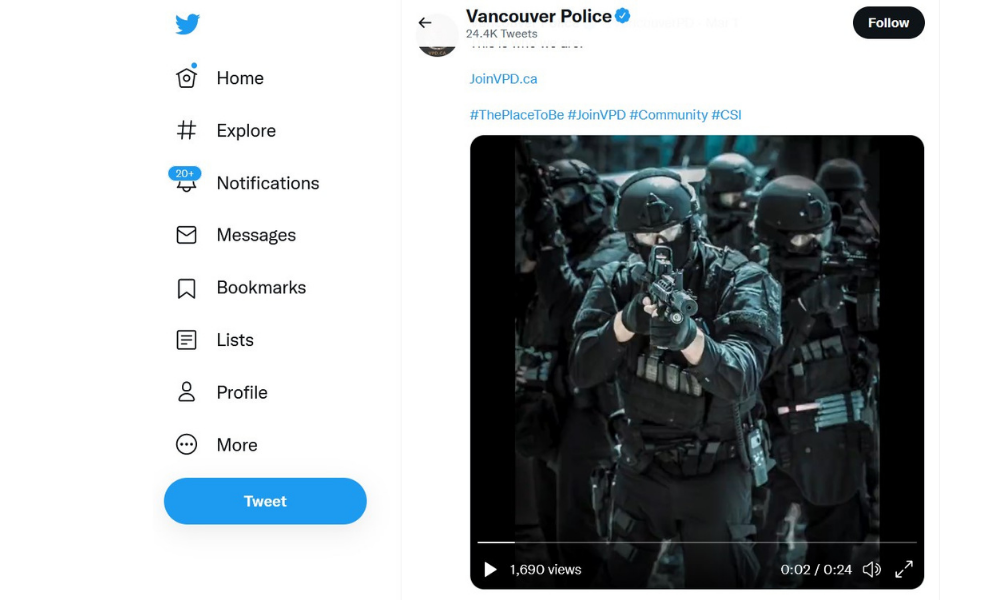 In response to criticism, the Vancouver Police Department (VPD) has removed one of five recruitment videos posted online.
Using the theme "The Place to Be," the videos were posted on Twitter with the tweet "This is who we are" and focus on a particular area of the police force, such as the mounted unit or criminal investigations.
But one 30-second clip that showcased dramatic footage of the police department's tactical initiatives has since been pulled. It features several quick shots of police in full tactical gear holding weapons as they scale tall buildings or exit armoured vehicles, as dramatic music plays in the background.
"After listening to your feedback, we have pulled the 'tactical response' video. We apologize if the images were upsetting for some, particularly during current world events," tweeted the department.
Prince Edward Island is using virtual reality (VR) technology in hopes of recruiting doctors to the province.
'Appalling' propaganda?
It's "an appalling piece of propaganda," said Rob Gordon, a criminology professor at Simon Fraser University in a CTV News report.
"It's so far removed from the modern reality of civil policing in a city like Vancouver, but a particular kind of individual might be drawn to this as reflecting normal police work."
The fact that the VPD thought the "tactical response" video was OK for release and didn't pull it until there was public outcry "tells you everything you need to know about how they envision policing, and who they are hoping to recruit," tweeted Lindsay Gibson, assistant professor in the Department of Curriculum and Pedagogy at the University of British Columbia.
But others supported the VPD's approach, including Kevin Cyr, SWAT commander in Vancouver, who said on LinkedIn that that type of video would attract an applicant like him.
"VPD has a solid ERT [emergency response team] program, and highlighting it would absolutely attract some excellent policing candidates who are EXACTLY the people you want if your family gets taken hostage."

"Gavin D." of Melbourne also voiced his support on LinkedIn.
"If you want to attract the right people, you actually have to show them what the job is (better than ending up with a person who says they don't want the shotgun because it is too heavy…). Shame on them for buckling."
In December 2020, the B.C. Human Rights Tribunal ruled that the dismissal of a Vancouver traffic authority special constable was due to a list of performance issues and not his physical disability or race.