Rapid spread of Omicron could see up to one-third of workers off sick, says Bonnie Henry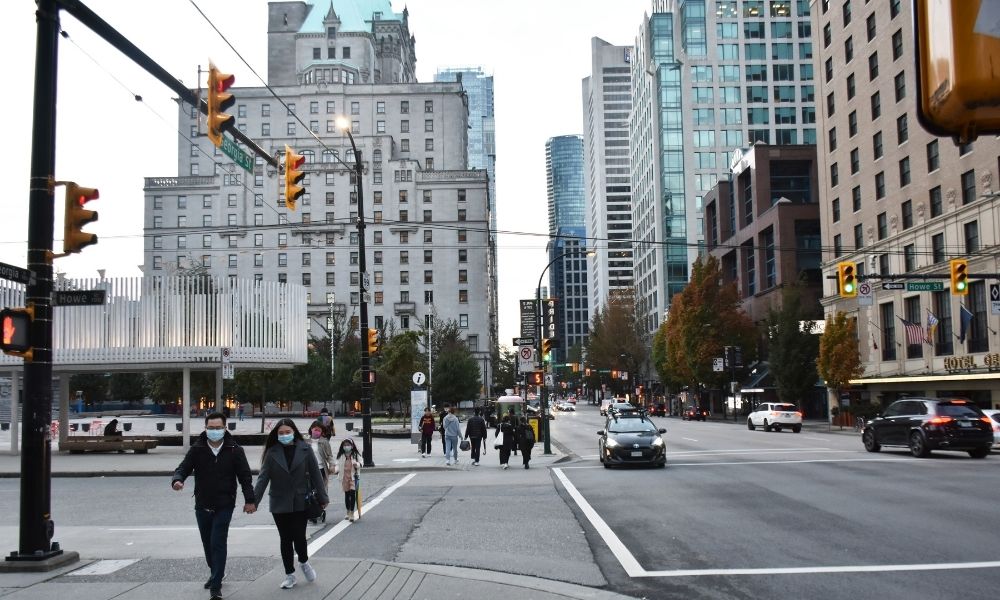 Given the rapid spread of the Omicron virus, employers need to act now to keep operating safely. So says Bonnie Henry, provincial health officer for British Columbia, in an update for the province.
"We need now all businesses to put contingency plans in place to keep businesses operating when staff are off ill."
Omicron 'spreading rapidly'
The virus has changed and is spreading rapidly, now making up 80 per cent of the new cases, she says.
"[That] means that we are in a different race in a different storm…. we need to respond slightly differently to this new strain."
With the rates of hospitalizations, and those in critical care, slowly creeping up, it's no longer about three or four degrees of separation – everybody knows somebody who may have contracted the virus, says Henry.
"Most people in B.C. likely have a friend or family member or colleague who has been infected with the Omicron variant. Right now, in the tug of war of transmission, Omicron has the advantage."
With the shorter incubation period of three days, transmission is happening much more rapidly, she says.
"And we have a disease that is much more undifferentiated, so it means a lot of people have milder upper respiratory symptoms that could be very similar, at least early on, to cold or to influenza."
That means that things like case and contact tracing are no longer reactionary measures that help contain this, says Henry.
"It means that all of us have to be proactive in how we prevent ourselves from getting sick, but also how we prevent transmission to others."
While B.C. recently announced that provincially regulated businesses in B.C. must provide five paid days and three unpaid of sick leave, some aspects of the decision may cause confusion for some employers, said one legal expert talking to Canadian HR Reporter.
Ill workers expected
Across the board in the next few weeks, there will be high numbers of people who are off ill, whether from school, work or health care, she says.
"For most of us, thankfully, because of our vaccinations, that will be a mostly mild illness. But the interruption to our business continuity is something that we now need to think more carefully about."
Given the number of people getting sick every day, employers need to reactivate COVID-19 safety plans, says Henry.
"Those were the layers of protection specific to your business that allowed you to operate safely. We need to anticipate that as many as a third of your workforce at any one time may become ill with COVID-19. And they may not be able to come to work. And we need to adapt businesses so we can operate at these reduced numbers."
Whether you're a private company, a school, a frontline business or healthcare site, now's the time to prepare, she says.
"It's not about public health orders, and us telling you what to do. This is about activating all of those layers of protection available for your business in your situation, to keep you from having to shut down because you don't have enough people to operate."
It's not just about one thing, such as wearing masks or rapid testing, says Henry.
"It's about doing everything we can, all of us taking these measures to protect employees, our customers, and our family and friends. Every layer of protection is not 100-per-cent effective --- it's putting these pieces together. That gives us the protection that we need to keep operating."
It also means having people work from home when they can, along with reminding people about the importance of keeping a distance, and reinforcing that with employees and customers, she says.
It's also about having fewer people in a workplace, if possible, along with staggered shifts, staggered start times, staggered breaks, along with plexiglass barriers. It's also about "using appropriate PPE protocols, ensuring you have well-fitting, comfortable, three-layer masks, and having the ability to do things like washing your hands regularly," says Henry.
Of course, vaccine requirements are also an option, she says
"We know they're in place in many employment opportunities, but [it's also about] requiring clarity of status so you understand the risk in your employees."
Vaccines won't stop everyone from getting infected with Omicron, but they significantly reduce the likelihood that people will have severe illness and be off work for longer, says Henry.
"It means that we can come back after that shorter five-day isolation period. And it means that long-term recovery is the risk of having long term symptoms is reduced."
B.C. recently rolled out vaccine mandates for government employees, regardless of whether the employee works on site or remotely.