Most common concern? Pandemic's ongoing impact on finances and economy: Survey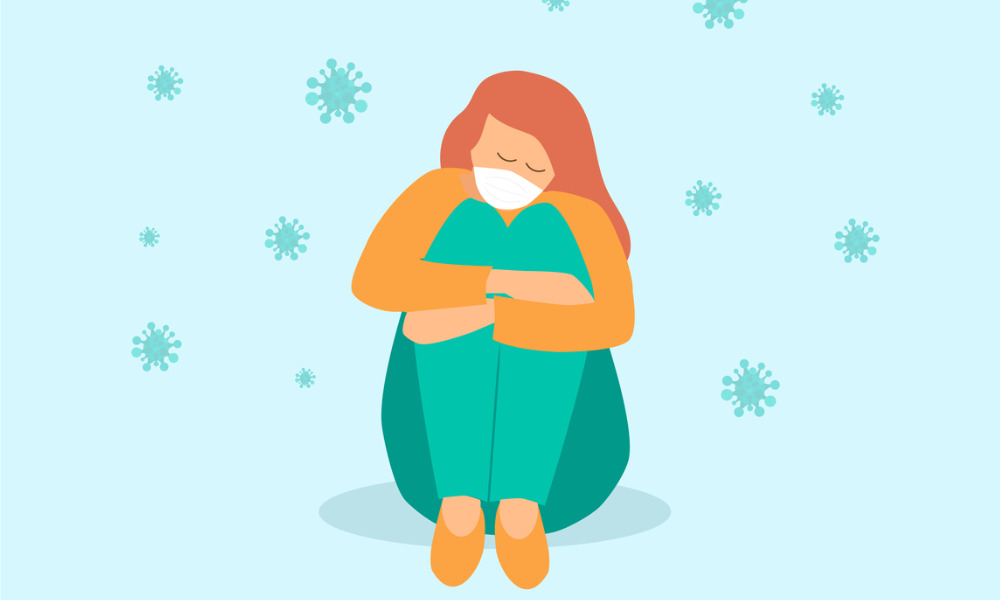 As Canada's economy continues to reopen, many people are still having a tough time of it when it comes to their mental health.
The mental health "score" for August stood at -11, down from -10 in the previous month, according to a survey by Morneau Shepell.
Canadians fared worse in terms of the risk of anxiety (-12.9), depression (-12.7), optimism (-12.7) and isolation (-12.1) compared to July.
Last month, the scores were -12.4 for depression, -12.3 for anxiety, -11.4 for optimism, -11.11 for work productivity and -11 for isolation.
The score for work productivity was -11.1 for both months.
"The financial and economic impact of the pandemic can't be ignored, however, there also needs to be more attention to the ongoing toll the pandemic is having on the mental wellbeing of Canadians. This decline is cause for concern," says Stephen Liptrap, president and CEO of Morneau Shepell.
"Canadians' initial feelings of optimism as we started to reopen [do] not erase the impact of the pandemic. To avoid further declines, public health officials and all levels of government must take the necessary steps to provide support where it's needed most and continue to put the mental health of Canadians first."
Back to school
Mental health scores of individuals with one (-15.2) or two (-13) children are significantly lower than those with none (-9.9). However, individuals with three or more children had a score of -8.6, found the survey of 3,000 Canadians from July 21 to July 31, 2020.
The mental health of those working in the education sector declined to -11.6 from a score of -11.1 in July. Post-secondary students have the largest drop of any group, decreasing from -23.7 to -28.5.
"September will be a particularly difficult month for Canadians, as they face another major change in routine and new challenges," says Paula Allen, senior vice president of research, analytics and innovation at Morneau Shepell. "As we navigate several uncertainties over the coming weeks, it's critical that all Canadians continue to be accountable for their health, maintain open communication, and actively invest in their own mental wellbeing."
Almost two-thirds (64 per cent) of parents said they were concerned about their own anxiety if their child goes back to school, according to another survey from the Canadian Mental Health Association (CMHA).
Financial concerns
The most commonly reported concern of Canadians remains the pandemic's ongoing impact on finances and the economy (49 per cent), found Morneau Shepell.
"While the economy continues to be top-of-mind for all Canadians, those who indicate high levels of uncertainty (-26.8) and those who most believe we will not return to a pre-pandemic state (-19.6), have the lowest scores. It is important to understand that even as some people are adapting, others are not," says Allen.
"The importance of collective responsibility goes well beyond wearing a mask in public. We each need to look for changes in our friends and family, and offer support for those needing professional help."
There are several ways employers should be considering, and working, to protect the health of employees during the pandemic, says one expert.
"Mental health interventions should be delivered as part of an integrated health and well-being strategy that covers prevention, early identification, support and rehabilitation. Occupational health services or professionals may support organizations in implementing these interventions where they are available, but even when they are not, a number of changes can be made that may protect and promote mental health," according to the World Health Organization.
"Key to success is involving stakeholders and staff at all levels when providing protection, promotion and support interventions and when monitoring their effectiveness."