The power of positive thinking can be a boost to a company's workforce and its bottom line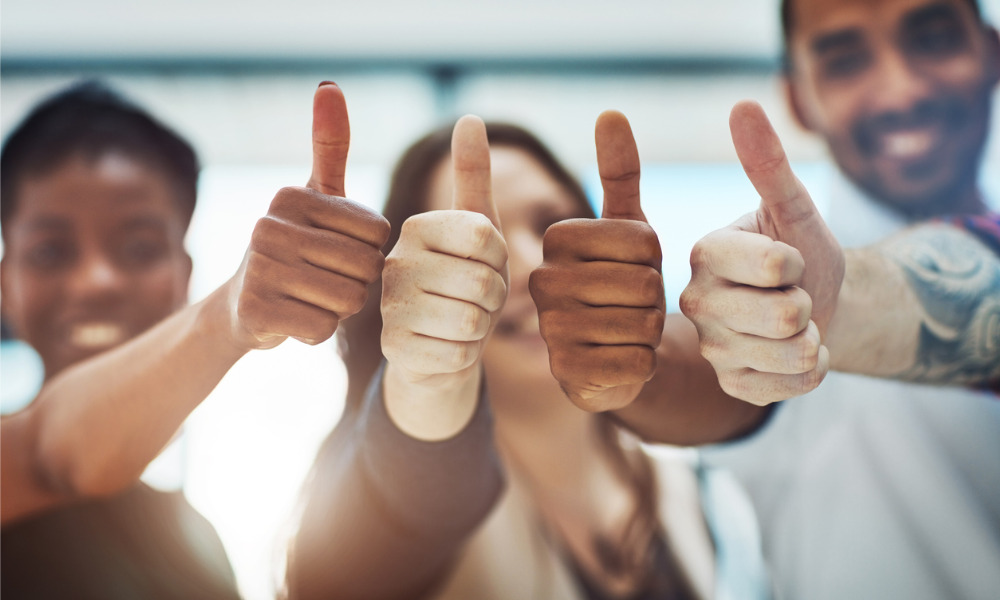 There's a song by the British comedy troupe Monty Python called "Always Look on the Bright Side of Life." While the song itself carries things to the comedic extreme, it's not a bad idea to apply some of that sentiment to the workplace. There are many things on the job that can push people towards negative attitudes, so trying to bring positivity to the workplace can benefit both workers and employers.
Benefits of positivity at work
There are many reasons to promote a positive attitude among management and employees. Elizabeth Cabrera in her 2012 research article "The Six Essentials of Workplace Positivity" noted that positivity in the workplace can: bring higher levels of motivation and performance; improve problem-solving and creativity; help decision-making and allow employees to be more open to solutions; improve interpersonal skills and teamwork; enhance wellbeing and personal success; create greater loyalty and commitment; reduce stress; and improve mental health.
In addition, better overall mental health can help with physical health, such as lower blood pressure, a lower heart rate, lower levels of stress-related hormones, stronger immune systems, better sleep and less absenteeism. A happy, healthy worker is a productive worker — which is good for a company's bottom line.
Help set realistic goals
Motivation comes from results. Working towards an objective and successfully meeting it can inspire employees to do more and face the next challenge. If things aren't working, it can be discouraging — which is why realistic, reasonably achievable goals can be key towards maintaining productivity and a positive mindset.
The concept of SMART goals — first referred to by George Dolan in a 1981 issue of Management Review and now widely used — is one way to encourage setting realistic objectives that can lead to feelings of accomplishment. SMART stands for specific, measurable, achievable, relevant, and time-bound, and it can help employees accomplish what needs to be done while creating opportunities for recognition and appreciation when goals are achieved.
Aligning employee and organizational goals is key to achieving objectives, according to a chief people officer.
Avoid focusing on team mistakes
Mistakes happen. The old adage of learning from them can be true, but only if you move on and keep your eye on the goal. Issuing blame or focusing on mistakes is only going to generate shame, embarrassment, and a feeling of failure. These are negative thoughts that can harm the productivity and positivity of not just one person, but other team members. Treating mistakes as challenges to be worked through will keep the focus on managing the project and achieving the goal.
Create an employee health initiative
A FlexJobs and Mental Health America survey of U.S. workers a few months into the pandemic found that 45 per cent would be open to participating in virtual meditation sessions offered by their employer as a way to improve their mental and physical health. Other preferred choices were healthy eating classes (38 per cent), virtual workout classes (37 per cent), desktop yoga (32 per cent), and mental health webinars (31 per cent).
Healthy living can't be forced, but employees can be encouraged to make healthy choices. A lot of people have difficulty finding time to exercise, so incorporating physical activity along with mental health and wellness initiatives can give a nudge in the right direction.
Ensure employees take breaks (especially when working from home)
Nothing can contribute to workplace negativity like stress and burnout. When there's a lot on someone's plate, they may tend to stay focused and keep plowing through their work without stopping. This is particularly easy for people working at home, when the boundary between work hours and off-duty hours can get blurred. But if this goes too far, productivity will suffer and could lead to an increase in absences down the road.
Three-quarters of respondents in the FlexJobs survey said that they had experienced burnout at work and 37 per cent said they were working longer hours than usual during the pandemic. Foregoing breaks will often exacerbate stress and burnout while decreasing the quality of work. Sometimes a short breather can recharge the batteries for a few more hours and help avoid an accumulation of fatigue.
Engagement and productivity increase when employers support positive mental health for employees, says an expert.
Offer educational development courses
More than three-quarters of working adults across Canada, the U.S., the U.K., Australia, and New Zealand believe it's important that their employer provide learning opportunities, according to Ceridian's 2021 Pulse of Talent report. Allowing employees to continue learning and gain new skills can keep them engaged, open to advancement opportunities, and feeling happy about themselves and their employer.
It may not be possible to "always look on the bright side of life" in the workplace, but promoting a positive attitude can have lasting benefits for both the employer's bottom line and employee wellness.