After 16 years at the City of Toronto, it was time for a change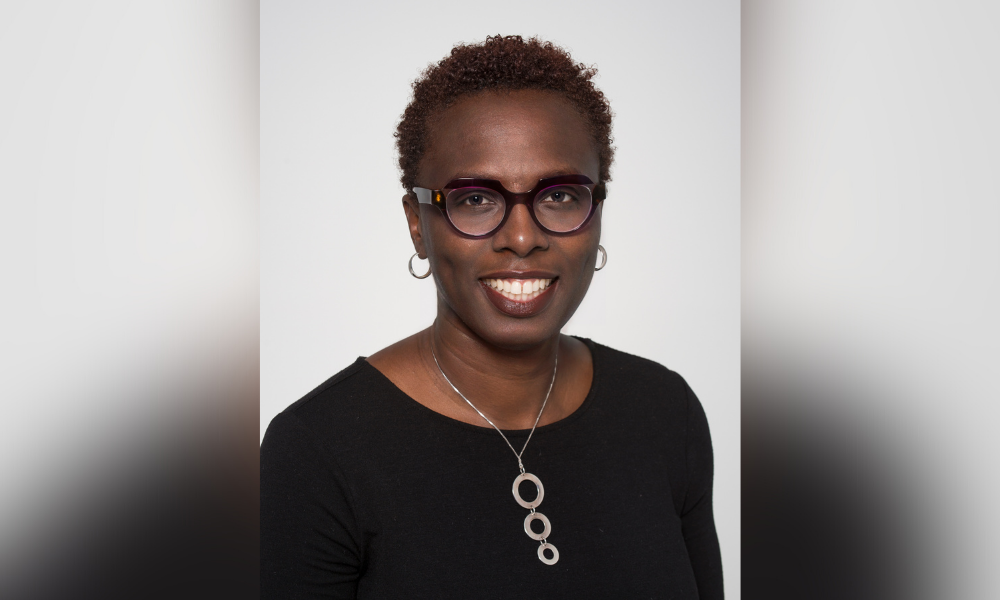 "I'm really motivated by the messiness of people and the interesting human dynamic and human condition."
So says Omo Akintan, chief people officer at the University Pension Plan (UPP) in Toronto.
Having started her career as a lawyer, and then transitioning into increasingly HR-related areas over 16 years at the City of Toronto, Akintan says much of her drive and success is because of her love of people.
"We have to understand what people's motivations are, what's important to them, so that we can design the best programs."
DEI, human rights at City of Toronto
Starting back in 2008, Akintan was labour, employment and human rights counsel at the City of Toronto, worked alongside HR professionals and providing up-to-date legal advice, along with being a thought partner in terms of strategy and implementation.
And as a dedicated advisor at the human rights office at the City of Toronto, she was also involved in policy development for 10 years.
"But the reality of it is, as a lawyer, you're giving legal advice, you're not actually making decisions... And your advice is one input and there are obviously other business requirements. And so, as a lawyer, it was important to me to try to be as good an advocate as I needed to my client; I also have to understand the business goals and I always found that that side of things was very fascinating to me."
So, five years ago, it made sense for Akintan to become acting director of the equity, diversity and human rights division at the municipality, because she had been working closely with that division, and was particularly interested in the work that they did.
View more: HR leader profile: Simon Gagné of Sobeys Canada
While the core of the work was equity and human rights, a big focus in the role was transformation, she says.
"[That meant] thinking about: ''Who do we hire? How do we train our people? And how do we make this team more effective in this large organization?'... So I really enjoyed that transformation, and I'm really passionate about people, and I guess that came through in the work that I was doing."
While Akintan continued to partner with her HR colleagues, the relationship was different.
"I was working with them to transform my division at the time… but also advising them about how they do human resources work in a way that helps the City of Toronto achieve equity, diversity, inclusion goals. And how do we bring in more Indigenous employees into the organization."
So when the city manager decided to combine the functions of equity and human rights and HR, Akintan easily assumed the post of chief people officer.
"My first HR proper role was leading the HR function at the City of Toronto, and... because I always have been passionate about people and people and culture have always been fascinating for me, even as a lawyer, being then responsible for that portfolio gave me a really important opportunity to think about, really how do we centre the employee experience in a different way?"
Read more: HR leader profile: Peter Pontone of Ricoh Canada
Much of the work Akintan does is informed by the employee experience, and that means putting herself in their shoes.
"I would say that that's what I brought to the table — not like years and years of HR experience, but just years and years of experience of being a human in this world, and also being... assured that we end up with the right outcomes if [we] start from getting a deep understanding of who it is that we're building things for, and then what it is that we're trying to motivate them to do, and then really trying to figure out how to bring those things together to inform our strategy."
Focus on culture, value at UPP
Despite her successes, Akintan decided it was time for a big change in 2021 when she accepted the role of chief people officer at the UPP. Created in 2021, the multi-employer, jointly sponsored pension plan is made up of pension plans at five universities (including Queen's University, the University of Guelph and University of Toronto) encompassing over 35,000 members.
The fact that it's a purpose-driven organization was a big part of the appeal, says Akintan, in working to ensure the retirement security of members.
But the organization is also committed to doing that in a way that supports a sustainable environment, with responsible investment at its core, she says.
"In my conversations with them, it was so clear to me how passionate they were, that everybody was about people and culture, that they actually saw it as a distinguishing feature," says Akintan. "A decision had been made by the board that culture is going to be the centre of what we do. And it's going to be one of the ways that we distinguish ourselves — people are going to look to us for what a healthy culture we have."
While Akintan is busy handling the basics of HR, such as rolling out a performance management program and compensation program, the focus on culture and values has meant an employee survey for feedback, along with holding focus groups, to better define the organization's cultural beliefs and desired behaviours, which will then be embedded in various HR programs — with periodic assessments to make sure they're hitting the mark.
"That it is strategically advantageous — if we're going to deliver the outcomes that we need to for our members, if we're going to attract the best talent and we're going to retain the best talent, we better be doing the best on culture because that is the thing that cannot be easily replicated," she says.
"If you have a great boss, and a great organization that values you, somebody else might offer you more money, but you would have to pause and… seriously consider if they will be able to get you that combination. And so, in a very highly competitive market, I think it is a smart employer's role to really think about 'How can we differentiate ourselves?'"
Read more: HR leader profile: Carolyn Meacher of dentsu
Another bonus to joining UPP? It's much smaller compared to the City of Toronto, with roughly 100 employees, says Akintan.
"There's something about having a workforce where one could actually get to know everybody. So we can actually get that close to our workforce to really understand: 'What do they need from us? How do we show up for them? How do we make sure that we're stewarding their experience in the best way that we can?'"
That smaller size also allows for innovative, creative thinking, she says.
"A couple of things that were said to me as we were going through the process was 'Yes, we want to know what other people are doing, but we don't necessarily want to do what everybody's doing.' Which is like, yeah, I love that — let's be creative here."