Ontario case serves as warning for employers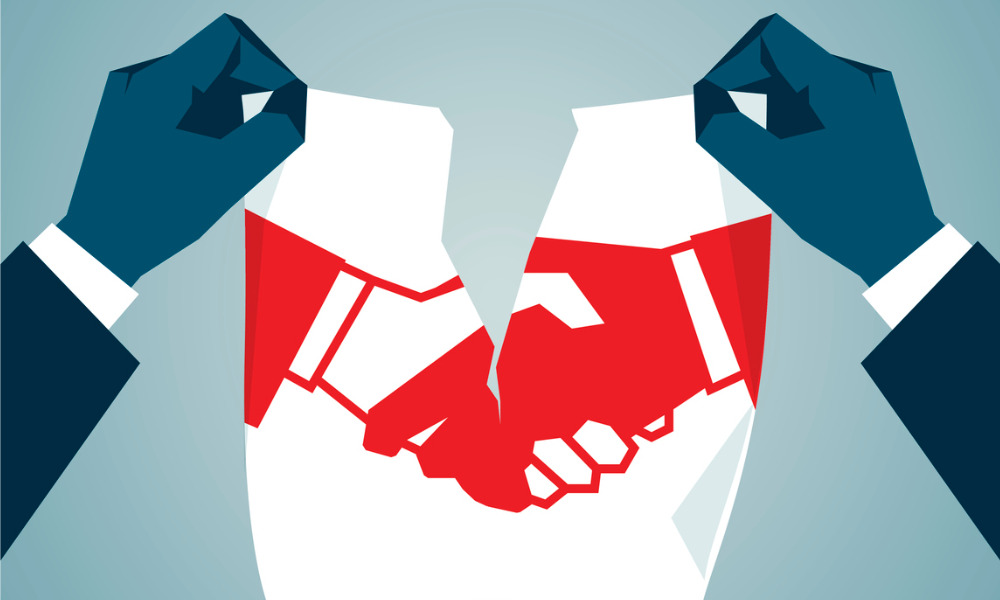 Have you ever considered withdrawing an accepted offer of employment? If the employee has not commenced work yet, do you owe them anything?
Generally, for a contract to be binding, there must be offer, acceptance and consideration (meaning something of value in exchange between the parties). If an employer has provided a job offer to a candidate and they have accepted the offer, the value exchanged is usually the understanding that they will provide services and the employer will provide employment and compensation for such services.
Often, employers will provide a conditional offer whereby if the individual fails to satisfy certain conditions (for example, background checks), the offer may be withdrawn even after it has been accepted. However, if no conditions are attached to the offer, and the individual accepts, then there is a binding agreement and it is too late to simply withdraw the offer. Doing so, effectively, is terminating the employment agreement, exposing the employer to liability.
Ontario case highlights challenges
In Kim v. BT Express Freight Systems, 2020 CarswellOnt 1870, Ontario's Superior Court of Justice held the employer liable for damages in precisely those circumstances.
Young Kim was working for another company, earning $50,000 annually, when BT Express Freight Systems (BTE) noticed his resumé on a job search site and offered him a job at $80,000 annually with the possibility of advancement once the probationary period was successfully completed. Notably, he was not searching for another job at the time, but accepted the offer and resigned from his current position.
Around one week before the start date, the employer sent Kim an email "terminating/withdrawing" the offer, apologizing for "any inconvenience this has caused", and not providing any notice, explanation or compensation.
Although Kim's former employer had already replaced him, he was allowed to stay for an extra week. And Kim found a new job paying a salary of $52,000, which would start 10 weeks after leaving his former employer.
He brought an action against BTE seeking nine months of pay, along with "punitive, aggravated, Bhasin, and/or moral" damages for the employer's dishonest conduct. Interestingly, BTE did not defend the action and Kim brought a motion for default judgment. The facts pleaded in the statement of claim were deemed to be admitted, and Kim's motion was granted in part.
'Breach of contract'
The court found that Kim had entered into a binding contract with BTE, and that the employer was in breach of contract by terminating it without cause and without notice. In particular, the court stated: "A valid employment contract creates an employment relationship even before any work begins. An employee is entitled to reasonable notice for breach of that contract, and may sue for damages if appropriate notice is not given."
In assessing damages, the court considered the factors typically used to assess the common law notice period, such as age, length of service, nature of position, availability of comparable employment, and inducement. The court also considered the terms of the employment contract, and noted that it contemplated long-term employment. Importantly, the court declined to consider the probation clause since Kim did not have the opportunity to start working.
The court awarded damages amounting to three months of salary, and reduced the damages for the last two weeks by income earned from Kim's new employment.
The court declined to award any additional damages, concluding that BTE had not dealt with Kim in a dishonest fashion and Kim was fully compensated by the pay in lieu of notice.
Key takeaways for employers
This decision serves as a warning for employers: You cannot arbitrarily "withdraw" an offer of employment after it has been accepted. An accepted offer is a binding contract in most cases, and terminating it, even before the employee starts working, means that you must provide pay in lieu of notice in the same way as if they were already working.
And in those circumstances, a well-drafted termination clause can minimize your risk.