The aftermath of a split between co-workers may be more trouble for the employer than the relationship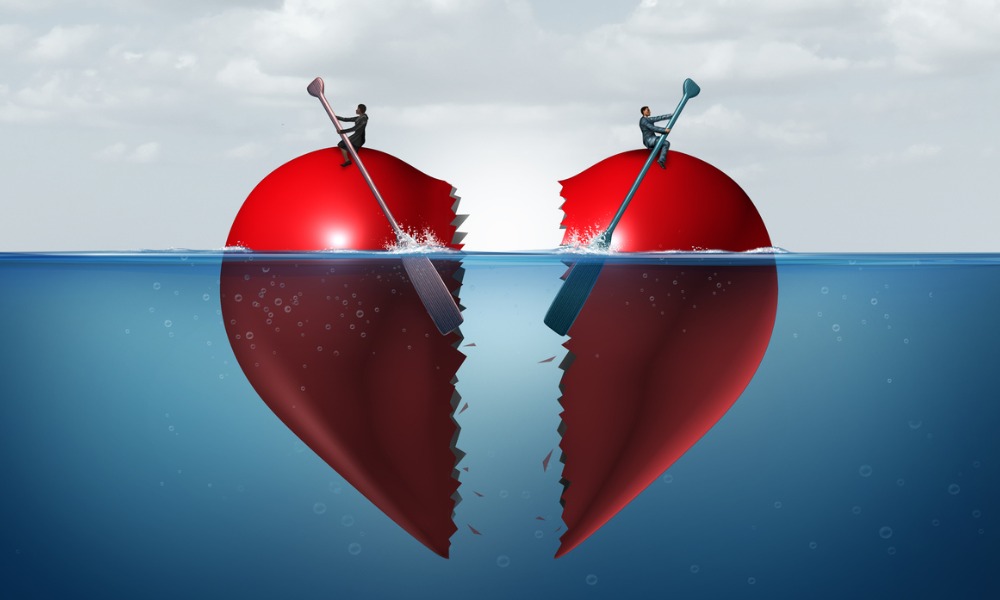 The heart wants what it wants, even at work. But what happens when the heart is broken?
Romantic relationships in the workplace is a source of much discussion for employers. It's a sensitive subject, as it involves the private lives of employees but, when two employees are involved, it can affect the workplace.
It's difficult for employers to completely ban romantic relationships between employees — after all, many people probably meet more people through work and spend more time with co-workers than a lot of people in their lives, so it's pretty much inevitable there will be circumstances where co-workers develop feelings for each other.
Some employers ban relationships between managers and their subordinates, or at least require them to report such relationships so arrangements can be made to separate them at work — due to concerns over potential conflicts of interest or effects on employees who may work with them. But if two employees are attracted to each other, they're likely going to find a way to be together, whether it's out in the open or keeping it secret from the employer.
But it may not be a relationship between two employees that could be the problem — the bigger issue may be if they break up and it's not amiable. This is where the professionalism of the employees involved may be put to the test, as well as the ability of the HR department to deal with the fallout.
About a decade ago, the owner of an Ontario company specializing in vehicle and heavy equipment auctions hired his common-law partner to an executive position with the company. After six years and two children together, the two broke up. The owner soon removed his former partner's job title and executive privileges, followed by her direct subordinates. After her name disappeared from the payroll, the former partner sued for wrongful dismissal.
A court found the dismissal was "unfair and in bad faith" though the owner tried to argue his former partner had quit. The court didn't buy it and ordered the company to pay the dismissed executive nearly $200,000 in unpaid wages, benefits and pay in lieu of notice, along with aggravated damages and legal costs: See Churchill v. Aero Auction Sales Inc., 2019 ONSC 4766 (Ont. S.C.J.).
Another bad breakup caused problems at work between two Ontario corrections officers a few years ago. The two became romantically involved during training and orientation and were in a relationship for several years. However, things ended badly in 2013.
They didn't work directly with each other but occasionally crossed paths and the female officer often felt intimidated by her former boyfriend through texts he sent and hostile behaviour towards her. The male officer sometimes told others about their relationship and tried to get her removed from conferences so he wouldn't have to see her. He also undermined her trust with other correctional officers and implied that she was investigating them.
Things came to a head in 2015 when the male officer made unauthorized changes to a prisoner database that were aimed at undermining the female officer's ability to do her job. Corrections Canada investigated and determined that this could have created a dangerous situation for employees and inmates had the changes not been caught.
Along with the male officer's harassing behaviour towards the female officer, it became clear to Corrections Canada that he couldn't be trusted to do his job because of his lingering anger from the breakup with his co-worker. An arbitrator upheld the dismissal, finding the male officer's conduct and lapses in judgment were incompatible with his continued employment: See Huppmann and The Crown in Right of Ontario (Ministry of the Solicitor General), Re (Aug. 19, 2019), PSGB # P-2016-1778 (Can. Pub. Service Grievance Bd.).
The concern for many employers behind their hesitancy in accepting romantic relationships between co-workers is the risk for claims of harassment or other problems that could come in the wake of the end of such relationships. There's no doubt of the potential problems the aftermath of a bad breakup could have in the workplace, but it's difficult to prevent love connections from happening in the workplace.
The best approach may be to go along with the relationships, take appropriate actions to avoid conflicts of interest, and make the expectations clear — both during the relationship and afterwards if it doesn't work out.
And, ultimately, trust the employees can deal with a broken heart and do their jobs.