Many Canadians don't take all their vacation days, and bring laptops when they do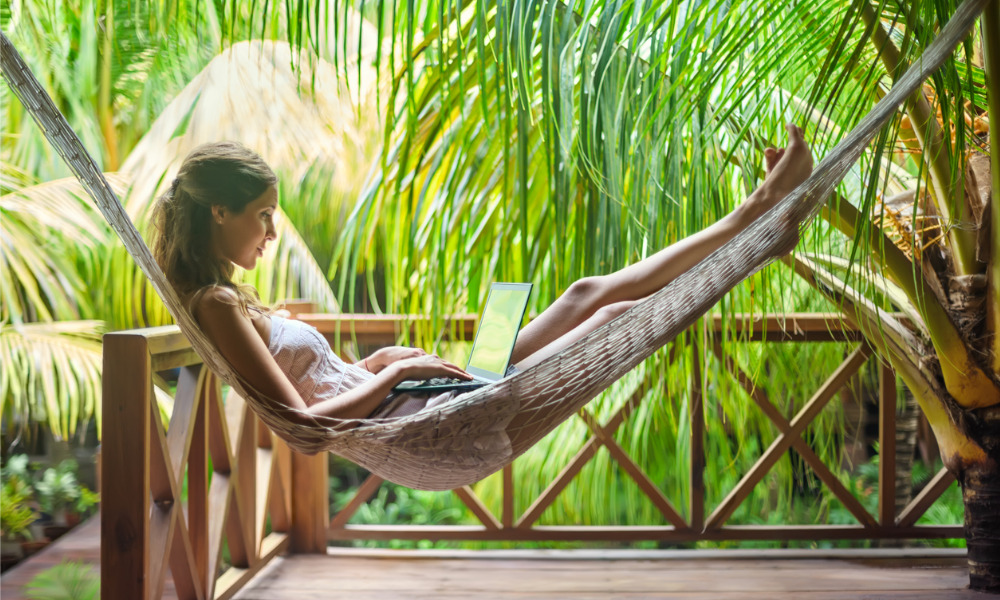 Nearly one-third (30 per cent) of Canadians didn't use all of their vacation days in 2021.
Overall, Canadians took an average of 16 vacation days in 2021, fewer than the global average of 18 days.
And now more than half (55 per cent) are feeling vacation-deprived, while 71 per cent feel more burned out than ever, finds a survey by Expedia.
That could be because these "vacations" are not true breaks from work, as more than one-third (34 per cent) bring along their work laptops and one in four (25 per cent) frequently join Zoom calls during their downtime.
Over four in 10 (43 per cent) admit to including their cell phone number in their out-of-office reply for their co-workers or clients, finds Expedia's survey of over 14,500 workers across North and South America, Europe and Asia-Pacific in December.
"Despite the nearly universal belief that regular vacations are critical to our health and wellbeing, the research shows we struggle to fully unplug from work," says Mary Zajac, PR manager for Expedia. "Instead, we try and do it all, checking email from the pool and taking work calls while out of office. This study is a reminder that vacations should be a time to rest, recharge and prioritize the things that really matter. After all, work can wait."
A previous survey also found that people just can't stop working, even when they should be taking a break.
Why aren't people relaxing?
Thirty-seven per cent of Canadians admit to feeling guilty when they don't do anything "productive" while on vacation and 36 per cent used some of their time off doing a side hustle.
Canadians also used two vacation days last year to take care of a sick family member, go to an appointment with a doctor or run errands, finds Expedia.
And many people feel bad about taking time off. Nearly four in 10 (39 per cent) feel guilty having coworkers cover their work and 33 per cent feel the need to apologize or make excuses for taking time off. This is the case even though 76 per cent feel their colleagues are supportive of them using their vacation time.
And while "workcations" have become popular — with people travelling to a new destination and working remotely — 80 per cent don't consider this a "true" vacation.
Last summer, 31 per cent of Canadians said they were likely to take a summer vacation in 2021, up from 14 per cent in 2020.
Persuading employees
To emphasize the critical importance of mental health, one Vancouver social media management company previously all of its 1,100 employees to log off from work for one week.
And employees are likely to take days off if their employer can remind them to do so, says Judith Mewhort, a managing partner at Montridge Advisory Group, in speaking with Canadian HR Reporter.
"We don't let people carry vacation over unless it's a preplanned specific reason [such as] they want to take an extended vacation for a special birthday or something like that… otherwise, they all know that they have to take their vacations throughout the year. And we do remind people regularly, and we do talk about vacations."
Employers often get confused when it comes to figuring out vacation time and vacation pay, so Nadia Zaman of Rudner Law explains the rules.