'No business owner expects government support forever, but they need to something to rely on until all restrictions are lifted'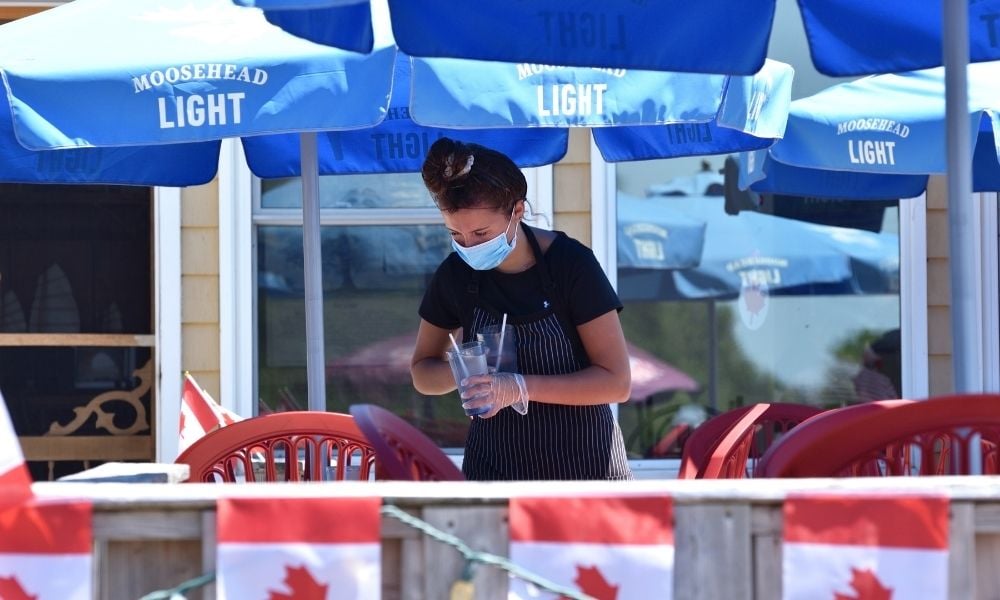 With Ottawa set to put an end to wage and rent subsidies for employers on Oct. 23, a couple of groups are calling on the federal government to immediately extend and expand these programs.
"Businesses need certainty as so many are still dodging constant curveballs with a slow pick-up in revenues, labour shortages, and wariness around ongoing restrictions in the months ahead," says Corinne Pohlmann, senior vice-president of national affairs at the Canadian Federation of Independent Business (CFIB).
"No business owner expects government support forever, but they need to know they have something to rely on until all restrictions are lifted, and they can fully operate their business once again. They can't afford for the government to dawdle until the last minute."
Over three-quarters (76 per cent) of small businesses are open, but only 40 per cent overall are making normal sales, according to a CFIB survey of 3,310 small employers conducted in September.
Just 45 per cent are fully staffed, with 32 per cent unable to find all the workers they need.
There is no immediate end in sight when it comes to employers' hiring challenges, according to a recent survey by Express Employment Professionals.
"The feeling in the market from employers right now is that these people are out there but are still staying home to collect the Canada Recovery Benefit or employment insurance," said Brent Pollington, an Express franchise owner in Vancouver.
Restaurants face challenges
Also, eight in 10 restaurants in the country have been operating at a loss or barely scraping by with a profit margin of two per cent or less throughout the entire pandemic, according to a separate report from Restaurants Canada. And nearly half of all foodservice businesses have been consistently losing money ever since the first wave of lockdowns ended last year.
Seven out of 10 are still receiving the federal wage or rent subsidy.
If these sources of support end this month, nearly 80 per cent of restaurants say they will struggle to keep existing staff or have to cut staff hours, and more than half say they will struggle with hiring back staff or hiring new staff.
"The fate of Canada's 90,000+ restaurants is still uncertain," says Todd Barclay, Restaurants Canada president and CEO. "Most have been losing money or barely breaking even since coming out of initial lockdown last year, and at least 10,000 establishments have already closed. The rest need government support to help them survive the fall and winter so they can continue feeding our recovery."
The Canadian Labour Congress has also called for the extension of government supports for hundreds of thousands of everyday people still relying on these programs.
"We are seeing an uneven jobs recovery and there's still a long way to go before our communities are back on track. The prime minister said he would have workers' backs," says Bea Bruske, president of the Canadian Labour Congress. "Now, with Canada Recovery Benefit (CRB) about to expire, and so many still without access to decent work, the government must live up to its promises and immediately extend this vital lifeline for hundreds of thousands of workers."
More than half (55 per cent) of Canadian small and medium-sized employers are struggling to hire the workers they need, according to a report from the Business Development Bank of Canada (BDC).
Recommendations
CFIB is urging Ottawa to immediately extend the Canada Emergency Wage Subsidy (CEWS) and Canada Emergency Rent Subsidy (CERS) to Nov. 20, and to work with members of parliament to further extend the Canada Recovery Hiring Program, CEWS and CERS, to March 31, 2022.
The group also wants the government to return the maximum wage and rent subsidies to 75 per cent for all sectors of the economy, "as promised to the tourism sector by the Liberal party during the election"; include new businesses that started after the pandemic began in all business support programs; and offer additional funding through the CEBA loan and delay the repayment deadline to the end of 2024.
Ottawa must also change the CRB to ensure it does not incentivize workers to stay at home rather than returning to the labour force, and dedicate the $1 billion in funding to provincial governments to implement passport systems to small business owners required to implement said systems, according to the group.