'At the beginning of the pandemic, many remote workers relied on video calls to stay connected and collaborate'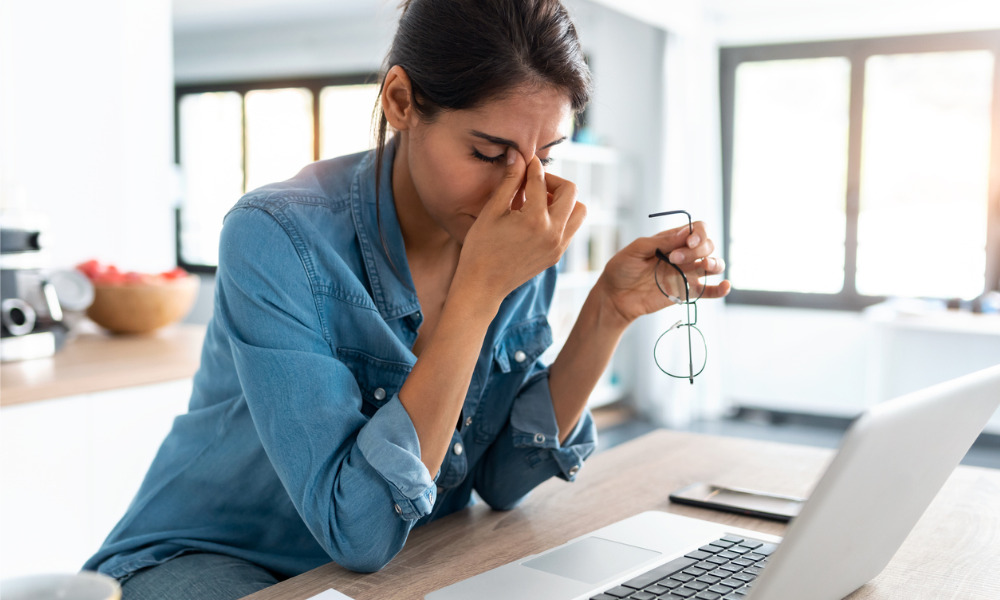 Video calls' importance rose sharply among employees and employers when the pandemic forced people to work remotely.
In fact, 72 per cent of professionals say they participate in virtual meetings, and they spend 24 per cent of their workday on camera with business contacts or colleagues, according to a survey by Robert Half.
However, because of the amount of time spent on video calls, 44 per cent say they've experienced video call fatigue since the start of the pandemic. This affects more women (48 per cent) than men (41 per cent).
"At the beginning of the pandemic, many remote workers relied on video calls to stay connected and collaborate with one another. However, as teams continue to work from home, frequent virtual meetings may not be as efficient and necessary," says David King, Canadian senior district president of Robert Half.
Last month, legal analyst Jeffrey Toobin was caught masturbating on a Zoom call and was suspended by the New Yorker, according to VICE.
Novelty wears off
Nearly six in 10 (59 per cent) professionals say video calls can be helpful but are not always necessary, and 22 per cent note that the practicality and novelty of video conferencing has worn off over the past eight months, according to the survey.
Also, 15 per cent find virtual meetings inefficient and exhausting and prefer to communicate via other channels, such as email or phone, found the survey of 500 adult workers conducted from Oct. 27 to Nov. 2, 2020.
"Video calls often require more energy than other communication means such as phone calls or email. With many employees already managing heavy workloads, limiting them to those that are necessary can help reduce meeting fatigue and increase focus time for employees," says King.
The most common video call pet peeves are dealing with technical issues (33 per cent) and too many participants and people talking over each other (19 per cent).
A survey earlier this year found many people resented the intrusion into their personal lives brought on by video calls.
Managing the problem
To combat the issue, Robert Half says employers can help workers by testing the technology, limiting the guest list and setting expectations from the start of the meeting.
Video call fatigue or "Zoom fatigue" is not going away, even after the effects of the pandemic have subsided, according to Internet company IONOS.
"Zoom fatigue will continue to present a challenge for companies that want to effectively manage their teams," it says. "Businesses should try to understand the challenges that come with video conferences and appreciate that they aren't solely the responsibility of individual employees. Instead, companies would be well-advised to introduce clear standards for the organization of their teams. This creates security for decision-makers, strengthens the productivity of the company, and supports the health of employees – a win-win-win situation."
Top executives believe that shifts towards remote collaboration (78 per cent), automation (76 per cent) and fewer people working from offices (61 per cent) are here to stay, according to a survey by PwC released in August.