But caregiving workers less enthusiastic than those without children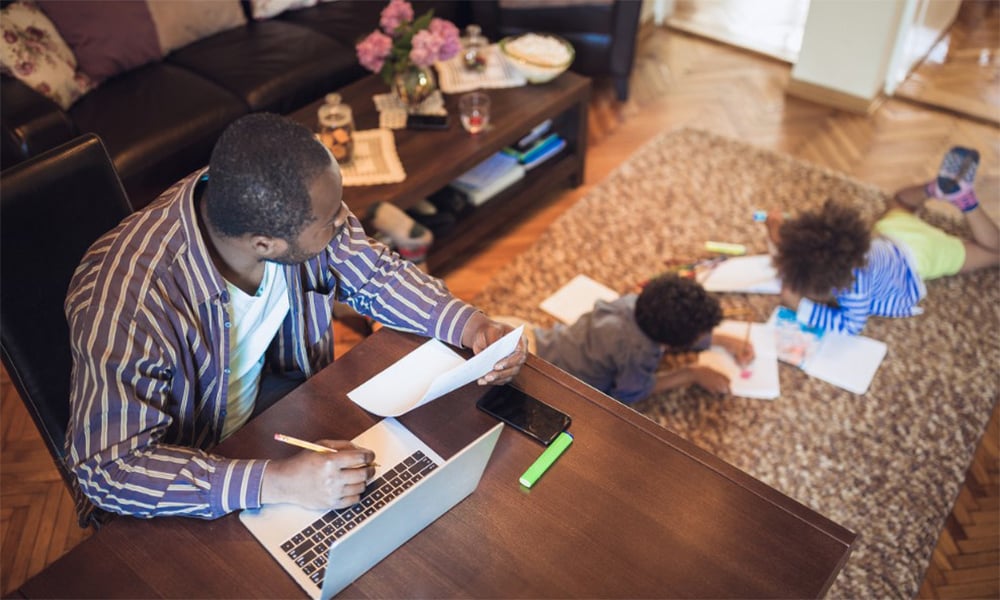 What's the best change for people now working from home? Work-life balance, according to a recent report.
Globally, almost half (44 per cent) of workers believe that the single biggest change during the boom of the work-from-home setup amid the pandemic is work-life balance.
Over half (55 per cent) of Americans say that they find working effectively from home during COVID-19 easy, with 44 per cent suggesting their work-life balance has improved as a result. Also, 53 per cent would prefer to work at home even if they had to cover the added costs.
Only 12 per cent are prepared to return to an office setting, with 67 per cent of Americans and 53 per cent globally nervous about returning to the office without a vaccine in place, finds the survey by Atlassian.
"We've been seeing a shift to a more distributed way of work for some time, and many businesses understood that giving staff more flexibility over how and where they work would pay dividends in the long run. What we didn't envisage was how a pandemic was going to throw accelerant on these plans," says Dom Price, work futurist at Atlassian.
Almost half (43 per cent) of workers believe that COVID-19 marks the end of the regular nine-to-five office work schedule and eight in 10 want to better balance work and family life in the future, according to a report from ManpowerGroup.
Key factors
However, working from home is not easy, and three key factors influence people's ability to adapt to distributed styles of work, says Atlassian: household complexity, role complexity, and network quality.
Household complexity considers domestic responsibilities and how many people are in their household. Caregivers – those caring for someone in the family while working from home – are less likely (49 per cent) to agree that effective working from home is easy compared to those without children (61 per cent). Also, 60 per cent of respondents say it's more difficult to maintain boundaries between work and personal lives.
Role complexity examines the remote readiness of specific roles. It explores the full spectrum of workflow and social interaction someone depends on to be successful. And remote work experience can be isolating at times, leaving many yearning for workplace banter, finds Atlassian. In fact, 49 per cent of Americans say they miss the energy of working alongside colleagues at the office, compared to 28 per cent who don't.
Network quality focuses on access to personal and professional networks, which contribute to a sense of belonging and support. Seventy per cent of Americans feel their company would need to provide better systems and tools to sustain a fully distributed working environment.
"If you've ever said your people are your biggest asset, now is the time to act upon that," says Price. "We've heard many positions on the future of distributed work but the reality is that one size won't fit all situations. This research underscores just how nuanced the future of work is, it's not about a company going fully remote or hitting some specific flexibility target. These are the voices of real people facing real complexities. There's no silver bullet for the future of work, but there is now a blueprint."
The study – Reworking Work: Understanding The Rise of Work Anywhere – was based on 32 in-depth interviews with various workers around the globe, along with a two-week global diary study of 67 participants and a 15-minute quantitative survey of almost 5,200 knowledge workers across five geographies: Australia, France, Germany, Japan and the U.S.
Pros and cons
The pros of working from home include: a short commute, tax benefits, flexibility and autonomy, according to Randstad Canada, while the cons include: no human interaction, working in a bubble, and no clear workday.