Calgary police officer investigated after outspoken video referencing Hitler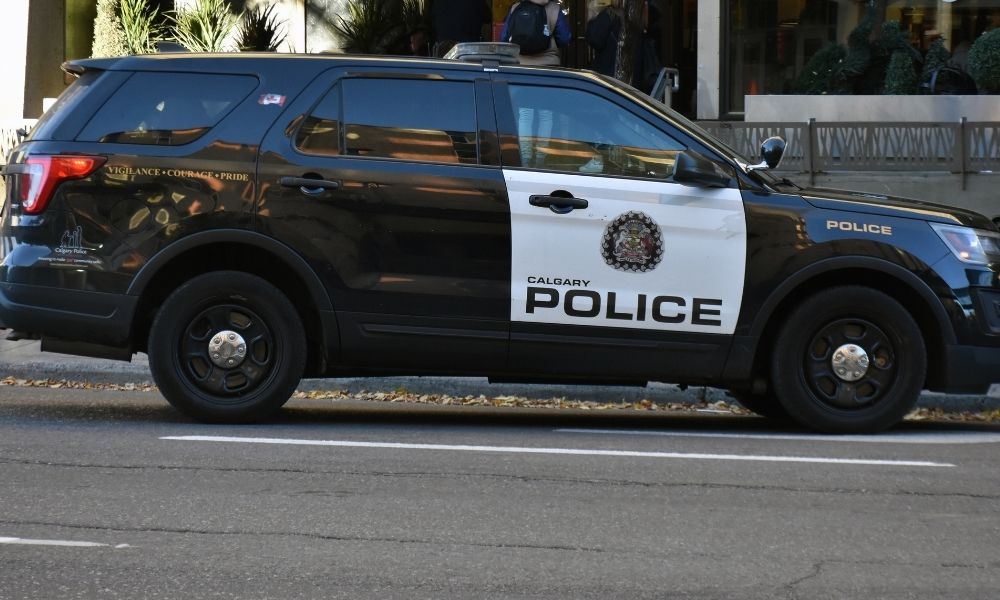 It was a sight that's become all too familiar — an employee speaking out about a controversial issue on social media.
But this time it involved a police officer, in uniform, speaking out against vaccine mandates. And it didn't go over well with his employer, which is now investigating.
"There has been an explosion of people on the internet, sharing their opinions about all sorts of things about lockdowns, about masking rules — you name it, people are tweeting about it," says David Fraser, partner at McInnes Cooper in Halifax.
"I'm not surprised that, in a number of instances, that is going to cross over into the employment context, or raise issues with employers, particularly as people might be getting mousey about particular employer policies."
'Rights being taken away'
Filming himself in uniform, Calgary police officer Brian Denison complains about having to get the "miracle jab" or losing his job.
"This is the beginning of your rights being taken away," he says.
"It's very reminiscent of many years ago during the World War [II] that [Adolf] Hitler was perpetrating against the Jews; he slowly but surely took away the rights, the privileges, all that stuff that people find worthwhile in life; he stripped it away from them and then he was able to demonize them enough that all the Germany people were onboard to exterminate them because they were nothing."
Denison calls the vaccine mandate "illegal activity" and says he's upholding the law and not allowing himself to "take part in this sham." He also speaks out against officers having to use holidays, banked time and going home without pay until they comply with the vaccine mandate.
"That is the ultimate in bullying; that is the ultimate slap in the face for those who have gone their careers… and served others."
Denison says his video is a "call to action" for other police officers to stand up for what is right.
The Calgary Police Service says the matter has been referred to its Professional Standards Section for investigation, according to CTV News. As well, the force "is pursuing relief from duty without pay under the provisions of Alberta's Police Act."
In 2020, an online rant by an employee unhappy with the Christmas gift from his employer went viral — but also led to his dismissal.
Connecting off-duty posts to employer
In any of these cases, whether it's anti-vaccination remarks, racist remarks or harassing remarks, the same general principles apply, says Isabelle Keeler, an associate at Cox & Palmer in Charlottetown.
"The outcome might be different when you're dealing with it, maybe the disciplinary action at the end of the day might be different, but you still have to go through the same basic principles and figure out 'OK, are we able to establish that the social media conduct, does it harm the employer's reputation?' keeping in mind that it's not a subjective standard. It's not how you as the employer might feel about the social media use, it's what an objective, fair-minded, reasonably informed member of public might think about it… that's an important distinction."
With any off-duty social media posts, it's all very fact-specific and contextual, she says.
"Each case is going to be different. There's no black or white answer, unfortunately."
Basically, there needs to be a real and material connection or nexus established between the social media views and the employer's legitimate business interests, says Keeler, citing the "Millhaven factors," in reference to the 1967 decision Re Millhaven Fibres Ltd. and Oil, Chemical and Atomic Workers I.U Loc 9-670, which covered discipline imposed for off-duty conduct.
In looking at exceptions for off-duty conduct, these can apply if the employee's conduct: harms the company's reputation or product; renders the employee unable to do their job properly; leaders to a refusal or reluctance of other employees to do their jobs; or makes it difficult for the employer to carry out its functions, said the court.
And in the case of the Calgary police officer, if his employer made the decision to discipline or terminate him, it could probably rely on a lot of these factors, says Keeler, citing facts such as the video going viral, and the police officer being in uniform and identifiable
"There could be certainly an argument for the employer that this is rendering him unable to discharge his obligations. And… I would not be surprised if there were other employees reluctant or refusing to work with him in light of the comments."
In the recent Blake v University Health Network, both the union and non-union employees disputing the validity of UHN's vaccination policy and sought an injunction to preserve the employment of those employees who did not meet the vaccination requirement. The injunction was denied.
Pandemic influences
While off-duty conduct has always been an issue, the pandemic introduces its own set of circumstances, says Fraser. For example, if a restaurant that wasn't legally required to have proof of vaccination for employees decides to have one, and an employee on social media says they're not complying, that could affect the reputation and business of the restaurant as customers may go elsewhere.
Likewise, some professional colleges have taken action against physicians and nurses who engage in online anti-vaccine messaging considered unprofessional, he says.
"It will be interesting to see if any of these are grieved… grievances and arbitrations in the labour context go a lot more quickly than somebody suing for wrongful dismissal. But it will still be some time before we see all of this shake out."
There needs to be some leeway provided in terms of the ability of people to participate in discussions about vaccines, particularly when so many take place in the mostly public forum of social media, he says.
"The rules associated with the pandemic are affecting everybody — it's a matter of significant public interest and a significant public policy discussion. So [an employer] preventing somebody from participating in that discussion could come down as pretty heavy handed. And it might not be appropriate. Just telling everybody to shut up about it within a workplace is harder to justify when it is something that's having such an impact"
However, disagreeing with vaccination is not a prohibited grounds of discrimination under any of our human rights laws, says Fraser.
"You can discriminate against anti-vaxxers all you want, because it's not a protected ground of discrimination."
Disciplinary considerations
In considering the appropriate discipline, employers would be wise to look at it on a case-by-case basis, and turn their mind to what extent the interests of the employer are actually engaged, says Fraser.
And if they have a social media policy, that provides a benchmark and a ruler for employees, but also a basis for discipline, rather than relying on something that is more nebulous, he says.
"The better defined something is, and particularly in a policy, and the more consistent... application are key to having a good and effective and useful policy."
Discipline will depend on the facts of each case, says Keeler. If it's a unionized employee, for example, the employer will need just cause to discipline or terminate the worker.
"That's a high bar," she says, so employers need to judiciously look at the off-duty conduct and consider: How serious is it? What's the nature of the employee's position? How public a profile do they have?
"And then, of course, you need to be considering aggravating and mitigating factors. So, for example, the employee's years of service," says Keeler.
In a non-union context, it's much easier because even if the employer is not sure it has just cause, it can still end the employment relationship and pay the person the notice or pay in lieu entitlements that they're entitled to under minimum standards legislation or under contract, says Keeler.
"There's no one-size-fits-all approach to discipline, unfortunately, it really depends on the facts. So for employers battling with off-duty conduct or employees that are on social media off duty, especially discussing if they're dealing with anti-vaccination expressing their opinion, you should seek legal advice, and they can point you in the right direction."
The best way to mitigate the risks associated with employee online posts is to draft proper social media policies, says another legal expert.