Many report high stress levels but they're concerned about stigma of admitting to challenges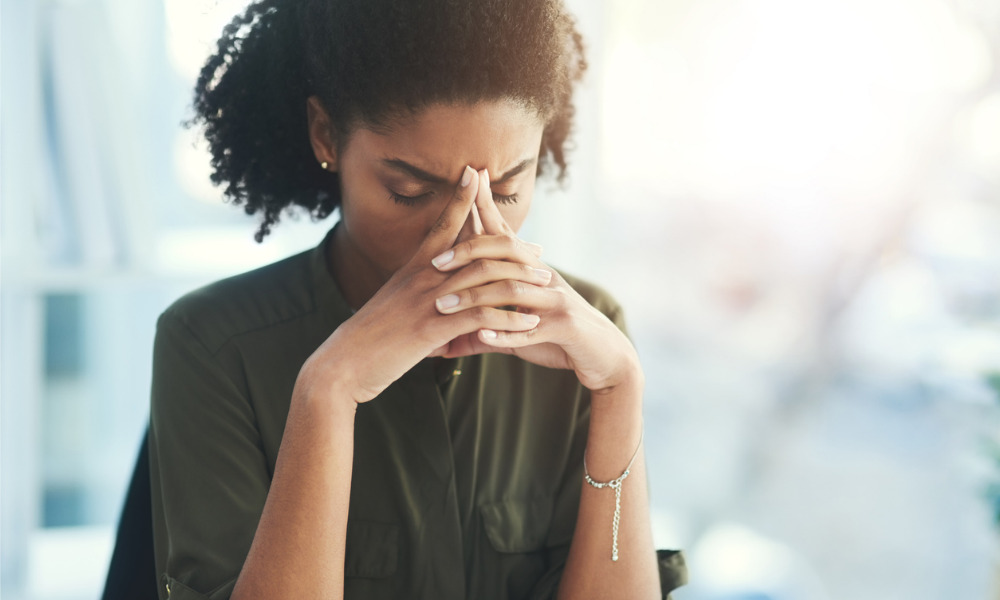 Leaders should not be forgotten when it comes to mental health concerns. That's because more than eight in 10 (82 per cent of) business leaders report exhaustion indicative of burnout, and 96 per cent of those say that their mental health has declined.
Over half of all respondents (51 per cent) have been contemplating their roles and considering the following actions, according to a survey from LifeWorks and Deloitte:
resigning (23 per cent)
moving to a less demanding position (16 per cent)
retiring (15 per cent)
taking a leave of absence (13 per cent)
working part-time (six per cent)
"Senior leaders have gone through a period of feeling exponential pressure to deliver, while dealing with personal disruption from the pandemic and extraordinary business disruption. This has taken a toll that was under-recognized since the expectation is that they have an accountability to others," says Paula Allen, global leader and senior vice president, research and total wellbeing, LifeWorks.
"The issue is that their ability to deliver on that accountability is threatened. In the short term, this increased pressure could lead to behavioural change among senior leadership that trickles down and ultimately causes employee burnout at lower levels. In the longer term, we anticipate seeing a risk of turnover among senior leaders. This is an issue we must immediately address, as senior leaders play a critical role for organizations."
To cope with the ongoing COVID-19 pandemic, managers at the Sunwing Travel Group were given extra training in resilience strategies to help them and employees cope with the stress of working.
Workload, well-being
Top stressors, based on the survey of 1,158 senior leaders globally, include:
the volume of work (68 per cent)
concern about providing enough support to the wellbeing of staff (62 per cent)
concern about providing enough support to staff in their work demands (57 per cent)
performance demands (41 per cent)
implementing restructuring, layoffs, cost-cutting (31 per cent)
the pace of change (31 per cent).
And several issues persist for leaders after hours, as 82 per cent regularly finish their work feeling mentally or physically exhausted, while 59 per cent are unable to relax or pause activity, 49 per cent have difficulty sleeping and 43 per cent report increased irritability.
Thirty-eight per cent have reduced energy or emotional changes.
"These issues have significant implications for organizations and, as such, the overall economic recovery. The potential for a loss of talent is evident, and the behaviours that emerge under extreme strain, such as irritability and extreme perfectionism, may unintentionally negatively affect the broader workforce and organizational culture," says the report Inspiring Insights: Wellbeing and resilience in senior leaders a risk to post-pandemic recovery.
The COVID-19 pandemic has changed life as we know it, and 82 per cent of employers believe it has forced a change in leadership style, according to a report from Randstad.
Self-stigma, self-care
Despite these issues, 41 per cent of leaders would find it difficult to acknowledge or accept if they had a mental health issue.
More than half (55 per cent) would also be concerned that their career opportunities would be limited if their employer was aware that they had a mental health issue.
Stigma is still a challenge despite mental health declines amid the COVID-19 pandemic, according to one expert.
And many leaders are not intentional or committed to self-care, making things worse. While 37 per cent consistently make time for their own wellbeing, 55 per cent do this inconsistently while 10 per cent do not do it at all.
Relationships also affect leaders' wellbeing. While 59 per cent report that work peers are helpful in suppressing resilience, 32 per cent of peer relationships have worsened.
Sixty-five per cent say worsened peer relationships have worsened their mental health while 59 per cent say improved peer relationships have improved their mental health.